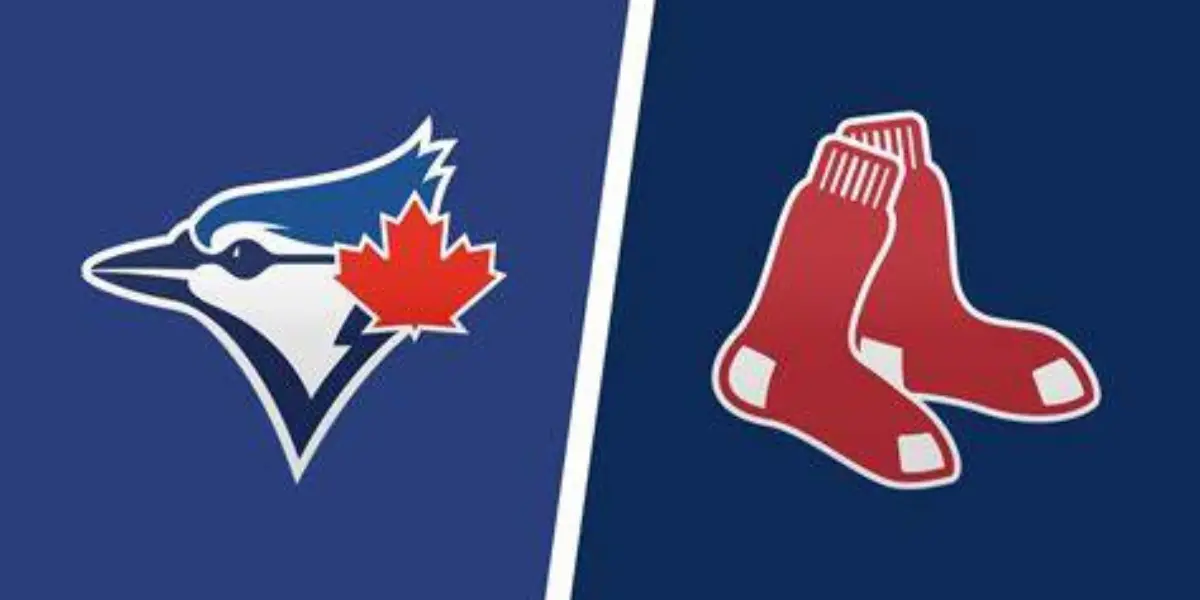 The Boston Red Sox are about to take on the Toronto Blue Jays for a three-game series in their biggest series of the season as they trail Toronto by two games in the American League Wild Card race; the Blue Jays currently hold the third and final Wild Card spot. The Red Sox are coming in off a rough series against the Seattle Mariners, dropping two of three; the Red Sox bats went silent in the first game but woke up for the middle game before the bullpen blew the finale to the Mariners. The Blue Jays are coming off a series against the Baltimore Orioles in which the Blue Jays dropped three of four to the Orioles and were outscored 24-10. The Red Sox this season against Toronto are 7-0 and outscored them 49-29; that's a huge flip from last season when the Red Sox were 3-16 against Toronto and were outscored 125-55, which included a game where the Red Sox lost 28-5. With the seven wins over the Blue Jays this season, the Red Sox have already clinched the tiebreaker between the two if they end the season tied.
Boston Red Sox (57-51) vs. Toronto Blue Jays (60-50)
Game 1:
Date: Friday, August 4
Time: 7:10 PM EST
Broadcast: MLB Network
Game 2:
Date: Saturday, August 5
Time: 4:10 PM EST
Broadcast: FS1
Date: Sunday, August 5
Time: 1:35 PM EST
Broadcast: NESN
Projected Starting Pitchers:
Game 1: James Paxton (6-2, 3.34 ERA) vs. Alek Manoah (2-8, 5.87 ERA)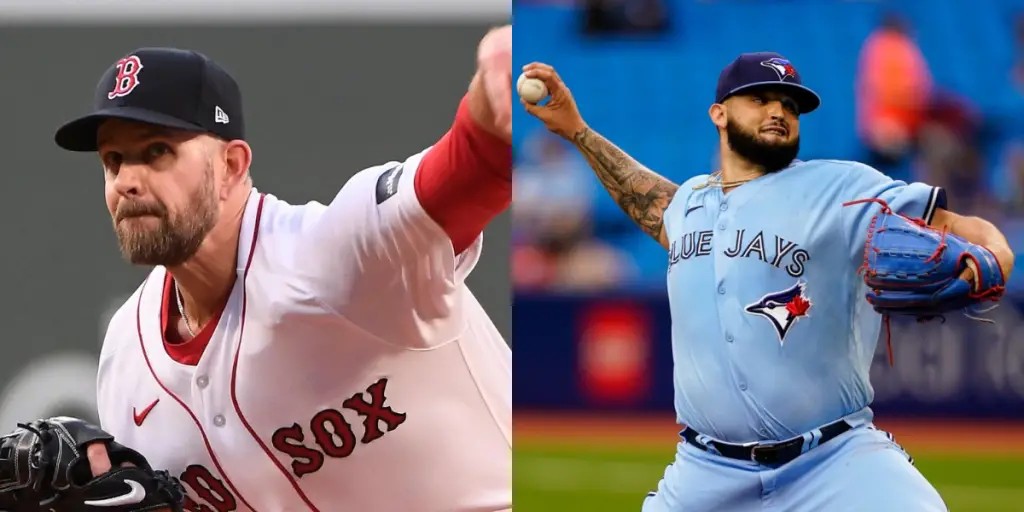 Paxton is making his 14th start of the season, and in his last start against the Giants, he went five innings, giving up just one run on eight hits; he walked two and struck out five; he didn't factor into the decision. Coming into this one, he posts a 3.60 FIP, a 1.07 WHIP, a 2.6 BB/9, and a 10.3 K/9. Paxton, in his career against the Blue Jays he's made 11 starts going 6-3 with a 3.98 ERA and a 1.25 WHIP, including a no-hitter in one of those starts. This season Paxton made a start against the Blue Jays, going 7.2 innings; he didn't allow a run on three hits; he walked two and struck out seven. Alek Manoah, who has had a rough season for Toronto, will oppose Paxton. He posts a 6.13 FIP, a 1.78 WHIP, a 6.3 BB/9, and an 8.0 K/9 this season. He got sent down to the minors earlier to work out some kinks; since his return, he is 1-1 in four starts with a 4.34 ERA, a 4.93 FIP, a 1.45 WHIP, a 5.79 BB/9, and a 9.64 K/9. In his career against the Red Sox, he is 4-1 in seven starts with a 1.71 ERA and a 1.05 WHIP; earlier this year against the Red Sox, he went five innings giving up five runs and two earned on eight hits; he walked one and struck out three.
Game 2: Opener vs. Jose Berrios (8-7, 3.32 ERA)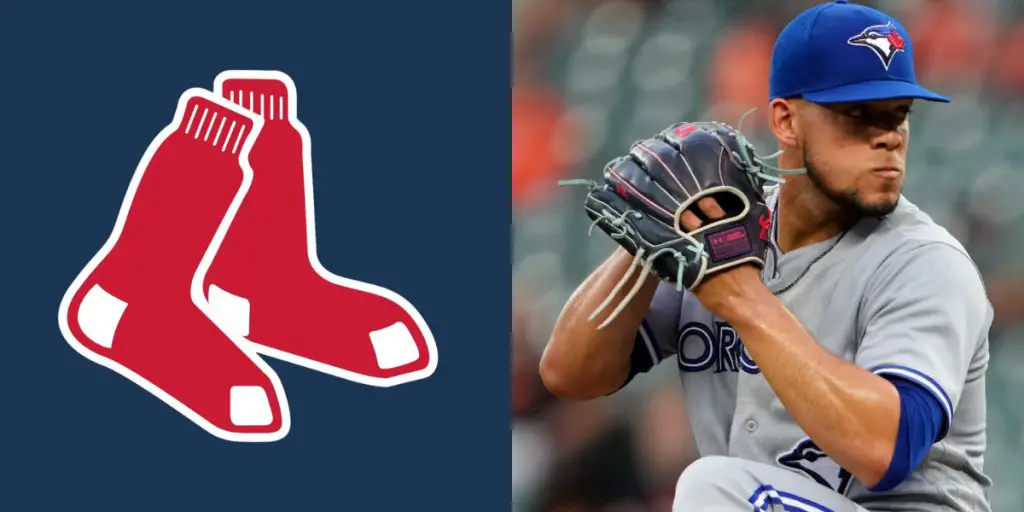 The Red Sox haven't announced a starter for the middle game of the series, but it's been speculated it would be an opener followed by Chris Murphy or Nick Pivetta. If it's not Pivetta, he will likely get the third game; if it's Murphy, he would be making his tenth appearance for the Red Sox; his most recent outing came against the Giants, going 3.1 innings giving up one run, unearned on four hits; he didn't issue a walk and struck out one. He has pitched well this season, posting a 1-0 record with a 1.59 ERA in 28.1 innings. He posts a 2.99 FIP, a 1.16 WHIP, a 3.5 BB/9, and an 8.6 K/9. Murphy has never faced the Blue Jays in his career. Whoever the Red Sox go with, they will face Jose Berrios, who is making his 23rd start of the year, and he posts a 3.88 FIP, a 1.19 WHIP, a 2.8 BB/9, and an 8.5 K/9. In his career against the Red Sox, he has made 12 starts going 1-6 with a 5.51 ERA and a 1.58 WHIP. This season against the Red Sox, he has made two starts going 0-1, pitching 11.1 innings and giving up nine earned runs on 16 hits; he walked two and struck out 12 over those starts.
Game 3: Opener vs. Chris Bassitt (10-6, 4.00 ERA)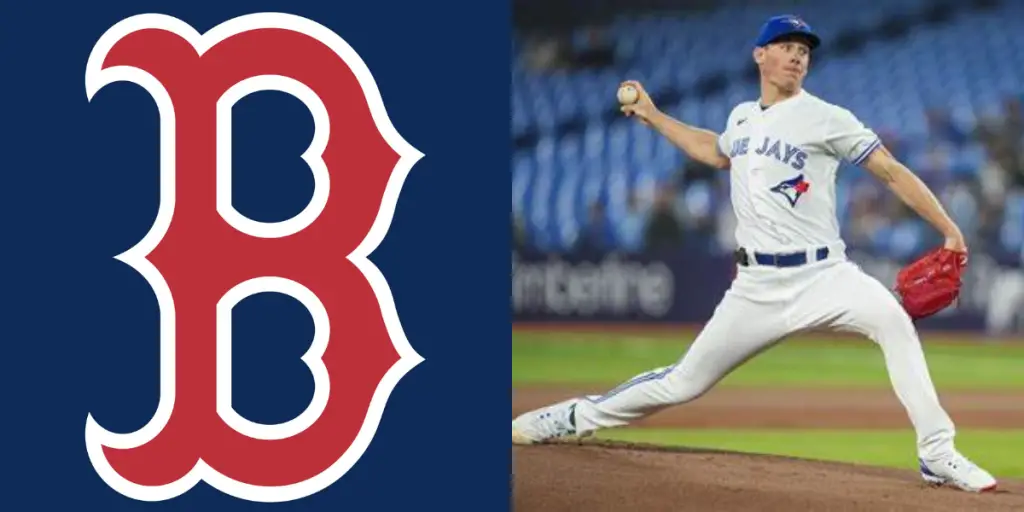 The finale will also be an opener or Nick Pivetta or Brayan Bello. I'd expect Pivetta to get the ball in this one. Pivetta this season has made 26 appearances and nine starts; he posts a 4.13 FIP, a 1.13 WHIP, a 3.5 BB/9, and an 11.2 K/9. His most recent outing was a return to starting, and he pitched well, going 7.1 innings, giving up three runs on five hits; he didn't issue a walk and struck out ten. In his career against Toronto, he has made 13 appearances and 12 starts going 2-4 with a 5.50 ERA and a 1.50 WHIP. This season he has made two appearances, with one being a start going 1-0 in ten innings of work; he gave up four runs on eight hits, walked three, and struck out 12. If it is Pivetta, he'd be opposed by Chris Bassitt, who, in his first season with the Blue Jays, is making his 24th start; he posts a 4.57 FIP, a 1.23 WHIP, a 2.9 BB/9, and an 8.5 K/9. Bassitt has made one start against the Red Sox in his career, going 1-0 with a 2.57 ERA and a 0.43 WHIP.
Red Sox vs. Blue Jays Batting Leaders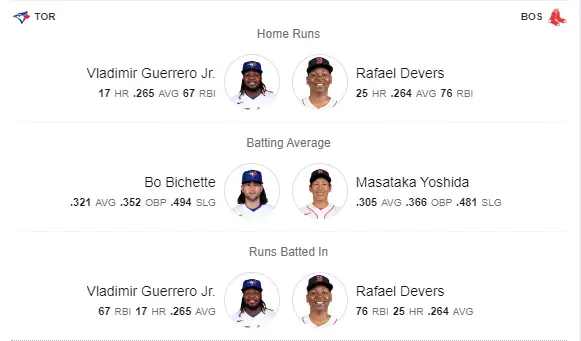 Series Prediction
The Red Sox were expecting Trevor Story back this weekend, but yesterday, it was announced he said he's not ready to return yet, so they will play this huge series without their star shortstop. The bullpen games have me questioning how this series will go, but the Red Sox lineup has found a way to dominant Blue Jays pitching, and for one, Manoah hasn't been good this season, and two, the Red Sox tee off on Berrios. I think this is a series the Red Sox can sweep, and we could see the standings Sunday night with the Red Sox in the third Wild Card spot heading into their stretch of series against teams with losing records.