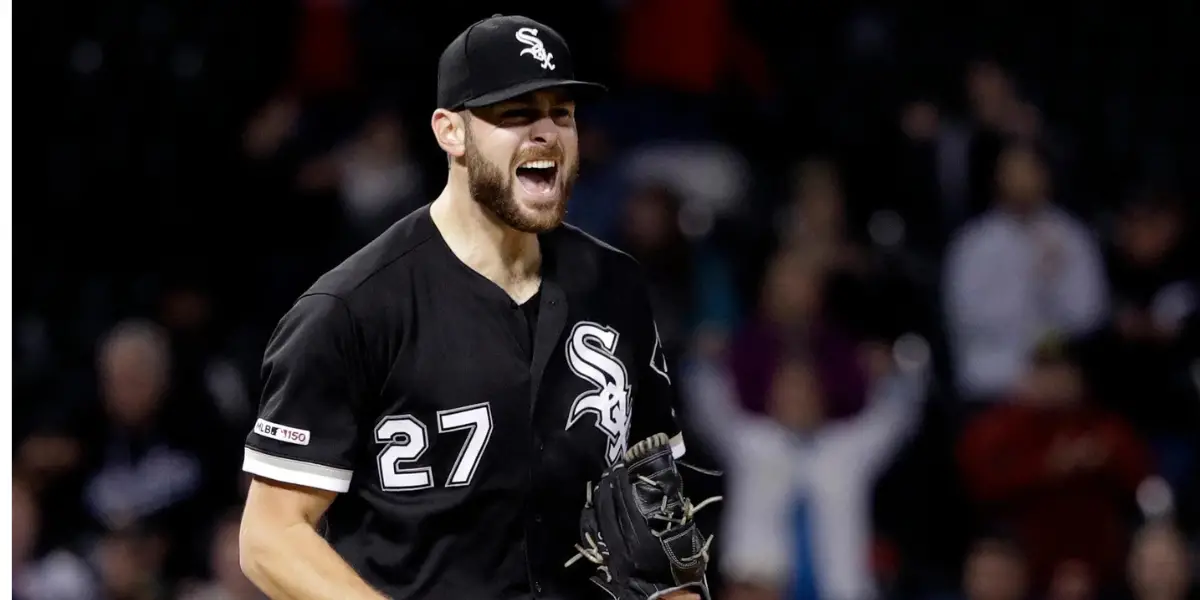 Just three hours after it was announced that the Angels would not be trading two-way superstar Shohei Ohtani, the Angels solidified that they would be buyers by acquiring former All-Star starting pitcher Lucas Giolito and reliever Reynaldo López from the Chicago White Sox for catching prospect Edgar Quero and prospect pitcher Ky Bush.
The 29-year-old Santa Monica native, Giolito, is having an up-and-down year. His 3.79 ERA in 21 starts is nothing to scoff at, but Giolito has suffered a couple of ugly outings this season. If Giolito can find consistency on the mound, he will be a vital piece to a weak starting rotation.
Giolito was an excellent and reliable starter for the White Sox from 2019-2021, his ERA was in the mid-3.00s, and he eclipsed 175 innings pitched in 2019 and 2021 (2020 was the shortened 60-game season). In perspective, the last Angel pitcher to throw at least 170 innings in a season was Andrew Heaney in 2018. Giolito's ability to eat up innings is also why he is a good fit for the Angels. The Angels' bullpen has been overused at times due to starters not being able to go deep into games, and it has ultimately cost them some games this year.
His success from 2019-2021 stemmed from getting swings and misses and groundballs. In his 2019 All-Star season, Giolito possessed a 32.3 K% and just a 23.8 Fly Ball% (FB%), according to Baseball Savant.
This season, those totals are 25.8 K% and 30.2 FB%. The high fly ball rate combined with the highest Barrel% of his career (9.8%) has given him a hard time keeping the ball in the yard. Giolito has already given up 20 home runs with just over two months to go when 27 is his career high.
After a disastrous start against the New York Mets on July 18th, where he only lasted 3.2 innings and gave up eight earned runs, Giolito had a solid bounce-back start against the Minnesota Twins on Sunday and threw five scoreless innings while striking out nine.
Giolito's stat line this season is 3.79 ERA, 25.8 K%, 8.3 BB%, 4.43 xERA in 121 innings of work.
The other arm the Angels got in the deal is right-handed reliever Reynaldo López. The 29-year-old began his career as a starter but, after struggling for a few seasons, was moved to the bullpen in 2021, where he could find success. Last year, López posted a 2.76 ERA, 24.8 K%, and 4.3 BB%.
This year did not start well for López, and he has been trying to overcome an inflated ERA to start 2023. López has not surrendered an earned run since June 26th, which was against the Angels, because of course. That would be eight straight scoreless appearances for those counting at home, with 12 strikeouts in nine innings to bring his ERA to 4.29 on the year.
These acquisitions give the Angels a dependable starter who will guarantee you lots of quality innings and a reliever with a 98 miles per hour average fastball and a plus slider that moves 1.9 inches more horizontally than the average slider in the big leagues, according to Baseball Savant.
Now to the prospects that the Angels gave up.
Edgar Quero is the second-ranked prospect in the Angels' system and is just 20 years old. The young catcher put himself on the map last season with the Single-A Inland Empire 66ers, where he hit .312 with a .965 OPS and 17 home runs in 111 games played as a 19-year-old.
This season with the Double-A Rocket City Trash Pandas has not been great for Quero. He is hitting .245 with a .717 OPS, and his slugging percentage has dropped almost exactly two hundred points from .530 last year to .332 this year. However, one thing that is positive this season is his plate discipline. According to Fangraphs, Quero has a 17.0 BB% and a 16.7 K%, which is good for 54 walks and 53 strikeouts.
With Logan O'Hoppe appearing to be the catcher of the future for the Angels, it makes sense why they would part ways with their second-best prospect (O'Hoppe being the top-ranked prospect).
The other prospect in this deal is left-handed pitcher Ky Bush. Bush is the third-ranked prospect in the Angels' farm system and was the Angels' second-round pick in the 2021 all pitchers draft that the Angels did.
Bush had a 3.67 ERA in 21 starts with the Trash Pandas last season, but with all of Double-A changing the baseballs, Bush is another victim of high walk rates, which is a large part of his 5.88 ERA in six starts this season.
It is hard to imagine that this will be the only move General Manager Perry Minasian will make before the August 1st trade deadline. Still, with the worst farm system in baseball, according to Fangraphs, it will be exciting to see what the Angels have in store.
The Angels are 52-49 and are four games out of the last Wild Card spot, and Shohei Ohtani is only guaranteed to be an Angel for the rest of the season, so why not empty whatever they have left in the farm to get as much talent as you can to try and make a run? It is something the Angels have not done in quite some time.