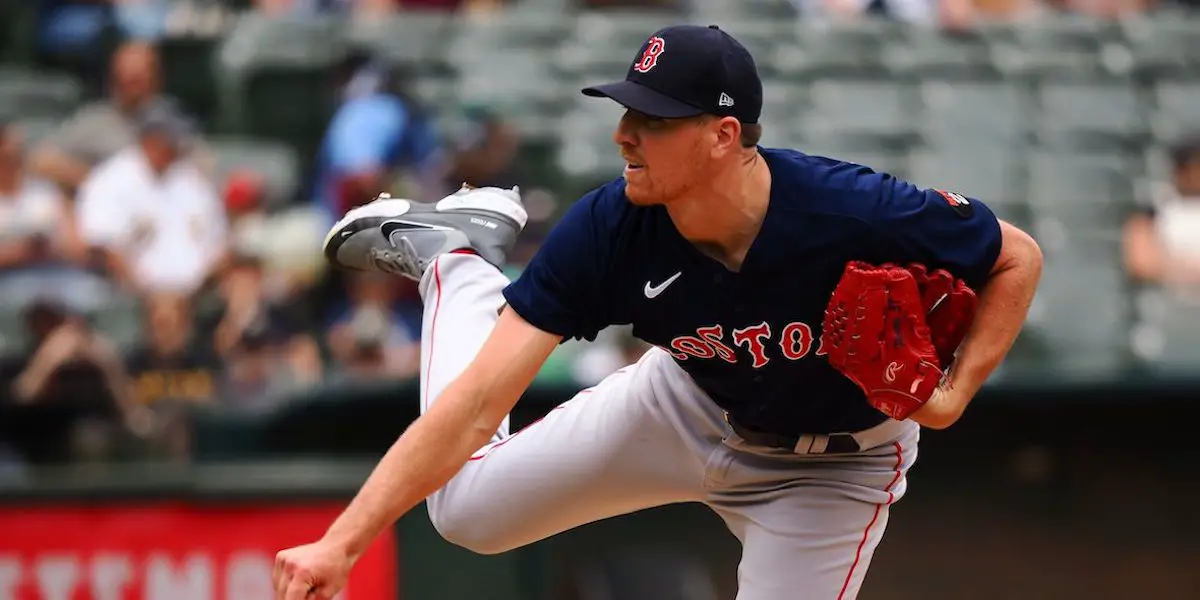 The Boston Red Sox enter the 2023 season with a couple of new names slotted into their starting rotation. The Red Sox are looking to bounce back this season after a disappointing 2022 season saw them finish last in the AL East with a 78-84 record which was five games behind the fourth-place Baltimore Orioles and 21 games behind the Division-winning New York Yankees. The Red Sox will need to be better across the board, from hitting to pitching, if they wish to compete not just for a playoff spot but in a loaded AL East. The Red Sox starting rotation will look a little different heading into this season as they will not have Nathan Eovaldi, Rich Hill, or Michael Wacha. This year's rotation, if healthy to start the season, will feature Chris Sale, newcomer Corey Kluber, Nick Pivetta, James Paxton (missed all of last season), and Garrett Whitlock.
Chris Sale
The oft-injured 33-year-old southpaw has pitched just 11 games over the last two seasons as injuries have kept him sidelined. Last season he appeared in just nine games before his season was cut short due to wrist surgery after he sustained a broken wrist while riding a bike. The Red Sox are hoping they can get a healthy Sale for this season, as they will need him if they wish to be successful. If Sale can return to 2018 form, the Sox will be in good shape, having their ace lead the way. In 2018 Sale posted a 12-4 record pitching in 158 innings with a 2.11 ERA and 237 strikeouts.
Corey Kluber
One of Chaim Bloom's free agent signings of the offseason, the 36-year-old Kluber brings a veteran presence to the dugout. Red Sox fans are very familiar with Kluber's work from his days as a Cleveland Indian, as well as spending the last two seasons playing for AL East rivals New York Yankees and Tampa Bay Rays. Kluber now finds himself on a new team for the fourth straight season as he continues to bounce around the MLB since departing Cleveland after the 2019 season. The veteran right-hander is coming off a season in which he started in 31 games, going 10-10 with a 4.34 ERA and 1.21 WHIP over 164 innings. Kluber held opposing hitters to a .274 average while striking out 139 batters.
Nick Pivetta
Pivetta is gearing up for his fourth season with the Red Sox since coming over in a trade during the 2020 season from Philadelphia. Over the last two seasons, Pivetta has been a regular in the Red Sox's rotation making over 30 starts each season. The 29-year-old right-hander will look to continue his solid work in Boston this year with hopes of having a lower ERA compared to the last two. Last season Pivetta started 33 games, going 10-12 with a 4.56 ERA and 1.38 WHIP. Pivetta did have 175 strikeouts which is the second-highest mark of his career. Over his 179.2 innings, he did hold hitters to a .253 average. Pivetta is once again set to be an innings eater for the Red Sox but must limit walks and home runs this season after giving up career highs in both last year.
James Paxton
It has been two years since James Paxton has appeared on a Major League mound. After getting Tommy John surgery in the 2021 season, Paxton was signed by the Red Sox that offseason. He was expected to be good to go sometime during the 2022 season but suffered a setback. He suffered a Grade 2 lat tear during a minor-league rehab start last August. Finally, on the mend, Paxton will get a chance to debut for the Sox in the 2023 season. The veteran southpaw last played a full season back in 2019, starting 29 games for the New York Yankees. He finished that season with 150.2 innings, a 3.83 ERA, and a 1.28 WHIP. He also added 186 strikeouts and held opponents to a .242 average. Paxton did appear in the 2020 season for the Yankees but only pitched in 20.1 innings. If Paxton can finally stay healthy and shake off the rust, he could play a key role in the back of the rotation.
Garrett Whitlock
The 26-year-old right-hander has been a stud for Boston since they drafted him in the rule five draft stealing him away from New York Yankees. Whitlock has been so good he was rewarded with a four-year extension last April, keeping him in Boston at least through 2026 with a team option for the 2027-2028 season. Whitlock is a player the Red Sox can use all over their rotation and bullpen as the right-hander can come out of the bullpen as a long-inning reliever or start games giving the Red Sox at least three to four innings before turning it over to the bullpen. The versatility of Whitlock is exactly what the Red Sox need in their fifth rotation spot, which can be switched up if Whitlock is needed back in the bullpen.
Last season he was used in both roles as he appeared in 31 games and started nine of them. He pitched 78.1 innings, striking out 82 batters while holding his opponents to a .222 average.