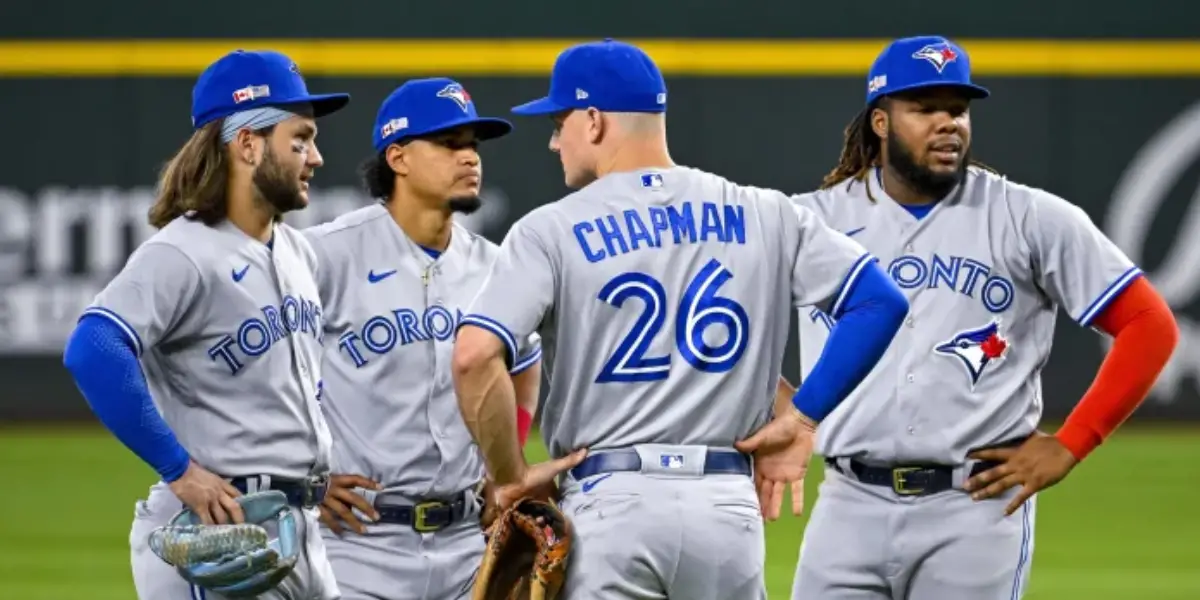 The final piece in a six-part series covers the American League East. Typically the AL East is one of the toughest divisions in baseball, but it appears to be a two-team race in 2023.

Baltimore Orioles
Since winning the World Series in 1983, the Orioles have won only three playoff series. The last series they won was in 2014 against the Tigers in the ALDS before getting swept by the Royals in the ALCS….it's been a long road for O's fans.
2022 showed us a glimpse of what may be to come. The young birds, led by homegrown sluggers Adley Rutschman, Anthony Santander, Cedric Mullins, and Ryan Mountcastle, snuck up on the AL East and won 83 games. The starting rotation was not spectacular but very reliable, and the bullpen was lights out all year.
What would have been nice is ownership spending a few dollars to bolster this young core and perhaps take another leap forward, but that wasn't in the cards. Instead, GM Mike Elias brought in a few veteran cast-offs like Adam Frazier, Kyle Gibson, and Cole Irvin.
Having eight top 100 prospects should keep fans satiated for the moment, and watching Gunnar Henderson and Jackson Holliday man the left side of the infield for the next 8-10 years is very exciting. As for 2023, I expect a bit of a fall from last year's Cinderella story.
Coming off an 83-win season, this year's line is 76.5 wins. This is a tough pick. I have them at 75-78 wins, so I suggest staying away from this bet. But, gun to my head, The pick: Baltimore Orioles to finish under 76.5 wins and finish fourth in the East.

Boston Red Sox
The Chaim Bloom era in Boston is not going well. Bloom traded Mookie Betts away for essentially an average corner outfielder, brought in Hunter Renfroe, then gave him away for middling prospects we'll never see in Boston, traded Andrew Benintendi for a AAAA pitcher, and of course, let Xander Bogaerts leave as a free agent and got nothing in return. Of course, ALL of this could be forgiven if the Sox had any success on the field or a few of Bloom's beloved "prospects" panned out. But alas, the Sox finished in last place for the 2nd time in 3 years and look to do the same this year.
The roster looks like the Island of Misfit Toys. A second baseman that is out all year, a shortstop that should be a centerfielder, a DH past his prime, a left fielder that has never played in the U.S. and by all accounts can't play defense, a centerfielder that can't stay healthy, a right fielder that has regressed every year he's been in the majors, and a catcher that enjoys self-pleasure in parking lots. To make matters worse, not ONE of Bloom's projected starting pitchers can be counted on. Chris Sale hasn't been healthy since early 2018, Corey Kluber is aging and has a lengthy injury history, Nick Pivetta might be the most reliable guy, and he stinks. Garrett Whitlock should be a reliever but instead will be given a chance to be an average starter, and he's hurt, and finally, James Paxton, who is already out with an injury.
Perhaps Bryan Bello can step in and continue to build on a strong finish to 2022, but he has never thrown 100 innings in his professional career, and he's already experiencing forearm pain in spring training.
At least the bullpen has been improved. Kenley Jansen, Chris Martin, and Joely Rodriguez were brought in to go with Tanner Houck and John Schrieber. That's a solid group.
Barring Masataka Yoshida, Justin Turner, Adam Duvall, Triston Casas, and Rafael Devers all having career years while the rotation miraculously stays healthy, The Red Sox will undoubtedly finish in last place yet again.
I could go on and on, but let's get it over with. The pick: The Boston Red Sox to win under 78.5 wins, and Bloom to lose his job.

New York Yankees
To the delight of Yankees fans, Aaron Judge is going to be in pinstripes for a long time. It doesn't feel like Brian Cashman had a very busy winter, but he managed to spend $573 million on Judge, Anthony Rizzo and Carlos Rodon.
He also brought back Tommy Kahnle to sure up an already deep bullpen no longer burdened by Aroldis Chapman and Drake Britton.
Aside from those moves, the Yanks are basically returning the same team that won 99 games in 2022. The rotation is stacked despite the disappointing Frankie Montas, and the lineup will be well above average despite the presence of Josh Donaldson and Aaron Hicks. Oswald Peraza is an upgrade to Isiah Kiner-Falefa, and even if he isn't, Anthony Volpe is very close.
There isn't much else to say. The Yankees are good. Not good enough to win a World Series, but good enough that Yankees fans can puff out their chest, remind us about their 27 rings, and then get knocked out of the playoffs by the Astros or Blue Jays.
The line is set at 94.5, which seems low considering the addition of Rodon. The pick: The New York Yankees to win over 94.5 games. I would love very much to be wrong.
Tampa Bay Rays
For once, the Rays spent some money to retain their players this offseason by committing $67 million to Yandy Diaz, Pete Fairbanks, and Jeffrey Springs. In another un-Rays-like move, they spent $40 million to bring in Zach Eflin. Normally, I would question the signing of a long-reliever/fifth starter to a big deal, but this is Tampa Bay, and surely Eflin will get Cy Young votes this year because the Rays' seemingly crap rainbows and gold.
If Tyler Glasnow is healthy, the rotation looks solid behind Shane McClanahan, Springs, Eflin, and Drew Rasmussen. The bullpen, always a strength, looks to be very solid behind Fairbanks and Jalen Beeks. The lineup, however, has some holes, and the front office did nothing to replace the losses of Ji-Man Choi, David Peralta, Kevin Kiermaier, and Mike Zunino. Not that any of those guys are world-beaters, but that's about 1000 ABs that Kevin Cash needs to replace somehow.
Perhaps once their new stadium is approved and built, the Rays will start acting like a successful major league franchise and have a payroll higher than that of a local McDonalds.
The Rays won 86 games in 2022 despite some injuries. As always, the franchise is deep with unknown talent and should be somewhere in the same neighborhood in 2023. The line is 88.5, which is a bit high for me. The pick: The Tampa Bay Rays to win under 88.5 games.
Toronto Blue Jays
The Blue Jays won 93 games last year, their most since 1993. The lineup was stacked with young superstars Vladimir Guerrero Jr., and Bo Bichette, veterans Matt Chapman, George Springer, and Teoscar Hernandez, and an all-star catcher in Alejandro Kirk.
Still, all that power couldn't prevent an embarrassing collapse in the playoffs. So, out are both corner outfielders, and in are defensive-minded Kevin Kiermaier and Daulton Varsho. Those moves will push Springer to a corner spot and give the bluebirds an elite defensive outfield.
That elite defense may be necessary if Jose Berrios and Yusei Kikuchi continue to find the barrel of opponent's bats. The addition of Chris Bassitt gives the Jays a solid 3-4 starter behind Alek Manoah and Kevin Gausman, but this team needs Berrios and Kikuchi to return to form.
I expect these Jays to score many runs, perhaps the most in the league, and mash their way back to the playoffs and push the Yankees for the AL East crown.
Vegas has them at 90.5 wins. I think they improved this offseason, and the rotation will be solid. The pick: Toronto Blue Jays to win over 90.5 games and make the playoffs.
AL East Best Bet: Gunnar Henderson will be tough to beat out for Rookie of the Year (+225), but how about his teammate, Grayson Rodriguez, at +1000?