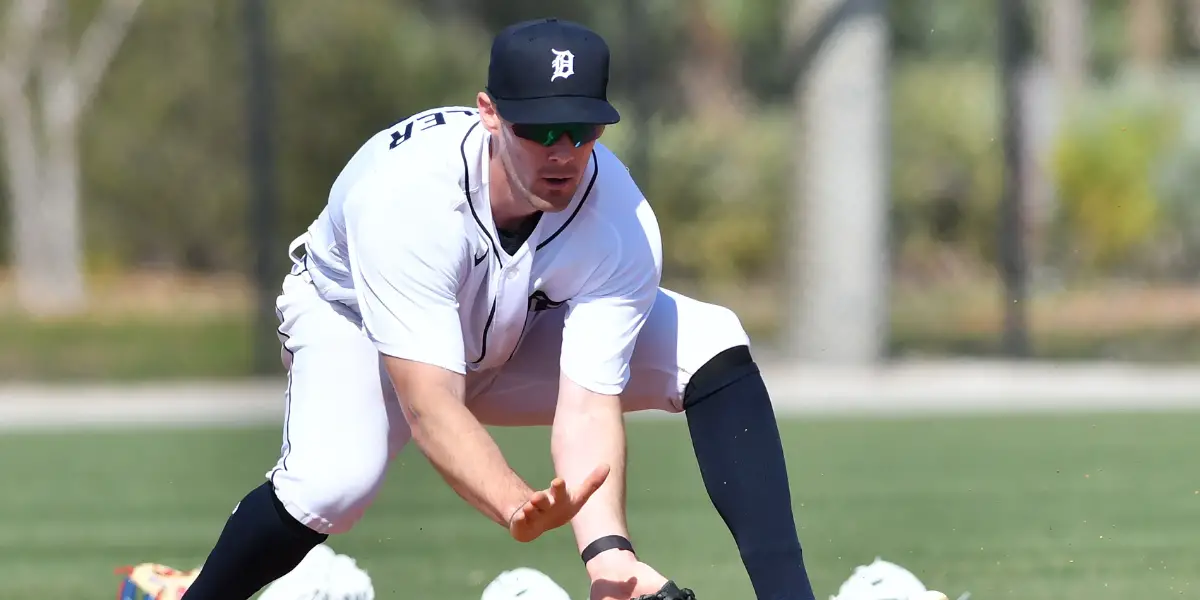 The Detroit Tigers entered Lakeland this week with a dilemma on their hands, and one that has been on the mind of fans all offseason: who is exactly going to be their third baseman this season? This question has been on the table since their starting 3rd baseman of the past five seasons, Jeimer Candelario, was non-tendered this past November. Barring any last-minute signings, AJ Hinch will have these players to pick from these players to play the hot corner:
Ryan Kreidler
Ryan Kreidler made his Major League debut last September as a callup, and while he is primarily a shortstop, it is possible that he starts most of his games at 3rd this season. He started more games at 3rd than any other position, and recorded a 5 OAA total in the sample size we saw from him, so he has the potential to have a reliable glove. As a hitter, Kreidler will look for improvement after hitting just .177/.244/.477 with just 1 HR in 73 big league ABs. Look for Kreidler to be the safe option if the Tigers don't decide to take a chance on anyone.
Andy Ibáñez
Andy Ibáñez is a new member of the Tigers organization, joining the team via a waiver claim in November. He was the Rangers' Opening Day starter in 2022 but is coming off a rough campaign in which he split between Texas and AAA Round Rock. As a batter, Ibáñez hit .218/.273/.277 over just 119 ABs with 1 HR. His fielding is nothing to write home about, as he has a career 4 OAA. Ibáñez will have to earn his spot on the team and on the 40-man roster early in camp or in the World Baseball Classic, as he will represent his native Cuba.
Tyler Nevin
Tyler Nevin joins the Tigers after being designated for assignment by the Orioles back in December and then being traded to Detroit on New Year's Day. Nevin comes to Detroit looking to revitalize his career, as he has not lived up to his potential so far in the majors. Hitting-wise, Nevin is a career .205/.312/.604 hitter with 3 HRs in 171 ABs over two seasons. Nevin's glove may be an issue, as he posted a -5 OAA at 3rd base in 2022, his primary position.
Andre Lipcius
Andre Lipcius making the team straight out of camp is a long shot to happen, but it shouldn't be ruled out. Lipcius, a 2019 3rd-round pick out of Tennessee, had a breakout season in the minor leagues last year, slashing .277/.391/.826 with 12 HRs across Erie and Toledo. Lipcius can play all infield positions but was primarily a 3rd baseman last season. His efficiency at the hot corner. However, his was very inconsistent however, with 16 errors at 3B alone and a .923 FPCT. Lipcius will more than likely make his debut this season, so keep an eye on Andre Lipicus.
Justyn-Henry Malloy
Now we already know that JHM will not make the team out of camp at first, as Scott Harris was quoted by The Athletic as saying, "[Malloy is] not in the big leagues right now, but he's as close as you can possibly be (to) the big leagues, and he plays third base." Still, JHM's talent will not keep him in Toledo for very long. Acquired in the offseason for Joe Jiménez, JHM advanced quickly through Atlanta's system in 2022, starting in High A and finishing the season in AAA. In 133 games, JHM hit .289/.408/.862 with 17 HRs and 81 RBIs. Should JHM continue mashing at this rate, he should be in Detroit within the first few months of the season.