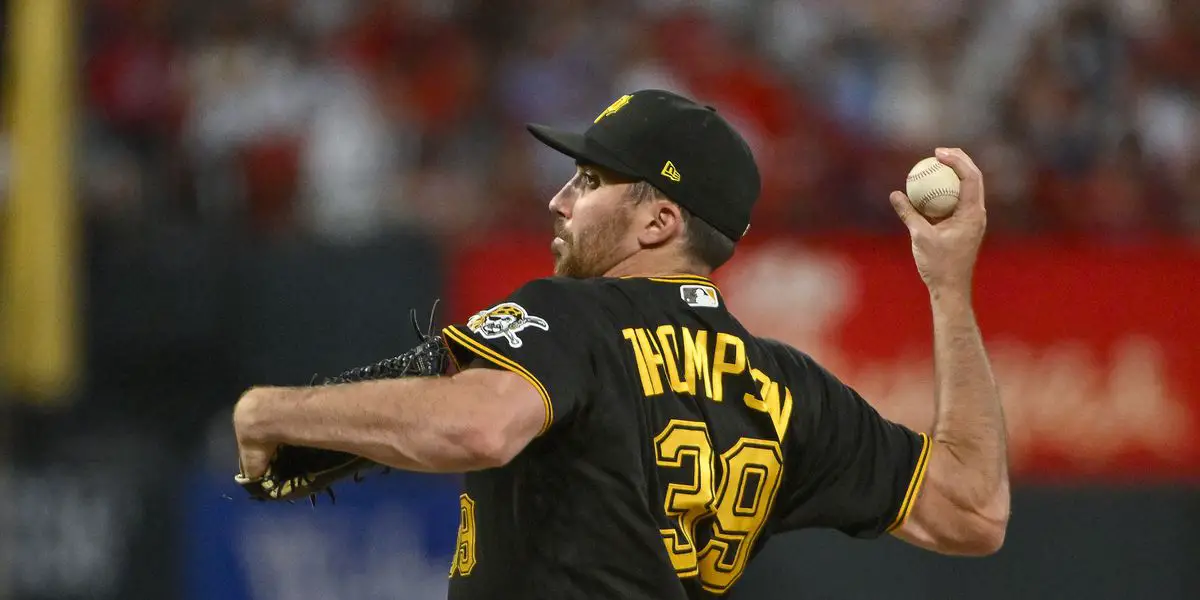 The Toronto Blue Jays and the Pittsburgh Pirates made an interesting trade this off-season. The Blue Jays acquired Pirates starter Zach Thompson in return for outfielder Chavez Young. Now, this swap wasn't exactly a blockbuster, especially when looking at Thompson's career numbers. However, Jays fans should be a bit more optimistic about the acquisition of the 29-year-old right-hander. Rotation depth never hurts, and Thompson could benefit from working with the Blue Jays' pitching staff.
Last season with the Pittsburgh Pirates, Thompson's season had its ups and downs, to say the least. The 29-year-old had a three-win, ten-loss record through twenty-two starts and twenty-seven games. After starting the season in the Pirates rotation, the right-hander was moved to the bullpen. Zach posted a 5.19 earned run average, ninety strikeouts, and a 1.51 WHIP through one-hundred and twenty-one innings. 
Zach Thompson's struggles with the Pirates last season were a bit concerning, even more so when looking at his advanced stats. The new Blue Jays right-hander ranked in the thirty-first percentile for HardHit percentage, thirteenth percentile in expected slugging percentage, and was ranked in the first percentile of expected batting average percentage. Those numbers are not good, to say the least, and it doesn't stop there. Thompson gave up nineteen home runs last year with the Pirates, and with the move to an AL East division with a plethora of hitter-friendly parks, it could lead to trouble. An interesting stat I came across with Thompson is that in almost all ballparks in the AL East division, Thompson's expected home run numbers are actually higher. Leading the way is Yankee stadium with twenty-four, a large gap between his expected number of seventeen at PNC Park.
Now that we got the concerning statistics out of the way, let's turn to the positives and why this move could work. First off, this is a move Blue Jays management made strictly off-depth. Thompson could potentially become a useful innings eater out of the bullpen. Do I expect Zach to put up league-average numbers? No, but I do think he can give you some good innings here and there. With the loss of Ross Stripling, I wonder if Thompson can fill that void, the numbers aren't great, but you have to think management made this move for a reason. 
I'm going to be completely honest, Pete Walker is a huge reason I'm optimistic about the acquisition of Zach Thompson, but it's not the only reason. It's easy to say that the addition of a highly regarded pitching coach league-wide should be enough to turn Zach around, but after looking through Thompson's pitching arsenal, I came across something I really like. Despite having a lot of blue on his percentile rankings, Thompson actually ranks in the ninety-first percentile in fastball spin and sixty-eighth percentile in Barrel percentage. Those are two statistics that prove Thompson's got at least some juice in his pitches, and that movement could be a huge factor if Zach does turn it around. With Thompson having a five-pitch arsenal, it could lead to some interesting mixes for Pete Walker to work with. 
I expect Thompson to challenge for the fifth spot in the rotation, but I don't see him as the favorite until proven otherwise. Given the price on Yusei Kikuchi's contract, I can see Kikuchi getting the job early, but Zach Thompson could easily steal it away. I do actually like this move when it's all said and done. I think Thompson is a more reliable arm for this role than what we've seen in the past, but also, his unique five-pitch arsenal if moved to the bullpen. If Thompson starts as a long-reliever for the Blue jays, that five-pitch mix could be a significant advantage for the Jays. Thompson should see a lot of work this Spring, hopefully starting off on the right step. 
Thanks for reading! For more baseball content, follow me on Twitter at ITR_Anselmo.