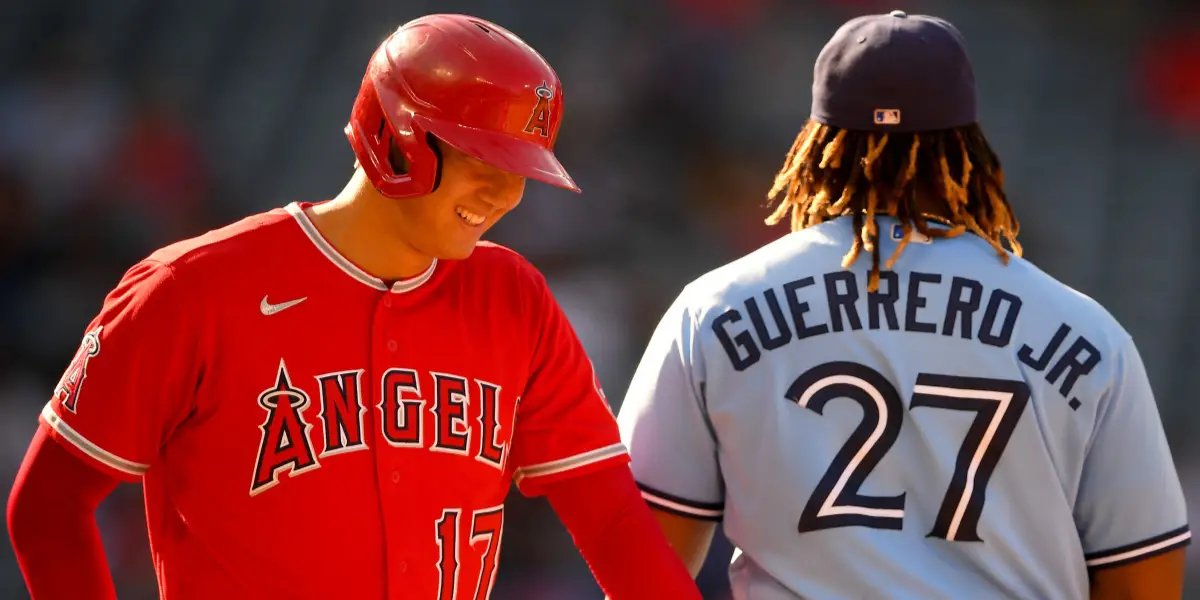 Baseball season is almost here… Finally, the long wait will be over. Soon we'll see Home Runs, diving catches, stolen bases, and all the great things in baseball for the first time since November. I figured with the new rule that every team must play each other during the season that this article would be a great idea. I say that because your favorite team will play these guys at some point this season. Today we're taking a look at the players who make the plays. This is my list of the Top 10 most electrifying/exciting players in the sport.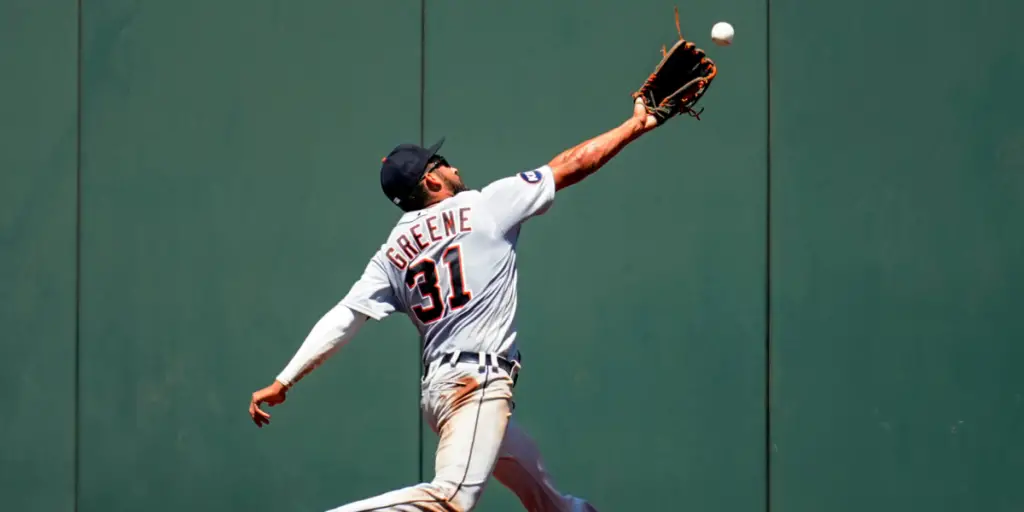 Number 10: Detroit Tigers CF, Riley Greene
We start the list with one of baseball's most exciting young players. The Detroit Tigers drafted Riley Greene in the 1st round, 5th overall, in 2019. He was expected to make the opening day roster out of spring training, but unfortunately, he fouled a ball off his foot and suffered a setback. Greene fractured his foot on the play, preventing him from starting his rookie season on the opening-day roster. When Greene was healthy again, he started the season with Lakeland, where he played just two games before heading back up to Triple-A to spend time with the Mudhens. He played 15 games for Toledo before being called up to join the big league club. He didn't start his rookie campaign until mid-June, but he still had a promising rookie season. Greene bat .253 with 27 extra-base hits that included 5 Home Runs. He had a .321 OBP, an OPS of .682, and a slugging percentage of .362. He's my pick to win a Gold Glove in center field, so be sure to watch for him when Plays of the Week airs every week of the season on MLB Network.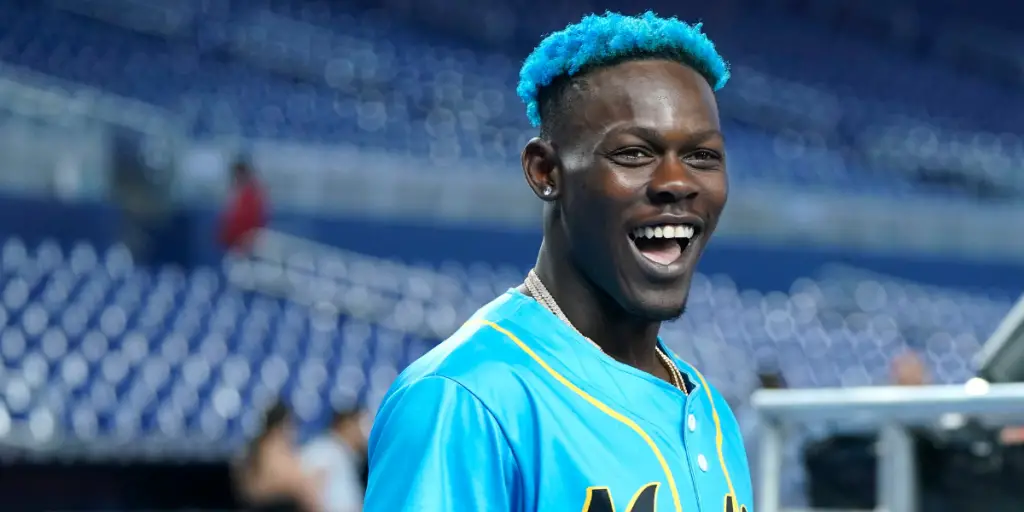 Number 9: Miami Marlins 2B/CF, Jazz Chisholm Jr
To be honest, I don't watch many, if any, Miami Marlins games during the MLB season. I watch MLB Network often, though, I've seen this kid's highlights, and he is FUN to watch. Jazz Chisholm has all the tools that a player needs to be considered electric and exciting. Off the charts athleticism, speed, defense, decent power, and a wild/occasionally reckless swing. Jazz also has a fun personality, perhaps one of the better personalities in the sport. Jazz started his big league career in 2020 but took off in 2021. Keep in mind when I give you his stats that he has great power for his size and the position that he plays. In '21, Chisholm played in 124 games, batting .248, with 18 Home Runs, 42 extra-base hits, 53 RBI, an OBP of .303, a slugging percentage of .425, an OPS of .728, and 23 stolen bases. In 2022, Jazz became an All-Star for the very first time. He was well on his way to setting new career highs in nearly every hitting category, but his season was cut in half compared to 2021, as he appeared in only 60 games. In 2022, Jazz batted .254, with 14 Home Runs, 28 extra-base hits, 45 RBI, an OBP of .325, a slugging percentage of .535, an OPS of .860, and 12 stolen bases. A stress fracture in his back knocked Chisholm out of the 2022 campaign after just 60 games. For baseball's sake, I hope that Jazz returns to the level of play he was at before the injury.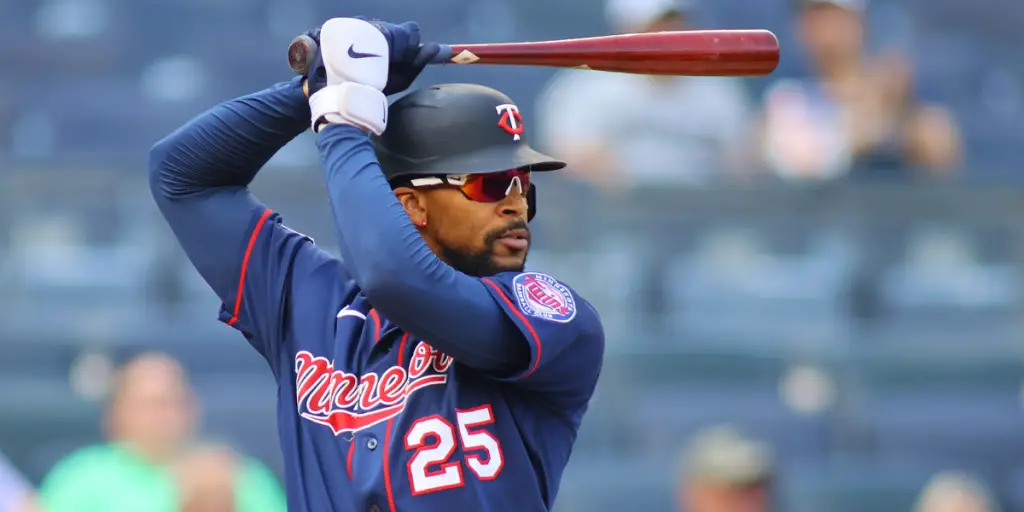 Number 8: Minnesota Twins CF, Byron Buxton
Byron Buxton plays Center field as well as anyone in the sport. His speed is electric, so it's easier for him to track fly balls than most. He's a human highlight real with both his bat and his glove. Injuries have affected his career; otherwise, he would probably be considered one of the best players in baseball. Buxton was an All-Star for the first time in 2022 and set several career highs. For the first time in his career, he surpassed 20 Home Runs with 28 last season. Buxton tied his career high in RBI with 51 as well. He shares the lineup with another electric ball player Carlos Correa. Minnesota has a promising future with some good young ball players and fantastic veteran players like Buxton and Correa. The AL Central isn't very strong, so I wouldn't be surprised at all to see the Twins win the division this year. If he stays healthy, Buxton will be one of the most exciting and electric ball players to watch this season.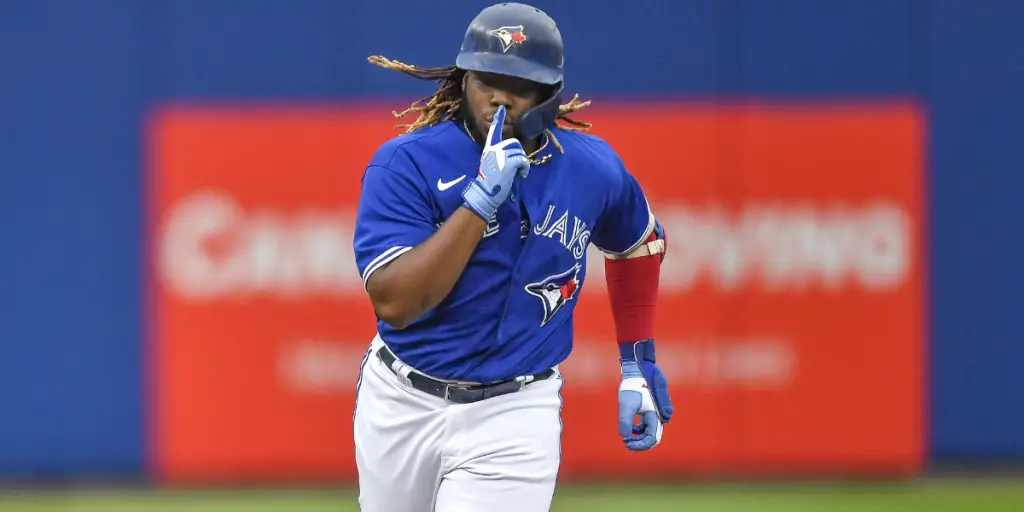 Number 7: Toronto Blue Jays 1B, Vladimir Guerrero Jr
It would have been hard for me to leave Vladdy off this list. I don't know if there's anything more electric in baseball than when Guerrero Jr hits a moonshot out of the park. Since his very beginning at the big league level, he's been a star. It helps when you have the last name Guerrero, but he's not an athlete that had to lean on his last name for opportunities. Vladimir Guerrero Jr's power is something special, something I'll guarantee his father wishes he had in his playing days. Don't get me wrong, Vladdy Sr had serious power, too but nothing like Jr's. He's in a good spot and hasn't reached his full potential yet. I'd like to see the Jays make a deeper run in the postseason so that we get to see Vladdy play in those huge games. One of my favorite things about baseball is hearing the ball make contact with the bat and hearing the noise it makes when a player smashes a Home Run. It wouldn't surprise me if Vladimir Guerrero Jr broke the sound barrier one of these days. When opposing fans see the Blue Jays on their schedule, I'm sure they'll be eager to buy tickets just to see Vladdy play in person. A forever-lasting legacy is being built for Guerrero Jr, and I'm glad I'm in his era of baseball to watch his career from start to finish.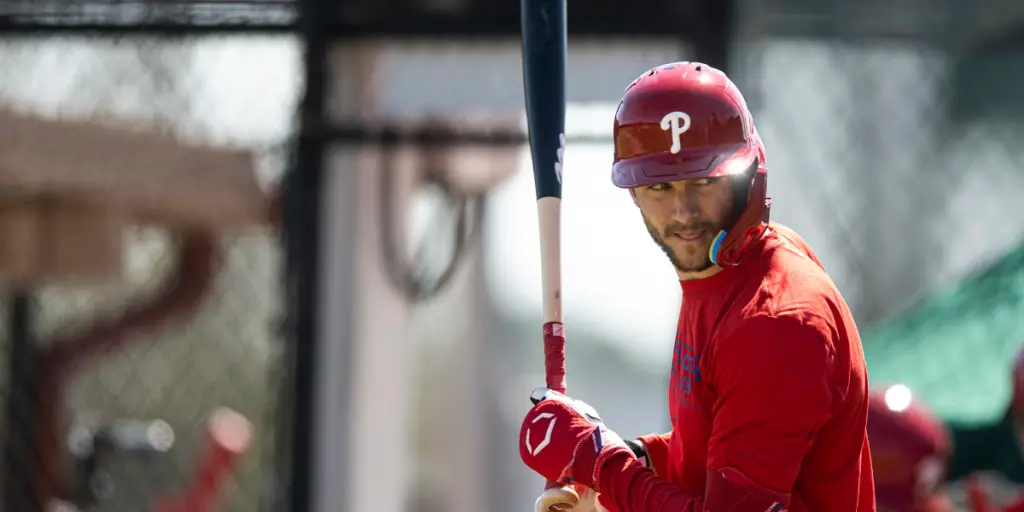 Number 6: Philadelphia Phillies SS, Trea Turner
Aside from Vladimir Guerrero Jr, we're seeing a trend here with my top 10… SPEED… in my opinion, is one of the biggest factors when ranking electric players. This comparison for Trea Turner is for my seven-year-old cousin who loves the sonic series… Turner is MLB's supersonic. Trea is gone in a flash and is a nightmare for pitchers when he reaches the base paths. If it isn't already stressful enough having to pitch in the MLB, imagine having to worry about that guy taking off. His base running talent alone is off the charts and fun to watch. He's very consistent, as well as he finished last season with a .298 batting average. He's a member of new faces in new places this season as he joins the reigning National League champion Philadelphia Phillies. Turner is undoubtedly exciting to watch, and it'll be fun watching him team back up with Bryce Harper, who was Turner's teammate in Washington.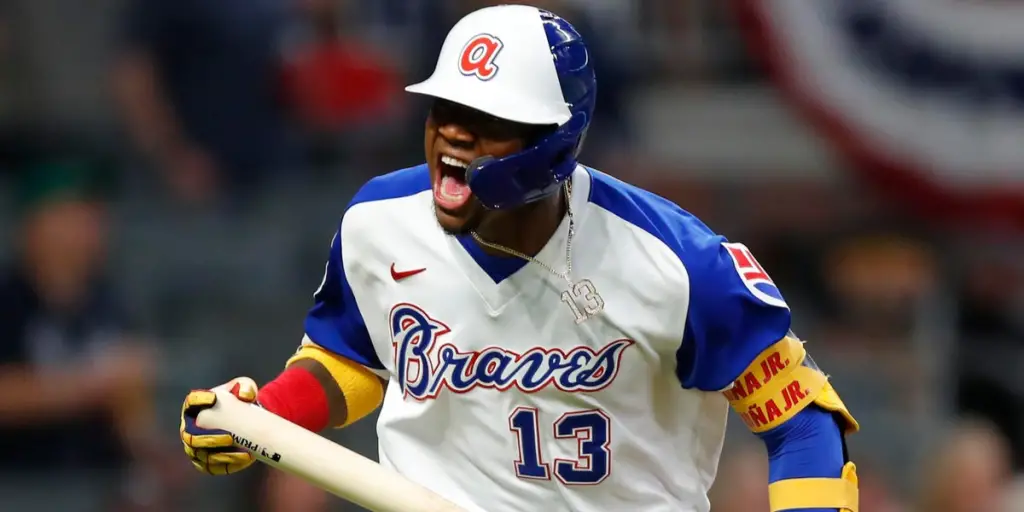 Number 5: Atlanta Braves OF, Ronald Acuña Jr
We've reached my top 5, and It'll be Ronald Acuña Jr who rounds out my top 5 most electric MLB players rankings. The 2021 World Series champion has been a star since the very start of his big league career. His career-high batting average in a season came in his rookie campaign when he came just shy of batting over .300… In his rookie year, Acuña Jr bat .293 with 26 Home Runs, 56 extra-base hits, 64 RBI, an OBP of .366, slugging percentage of .552, an OPS of .917 and 16 stolen bases. Acuña would become an even bigger star the following season when he played a whopping 156 games and led the league with 715 plate appearances. Acuña mashed the baseball that season with 41 Home Runs. For the only time in his career, he passed 100 RBI finishing with 101 runs batted in. He also led the league in stolen bases. That brings us back to our trends… Acuña has insane athleticism, magnificent speed, insane power, and great defense. He's another guy that has all the tools. In a COVID shortened 2020 season, he hit 14 Home Runs. 2021 would be a heartbreaking season for Acuña as he tore his ACL, which caused him to miss the rest of the season and prevented him from playing in the playoffs as the Braves won a World Series. 2022 was better for Acuña Jr, but he still wasn't himself. He played 119 games but lacked the power he had before tearing his ACL. He ended up hitting just 15 Home Runs in 2022. This season he'll be two years removed from the ACL injury and hopefully will regain his power. As always, though, we know Acuña will be a fun player to watch.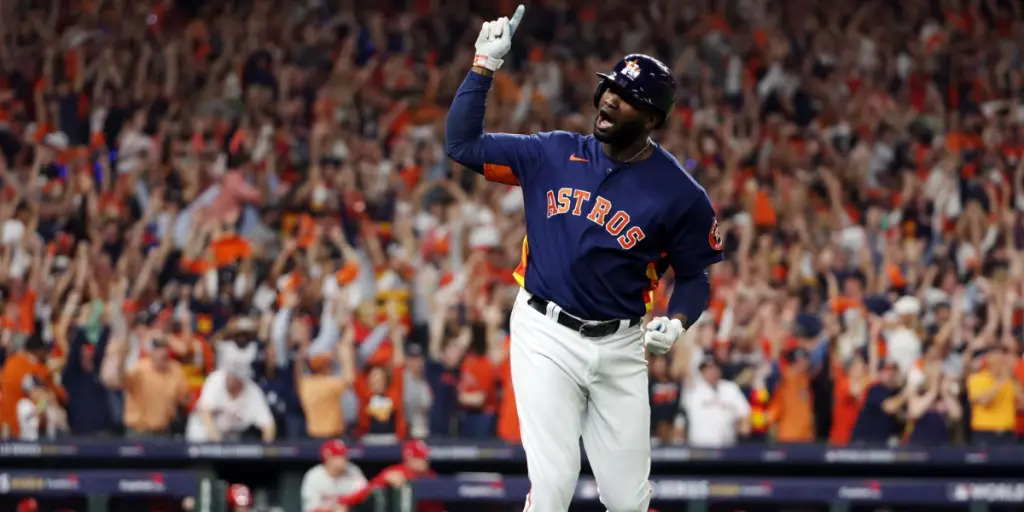 Number 4: Houston Astros DH/LF, Yordan Álvarez
There's just one player ahead of Yordan Álvarez on this list that played in the postseason last year. Don't let that fool you, though, Álvarez was by far the most electric player in the Playoffs last year, and it wasn't remotely close. Yordan Álvarez's dramatic walk-off Home Run with two outs, two on, trailing by three, facing LHP Robbie Ray was maybe the most electric moment in sports in 2022. It was an incredible moment, and my mind was blown as I watched it live. I felt bad for my cousin, who is a Mariners fan, but that was certainly a legendary moment that will live on in Astros history forever. I talked about Vladimir Guerrero Jr's power, but I think Yordan is even stronger. I'd love nothing more than to see them two go head to head in the Home Run Derby one day. That would be an epic showdown. The Astros aren't going anywhere and will likely make another deep playoff run, so we will be getting more electric moments from Yordan Álvarez in 2023.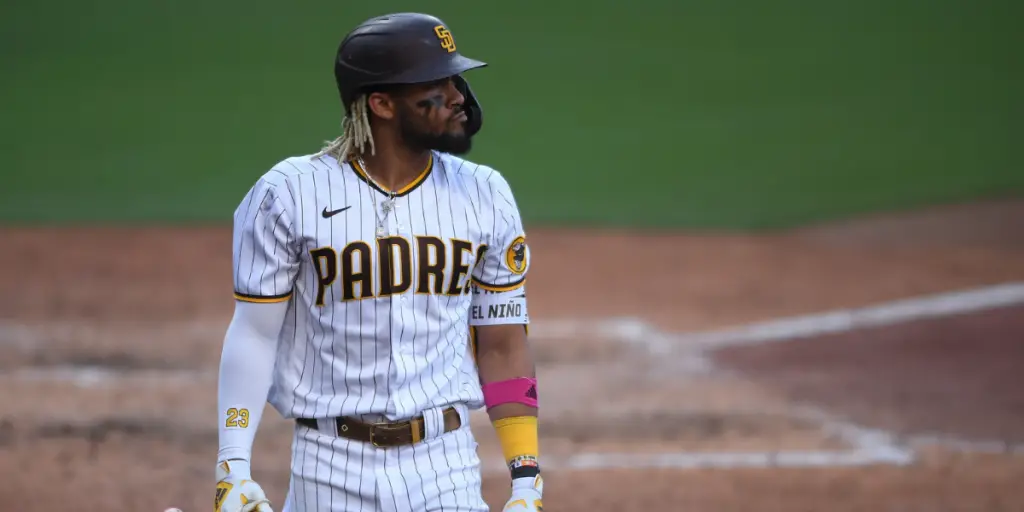 Number 3: San Diego Padres SS, Fernando Tatis Jr
Some people may have forgotten about Tatis Jr, as it's been so long since we've seen him on the diamond, but I haven't. Fernando Tatis Jr was once on top of the world and arguably the biggest name in sports. Unfortunately, injuries have plagued his career. The setbacks continued for Tatis Jr after a failed drug test got him suspended 80 games. He is eligible to return pretty early in the season. Tatis Jr should return on April 20th. We can't just forget about the player he was before the setbacks. This guy was the face of baseball. Everyone outside of maybe Dodgers, Giants, Rockies, and D-Backs fans loved Tatis Jr and were likely big fans of his whether or not he was on their favorite team. Some players have that kind of impact, and Tatis is one of them. It'll be good for the sport once Tatis gets back to the ball diamond. I'm hoping he stays healthy and stays out of trouble. If so, he'll be back to playing elite-level baseball.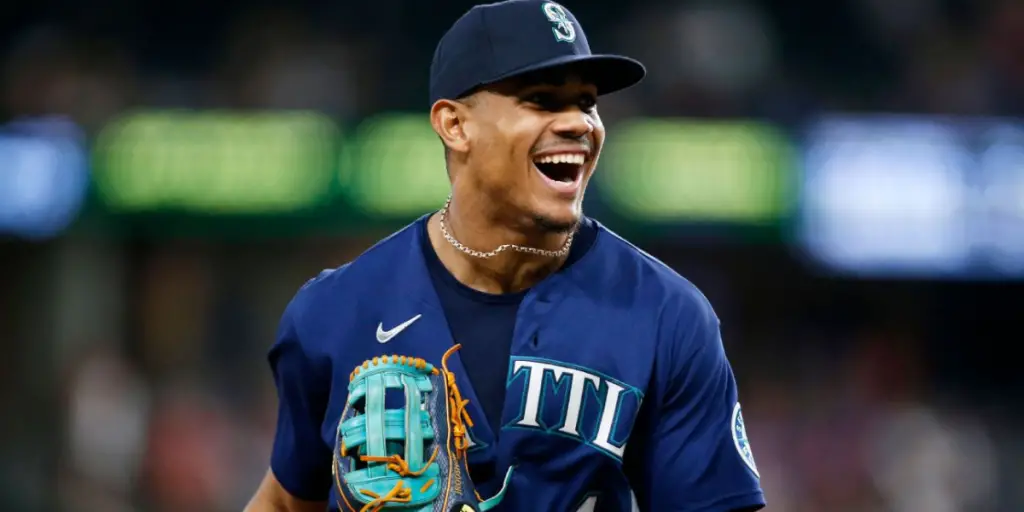 Number 2: Seattle Mariners CF, Julio Rodriguez
The 2022 rookie sensation has made the list at number 2… When I had the idea of writing this article, I had every intention of putting Julio as number one, but I changed my mind last minute. Just to be clear, I'm predicting Rodriguez to win the MVP this season. It'll be tough for him to beat the #1 player on my list, but I feel like he's going to do it. I think 35 to 40 Home Runs are realistic this season for Julio. In my opinion, he will have a similar impact as Tatis Jr. In his rookie year, he hit 28 Home Runs and came just shy of winning the Home Run derby. The Seattle Mariners struck gold when they drafted Rodriguez, a talent like his doesn't come around very often, and when it does, you're lucky to be in a position to land him. Now the Mariners are building a team around Julio that could compete for pennants as well as a World Series trophy down the road. Rodriguez is electrifying to watch and is becoming the face of baseball. His 2nd season should be fun to watch. I can't wait to see how he backs up his freshman campaign.
Number 1: Los Angeles Angels RHP/DH, Shohei Ohtani
We've made it to the end of my list, and the king of electric ballplayers is… Shohei Ohtani!
If I had just one word to describe Shohei, it'd be greatness. By the end of his career, I guarantee that Ohtani will be considered the greatest of all time by many. The fact that he's one of the best sluggers in baseball while also being one of the best starting pitchers in baseball is nothing short of incredible. Ohtani is the type of player you'll tell your kids and grandkids about. He's truly a modern-day Babe Ruth, and I'm not sure he gets the respect he deserves at times. I'm almost speechless talking about what kind of talent he is. I feel bad that he and Mike Trout are in Anaheim right now, not even making the playoffs when they should be World Series contenders. Trout hasn't had a shot at winning a World Series once in his career. It'd be a shame if he and Ohtani never got the opportunity. However, there are rumors about Ohtani exploring things in free agency which would be madness if he's available. We must appreciate Ohtani while he's here because who knows how long it'll be before another Shohei comes along.
Thanks for the read!