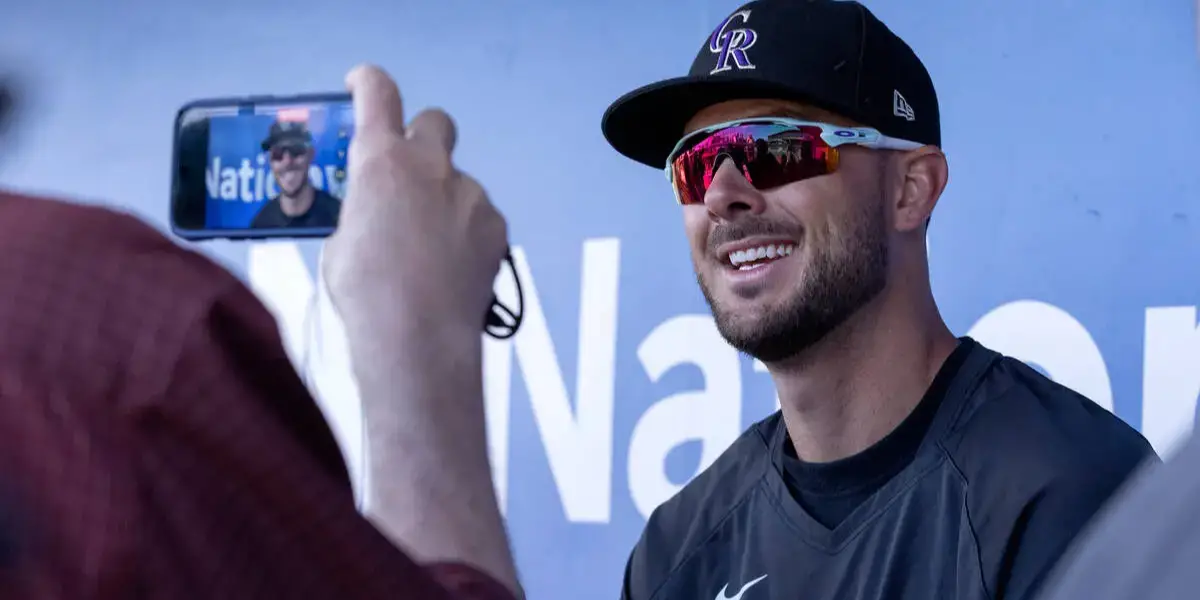 Hey, Rockies fans! Spring Training in Arizona is complete, and Opening Day is almost here. The team might not have an enjoyable season in 2023, but there are a few things to be excited about as we head into the regular season.
1. Promising Young Talent
The Rockies have some great young players who will be on the Opening Day roster come Thursday in San Diego. Players like Ezequiel Tovar, Elehuris Montero, and Alan Trejo have shown plenty of potential this spring and could really turn some heads in the 2023 season. For the sake of time, we'll only look at Ezequiel Tovar and Elehuris Montero in depth a little bit. Tovar, who will be the new shortstop of the upcoming Colorado Rockies, started his professional career in 2018 at age 17, playing for the DSL Rockies, where he hit .313 with a .772 OPS in 61 games. He began to move through the Rockies system very quickly. He eventually started the 2022 season in Double-A Hartford, where he slugged .318 with 13 home runs with a .931 OPS in 66 games and earned a promotion to the big leagues in late September last season after playing in only five games with Triple-A Albuquerque. Tovar is a very talented infielder who looks to be the next big thing at shortstop for Colorado, like the previous ones that have worn a Rockies uniform, including Troy Tulowitzki and Trevor Story. He is known for his great defensive skills, with a strong arm, good range, and the ability to make difficult plays look easy. He can also be a solid hitter with a quick bat and good plate discipline. The power will come eventually as he develops.
Elehuris Montero should be a name to keep an eye on this year. Montero came in the Nolan Arenado deal from the Cardinals in February 2021. He was considered one of the top prospects in the Cardinals organization before coming to Colorado. In 2021, Montero started the year in Double-A Hartford and fitted in quite well. He had a good .279 batting average in the Eastern League with a .884 OPS, including 22 home runs. He finished the year in Albuquerque with a line of .278 with six home runs and a .901 OPS in 28 games. Last season in 65 games with Albuquerque, Montero hit .310 and a very good .933 OPS. What we saw this spring from Elehuris Montero shows that he's ready to take on the third base spot for the Rockies, with Ryan McMahon moving over to second base because of the Brendan Rodgers season-ending injury. Montero is still considered a top prospect with a ton of potential. He has a strong arm and decent defensive skills in the infield. But his hitting prowess is his greatest asset. If he proves to be the guy at third this year for the team, he could be a key piece moving forward in the future of the Rockies lineup.
2. A healthy Kris Bryant…hopefully
There is no doubt that the Rockies NEED a healthy Kris Bryant in 2023 if they want to improve from a 2022 season where they went 68-94, finishing in the National League West basement. The Rockies signed Kris Bryant to a seven-year, $182 million deal last offseason. It is the largest free agent signing in franchise history. He was one of the most coveted free agents on the market during the lockout. Bryant was named NL Rookie of the Year in 2015 and won the 2016 NL MVP award. Last year was a largely disappointing year for Bryant as he only played 42 games due to injuries but had good numbers while he played. Bryant, when healthy, has proven to be one of the most exciting players in the game.
3. Improving farm system. Zac Veen, maybe?
Last summer, the Rockies had a top 3 draft in baseball during the All-Star Break in Los Angeles and stocked up the lower farm system with very promising prospects, including right-hander Gabriel Hughes. Just recently, MLB Pipeline released their rankings on each team's farm system, and the Rockies were ranked at 14. At the start of last season, the Rockies were previously ranked 24th. The system improved quite a bit, but there's still more room to improve if your Colorado. Overall, the Rockies' farm system has a lot of promising players, from the DSL to Albuquerque. They have players with the potential to make an impact in the big leagues. Prospects like Benny Montgomery, Warming Bernabel, Jaden Hill, Adael Amador, and of course, Zac Veen makes the Rockies' future look bright. With continued development and careful management, they could be a key part of a successful Rockies team in the years to come. Speaking of Zac Veen, there is a very real possibility we will see the young talent of the "Veenster" come up to the big league club sometime in 2023. Veen was the Rockies' first-round draft pick in 2020 and is one of the top prospects in baseball. He is an outfielder known for his above-average hitting ability, elite speed, and athleticism. Despite being 21 years old, Veen has already impressed many in the minors and could be a star player for the team in the future. He is expected to start the year in Double-A Hartford, and we'll see from there how he performs. He had a pretty good spring which helps his process of being called up sooner rather than later. If Veen can put up good numbers in Hartford and Albuquerque during the season, we very well could see him put on the purple pinstripes by the season's end.