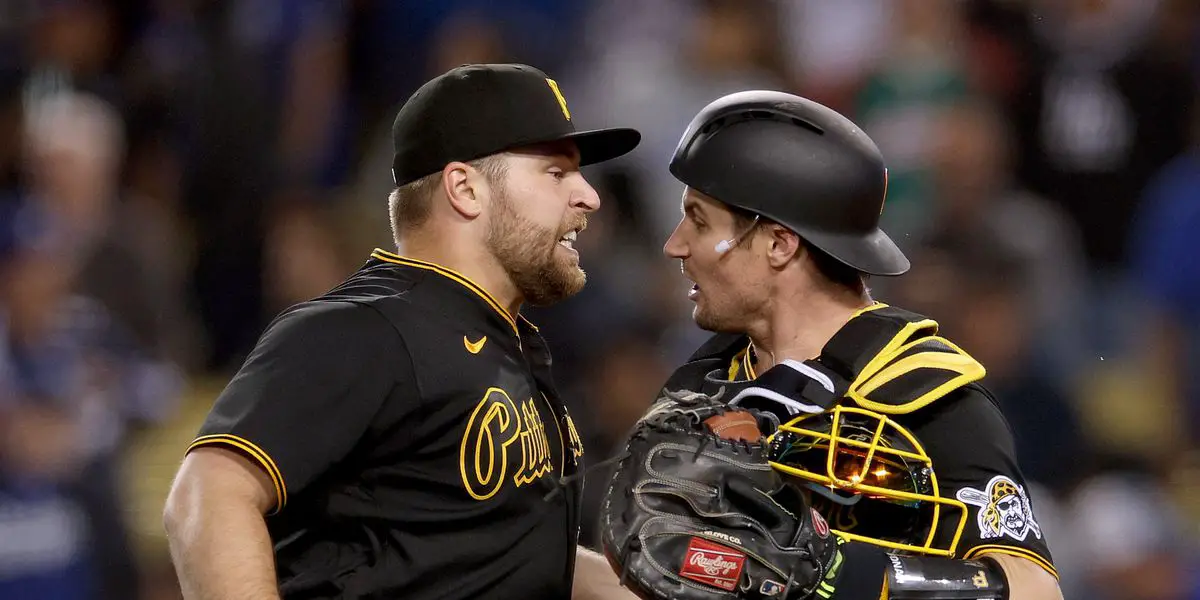 What a start to the Pittsburgh Pirates 2023 season as they complete the series sweep against the Boston Red Sox! After dropping two games in Cincinnati, the Bucs bounced right back, stealing all three games at Fenway after a high-scoring series against Boston and a beautiful outing from Pirates Mitch Keller. The black and gold showed lots of potential for what's to come, leaving Pirates fans excited for what's in store.
1. David Bednar
The first takeaway from the Pittsburgh Pirates sweep out in Boston was how good Pirates closer David Bednar looked. After a dominant first half last season, leading to an All-Star appearance. The 28-year-old right-hander's second half of the season was not what Pittsburgh fans were hoping for. After seeing a dip in performance, likely due to a high workload in the early half, David bounced right back and showed off his arsenal against the Red Sox. After earning not one, but two saves in back-to-back games. The Pirates closer now has three saves, a 0.00 earned run average, and five strikeouts through three innings. It's still early, but man, it's amazing to see David Bednar back and pitching this well.
2. Ji-Hwan Bae Could be a Nice Piece
The second takeaway from the Pirates series with the Red Sox has to be the impressive play from Pirates Ji-Hwan Bae. After hitting a home run along with a couple of hits and runs batted in through twelve at-bats against Boston, Ji-Hwan Bae made quite the impact in the two games he played in this series. When reading the boxscore, you won't quite get the full effect, Ji-Hwan's bat was a factor in this series, but his defense also played a role. Although the 23-year-old wasn't perfect, Bae made a spectacular catch against the wall robbing Boston star Rafael Devers of a hit. If the Pirates hope to keep up this good run, having Ji-Hwan Bae contribute as he did in this series will be an important piece moving forward. 
3. Pay Bryan Reynolds
The third and final takeaway from the Pirates' second series of the season was simply just appreciating Bryan Reynolds. The situation is certainly frustrating for Pirates fans as yet again; another quality baseball player is being forced to leave in order to get paid what the 28-year-old deserves. After publicly requesting a trade out of Pittsburgh in the offseason, Bryan Reynolds still showed up and is absolutely on fire to start the year. Who knows how long Bryan Reynolds will be wearing the black and gold, but for now, Pirates fans should just appreciate not only the ball player Reynolds is but also his character and how Bryan's going about this situation. The outfielder currently leads the league in home runs, hitting four in the team's first six games. With the early success this season, keeping Bryan Reynolds around would only make sense. It's time to pay Bryan Reynolds. 
After starting off the season, winning four of the team's first six games on the road. The Pittsburgh Pirates will finally return to PNC Park tomorrow as they host the Chicago White Sox. Pirates veteran left-hander Rich Hill is projected to face Lucas Giolito of the White Sox in the pitching duel, making tomorrow a pretty entertaining battle. The White Sox are a younger team with tons of talent going against a Pirates team who's looking good! Highly recommend tuning into the Pirates' home opener as the team looks for its fifth win of the season. 
Thanks for reading! For more Pirates and baseball content, follow me on Twitter at ITD_Anselmo.