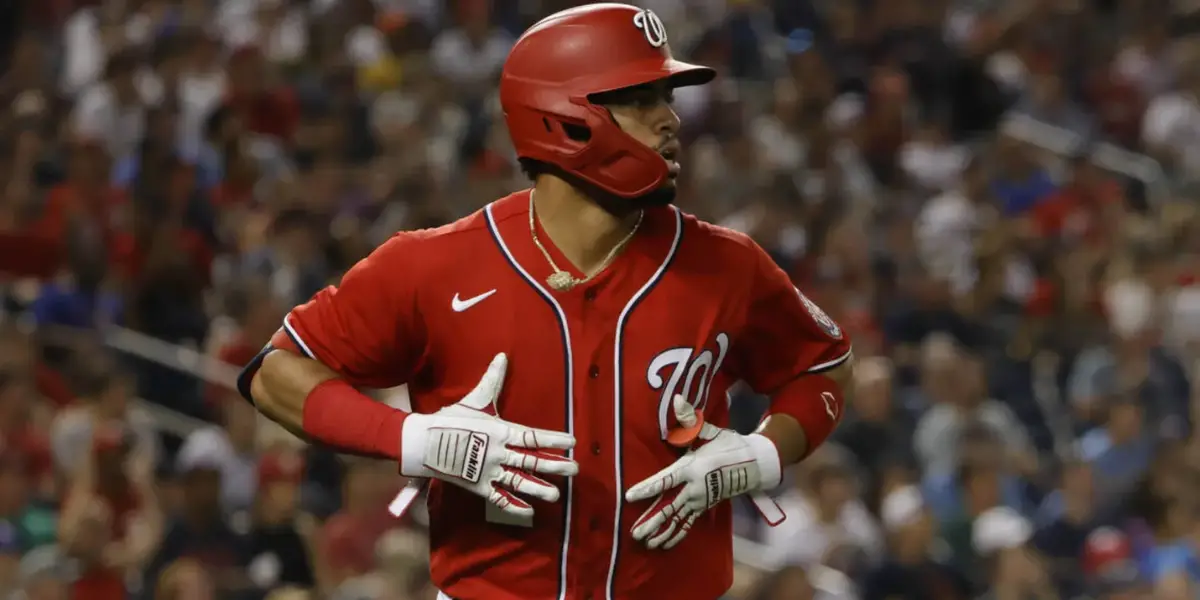 When most think about the young talent on the Nationals, Keibert Ruiz, CJ Abrams, Josiah Gray, Cade Cavalli, and Mackenzie Gore are the names that come to mind. A player that often gets overlooked is Luis García. Sure, he hasn't been as highly rated as a prospect and may not hold the star potential that the previously mentioned names have, but he's been a top-100 prospect. He's also raked at AAA and has shown some solid signs at the big league level. 2023 will be his first full season in the MLB, and he'll get to play at his best position, 2B. We could be headed for a sneaky good season from Luis García.
Luis García had his longest stint in the MLB in 2022, playing 93 games. After starting everyday post the Nationals' sell-off at the 2021 MLB trade deadline, he was expected to start the 2022 season on the MLB roster. Surprisingly García was sent to AAA at the end of Spring Training, mainly to work on his defense at SS. He raked with .308/.366/.519 line in 45 games with 8 HR and 19 total XBH. García was called up on June 1st after an injury to SS Alcidies Escobar.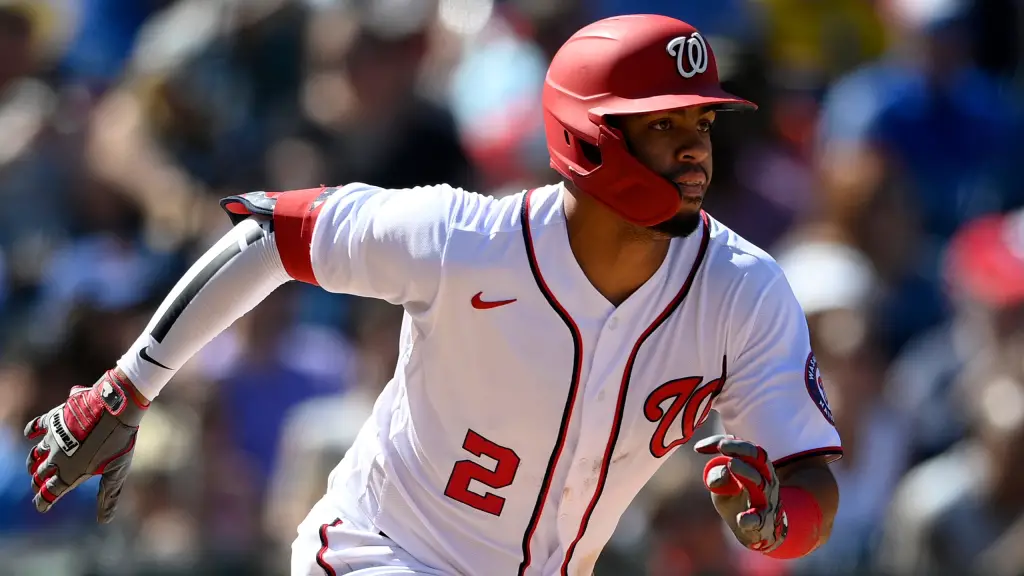 The Nationals wanted to try Luis García at SS last year, and it went awful. He had a disastrous -17 DRS in just 503.1 innings. Thankfully García was moved to his natural position, 2B, after CJ Abrams was called up from AAA after his trade to the Nationals. García showed he's at home at 2B with 4 DRS in just 285.2 innings. His defense at 2B might take a slight hit next year because he will have to cover more ground due to the banning of the shift. Still, the expectation should be for him to be at least above average as he has decent range, but he still needs improvement on his footwork. García and Abrams could make up a formidable duo up the middle, and it will be exciting to witness this year.
García hit .275/.295/.408 last year, good for a .704 OPS and a 102 OPS+. Those numbers may not seem impressive, but his OPS and OPS+ have been improving every year, and he proved to be a league-average bat in his largest stint in the MLB. Let's take a look at what he did great and what needs work.
The Good
Luis García continued to destroy the fastball, and just like last year, it was the best pitch for him to hit. He hit .361 and slugged .611 against the fastball. 67.5% of his extra-base hits came against the fastball, and his whiff and strikeout rates against this pitch were under 20%. Simply put, Luis García ravishes on the fastball and doesn't miss out. García can also handle the high heat as most of his barrels, hard hits, and extra-base hits come from fastballs up in the zone.
Luis García only hit 7 home runs in 93 games, but the majority of them were impressive. He hit a 113.4 MPH rocket for a home run at Miami. García took Spencer Strider and Max Scherzer yard last year. He hit an 8th innings go-ahead home run at Dodger Stadium and another go-ahead home run against the Mets the day Juan Soto got traded. His last home run was on a fastball up and in off the plate against the Phillies late in the season. García wasn't afraid of the big moments and hit impressive home runs against top teams and pitchers.
The Improving


By taking a quick glance at Luis García's batted ball and Statcast statistics, it's easy to tell then he has better rates in almost every category compared to last year. The barrel, sweet spot, and hard-hit rates have all increased by decent margins. García's expected stats are better, and the launch angle has increased as he's hitting more fly balls and line drives.
García played in 93 games last year, which is the most so far, and he's showing improvement in most of these categories. Being able to hit the ball to all parts of the field is an indicator of a great hitter, and García sprayed the ball more evenly around the field in 2022. There is no reason not to believe he'll continue to improve in most of these categories in 2023.
The Bad

As we can see, Luis García crushes the fastball and handles himself against the sinker and cutter. The problem arises against the changeups, sliders, and curveballs. García hasn't been able to combat offspeed and breaking balls so far in his career. For García to improve and consistently succeed in the future, he has to focus on improving against the non-fastball. Opposing teams have the data to know he can hit the fastball, so they'll continue to keep him off balance with offspeed and breaking balls. García saw the fastball variety 39.3% of the time in 2022, and that number will continue to decrease until he shows improvement.
Luis García's aggression at the plate allows him to jump on fastballs, but it becomes a hindrance against other pitches. Often against non-fastballs, García is chasing and whiffing, and the pitches that he hits are weak groundballs. García's pull tendencies make him susceptible to curveballs and sliders down and away, especially from LHP.
García's aggression at the plate resulted in a 40.8% chase rate in 2022, up 5.9% from 2021. More chasing leads to fewer walks and more strikeouts. García has never been much of a walker in the minor leagues (5.4%), but only 2.9% of his PAs in 2022 resulted in a BB, down by 1.6% from last year. 2.9 BB% is one of the worst in the league, and that has to go up. A 22.3 K% is not a problem as it's slightly below league average, but it did go up by 4.9% from 2021. Unless García becomes a power hitter or has a good walk rate, he can't afford for his strikeout rate to go much higher.
To solve these hitting woes, García has to improve his plate discipline and have longer at-bats. García sees 3.4 pitches per PA and the league average is near 4 per PA. This does not mean being more passive, but he has to be smarter. García has to look for the fastball and pitches up in the zone to drive and let go of the slower pitches down and out of the zone. He's hit the ball oppo more, and he should continue to improve that approach to combat the offspeed and breaking balls.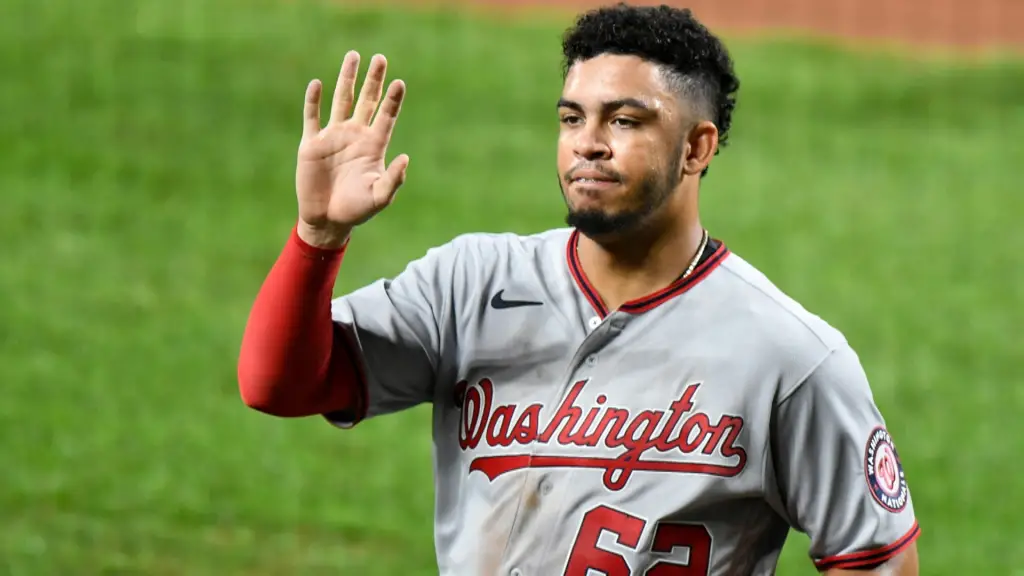 Luis García's ceiling is to produce a .300/.350/.500 line, and it can be accomplished if he's more patient, disciplined, and selective at the plate. His career line at AAA is .306/.368/.554, so it's accomplishable. Putting this together alongside decent defense at second base will make him an annual all-star candidate and a crucial member of the next World Series run for the Nationals.