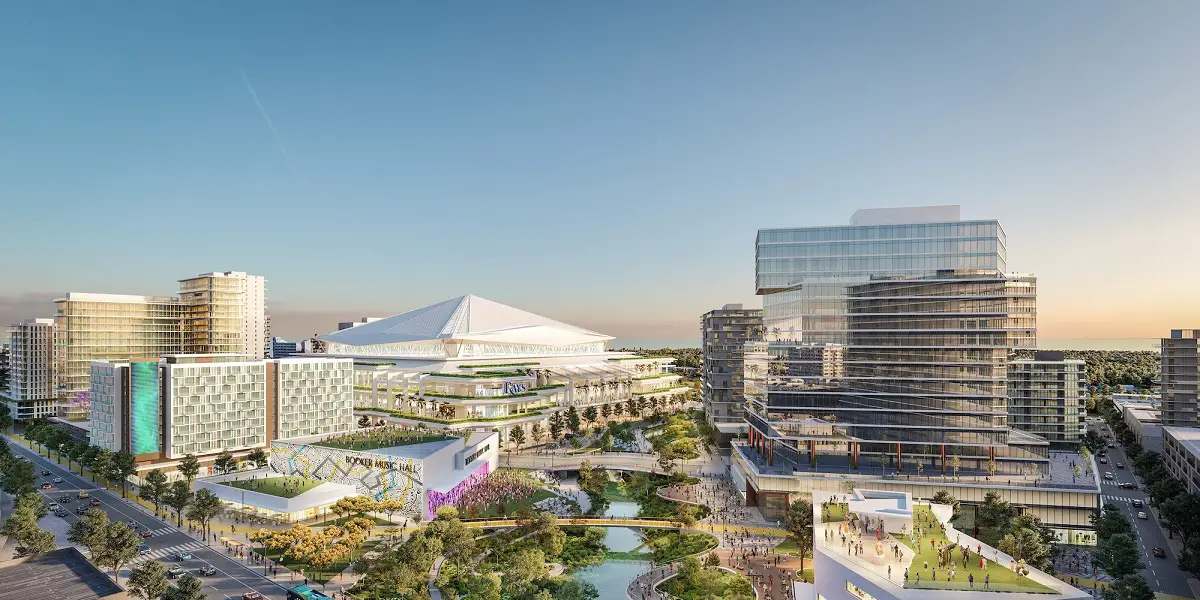 Earlier today, St. Pete mayor Ken Welch announced that he chose the joint-fronted Hines and Tampa Bay Rays redevelopment on the current site of Tropicana Field. The overall proposal is to redevelop the Gas Plant district in which the Trop is located. As per Yahoo Sports, the proposal will include 23% of the housing on the project to be affordable, as well as a brand new ballpark for the Rays. The proposal will also include senior living facilities, an African American museum, and conference spaces. In total, the proposed mixed-use district will be 86 acres. Notably, the development has been proposed by the team itself in cooperation with real estate developer Hines.
As a consequence of this decision, it clears the way for the Rays to stay in St. Petersburg after years of speculation. Before this, there were proposals to build a new ballpark in Ybor City and split the season in Tampa Bay and Montreal. Luckily for Rays fans and common sense, the latter proposal was shot down by Major League Baseball.
Despite this news, not everyone has been happy with the decision:
For many people, the ideal situation would've been to move the team to Tampa. Why? The answer is simple: attendance. Even with a successful baseball team, Rays' home attendance has remained relatively poor compared to the rest of baseball. The main problem is location. Many people point to the success of the Tampa Bay Lightning regarding attendance and correlate that with the location of Amalie Arena in downtown Tampa. It is pretty well documented that it is difficult to get to Tropicana Field, with only three bridges over Tampa Bay and no public transport. As a result, if you live in one of the northern or central suburbs of Tampa, it can take almost 45 minutes just to get to the ballpark.
This redevelopment isn't going to improve attendance, staying in St. Pete doesn't and will never solve that. However, by staying at the current site and redeveloping it can expand revenue streams for the ballclub. Attendance is not as important to revenue as it once was 20 or 30 years ago with TV contracts and revenue sharing across the league making the location much more financially viable for the Rays. More importantly, it is a clear step in getting the team to stay in the Tampa Bay area. While many may be disappointed it is not in Tampa, for me, this is a step in the right direction for the future of the Rays.