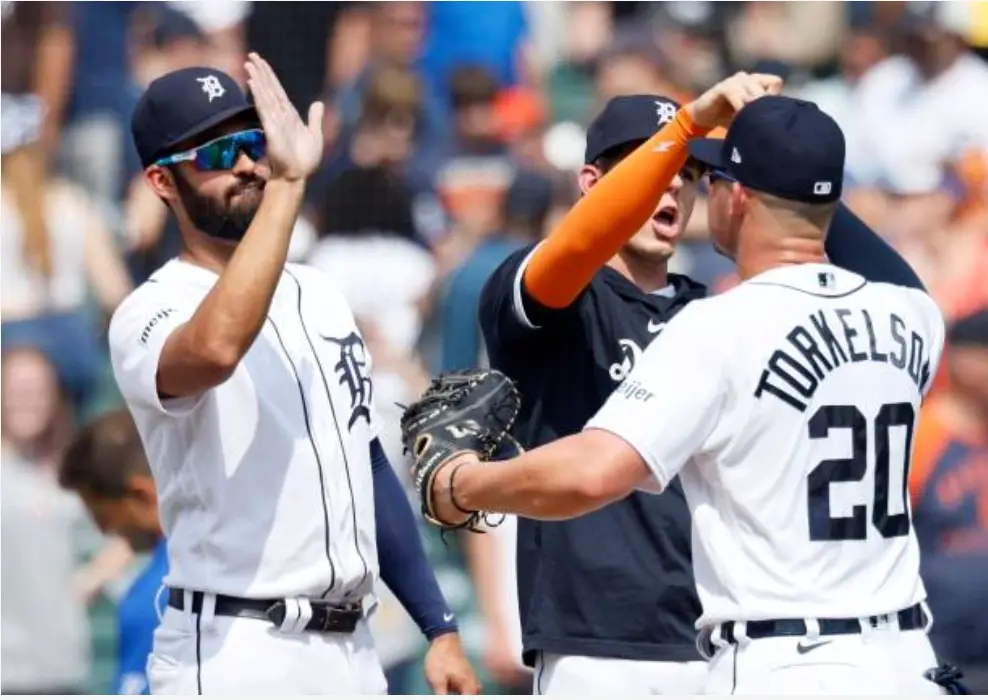 The Detroit Tigers won one of the most thrilling and interesting games of the 2023 season on Wednesday against the Minnesota Twins. The game featured back-and-forth blows from each team with both Detroit and Minnesota hitting the ball very well. Detroit's young guns shined in this game as they muscled up to produce four home runs and eight runs. Three of those HRs came from the two players who are headlining this article. Spencer Torkelson hit his 20th and 21st home run in the game while Riley Greene blasted his 11th of the season over the right-center field wall. It was Greene's second Home Run of the season off of Twins' starter Kenta Maeda, and it traveled 448 feet. Another young Tigers slugger, Kerry Carpenter, blasted a home run in the game. Carpenter's HR was an opposite-field blast, and it was his 16th of the season. Minnesota entered the ninth inning trailing 8-4, but they didn't go down without a fight. Home runs from Max Kepler and Jorge Polanco made it a one-run ballgame. Royce Lewis followed up with a single and brought the winning run to the plate. Matt Wallner likely stopped most Tigers fans' hearts from pumping when he hit a deep fly ball that barely stayed in the yard. Akil Baddoo made the catch for the first out. It was arguably Jason Foley's worst outing of 2023, but regardless, he shut the door on the Twins, and the Tigers won 8-7.
Spencer Torkelson went 2-5 with two solo home runs, and Riley Greene went 3-4 with a home run, a triple, and four RBIs. After this performance and the way they have played this season, it's safe to say that the two former top prospects in the Tigers organization are exactly who we hoped they'd be.
Torkelson and Greene are finally reaching their full potential
Spencer Torkelson and Riley Greene pretty much came through the minor league system together step by step. They were expected to make their major league debuts together before Greene broke his foot in the final stretch of last season's spring training. Despite missing a lot of time, Riley Greene had a really good rookie season and was named 2022 Tiger of the Year. Spencer Torkelson, however, went through a rough patch throughout a majority of his rookie campaign. Partway through his rookie year, Torkelson was sent down to the Toledo Mud Hens. He worked his way back up to the major league's later in the year. Tork ended his rookie season slashing .203/.285./319 with eight home runs, 25 extra-base hits and 28 RBIs. Those numbers were not ideal as Torkelson played in 110 games last season despite being sent down at one point. He is shattering his previous career highs so far this season, and he's only played in 8 more games this season at this point than he did a year ago. Torkelson is slashing .228/.308/.418 with 21 home runs, 47 extra-base hits, and 66 RBIs. Torkelson has homered in six of his last seven games. It's great to see him getting the ball over the wall finally. That's what we drafted him to do. He was a power hitter in college, and it's finally showing in the big leagues as well. On Wednesday, Torkelson had his fourth multi-homer game of the season after sending two no-doubters over the wall in the left field in Minnesota. Last, but certainly not least, my favorite Torkelson stat of all. He would lead five MLB teams in home runs. Tork has more home runs than any singular player on the Blue Jays, Reds, Guardians, Giants and Brewers. Torkelson has more home runs than Home Run Derby champion Vladimir Guerrero Jr. who leads the Blue Jays with 18 long balls. Spencer Steer leads the Reds (18), Jose Ramirez leads the Guardians (18), Willy Adames leads the Brewers (18), and Conforto, Davis and Flores are tied for the most Home Runs on the Giants with 15.
A prior article talked about how Spencer Torkelson is potentially the most important player on the team before the season started. For this Tigers team to reach its full potential, Torkelson has to reach his. He struggled early, but in the last couple of months, his adjustments have worked. The Tigers were close to contending for the AL Central division and a couple of weeks before the deadline, but it's now clear that they won't win it. However, it's refreshing to know that the Tigers have young players they can build around. With Miggy retiring and his large contract leaving with him, the Tigers could make some additions this upcoming off-season. With the AL Central being so weak, it will be interesting to see what Detroit's approach will be.