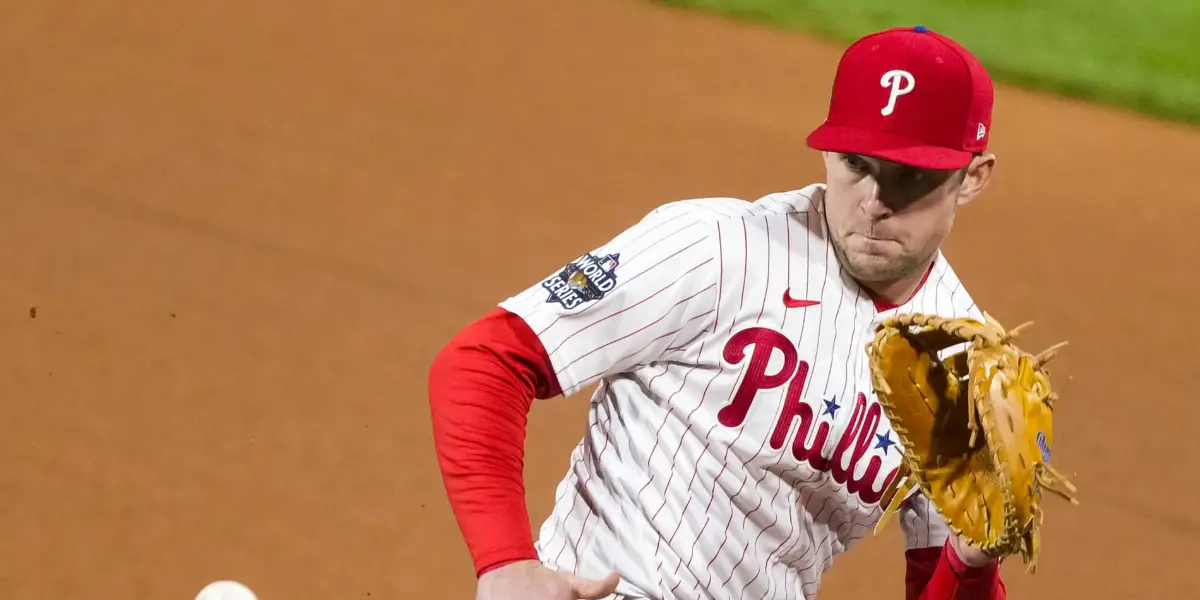 The defending National League Champion Philadelphia Phillies may have just lost one of the best hitters in their lineup for the 2023 season.
Thursday afternoon, in a spring training game against the Detroit Tigers, 1st baseman Rhys Hoskins went to make a play on a ground ball hit by Detroit outfielder Austin Meadows in the top of the 2nd inning. Hoskins was moving to his left and backpedaling to make the play but went down in a ton of pain. Hoskins immediately grabbed his left knee when he hit the ground. The way he went down and his reaction after has all the makings of an ACL injury. If Hoskins did in fact tear his ACL, then he will in all likelihood, not see any more playing action in 2023. He was looked at by EMTs on the field before being carted off the field.
Rhys Hoskins was having a great start to the season in spring training. He played in 12 spring training games this season and batted .355, hit 4 Home Runs, had 6 extra-base hits, 9 RBI, a .474 OBP, .806 slugging percentage, 1.208 OPS, and he walked 5 times. Hoskins was looking like he was going to have another big season playing alongside some other big-time sluggers, but now, it appears his 2023 campaign is over before it even started.
Just How Big of a Loss is Rhys Hoskins for Philadelphia?
The Philadelphia Phillies lineup, when healthy, will scare any opponent, but unfortunately, they will be without a couple of sluggers for a while. Rhys Hoskins isn't the only hitter the Phillies are missing right now. Bryce Harper continues to recover from Tommy John Surgery. Even though it's an operation that affects mostly pitchers, it can be equally as impactful for position players. For example, Detroit Tigers catcher Jake Rodgers had to have Tommy John Surgery after an injury in the middle of the 2021 season, and only now is he returning to the lineup. The expectations were that Harper could return in mid-July, but Phillies GM Dave Dombrowski said that Philadelphia is not planning on placing Harper on the 60-day injured list. Dave went on to say, "We're going to keep our options open." Now it seems possible, at least it does in the eyes of Dombrowski, that Bryce Harper could return before May 29th. The sooner Harper can return, the better, and the Hopkins injury news will be less and less impactful. Missing those two in the lineup stings, but it by no means, means that they are going to be in trouble without them. They added Trea Turner in the off-season, and he was brilliant in the World Baseball Classic for team USA. Turner hit 5 HRs in the WBC tournament. That's a brand-new Home Run record for team USA. He picked right back up where he left off in the same game that Hoskins was injured by hitting an absolute no-doubt rocket to left field off of Detroit LHP Joey Wentz. Can't forget perhaps the best sluggers in their lineup Kyle Schwarber who is healthy and has returned to spring camp after playing for team USA in the WBC. They have maybe one of the best Catchers in baseball in J.T. Realmuto, who's really good in the batter's box. Nick Castellanos has had his fair share of success and struggles but is still a very good hitter in that Phillies lineup. They have a few more guys who can get it done as well. They will be able to hold the fort down until Harper returns. As much as Phillies fans would love to have Schwarber and Harper in the left-handed batter's box and Hoskins, Turner, Realmuto, Castellanos, and Bohm in the right-handed batter's box… I think they will be just fine offensively this season. They are hoping that Hoskins has a smooth recovery and can return to smashing Home Runs in 2024.