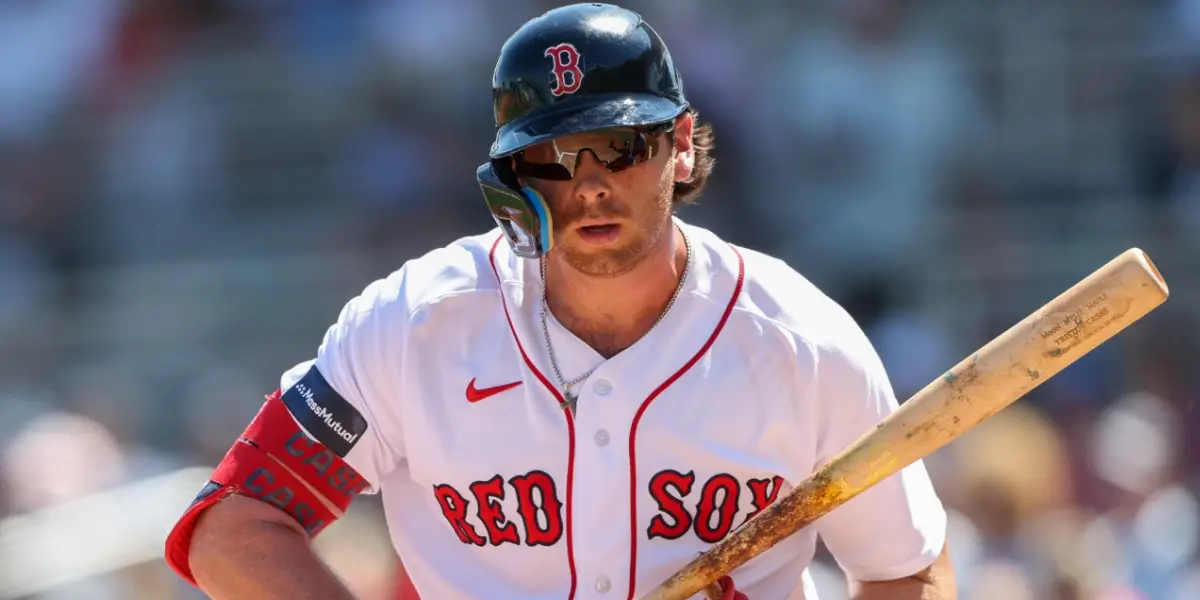 When Chaim Bloom took over the GM position in 2019, Boston's farm system was ranked 30th (out of 30). Of course, coming off a World Series championship, nobody was complaining.
The new directive from ownership was to build a farm system, promote home-grown talent, draft younger kids with higher upside, and of course, spend less money than his predecessor. So basically, he was told to operate like the Tampa Bay Rays but with a higher payroll.
According to Baseball America, the farm system climbed up to 20th in 2020 and 2021, improved to 11th in 2022, and this year is ranked 10th overall.
Personally, I think the ranking is a bit high, considering there isn't much pitching talent at all. Other rankings agree with me; I've seen rankings as low as 19th. Regardless, the system is in better shape today.
Today, I will cover the expectations of the Top 5 2023 prospects. Dropping out of last year's Top 5 is Nick Yorke, who has slid to 6th after a rough year in Greenville, batting only .231. Yorke, who was a surprising reach in the first round of the 2020 draft, is still only 21, so don't be alarmed.

Here is the current Top 5:

5). Mikey Romero- Romero was the third straight middle infielder drafted by the Red Sox in the first round in three years. The left-handed hitting youngster only played in 19 games in the rookie league and Low-A but showed a very mature approach at the plate. Romero has the hands and instincts to play shortstop long-term, but with Marcelo Mayer in the system, I expect Romero to slide to second base because of his below-average arm strength.
Romero just turned 19 in January and will start the season in Low-A Salem. Though there is no need to rush, I could see a late-season call-up to Greenville (High-A). I believe the soonest we will see Romero in Boston is 2026, but that is assuming he continues to handle pitching at every level.

4). Miguel Bleis- The youngster from the Dominican was signed out of the international pool for $1.5 million. Bleis is another 19-year-old in the system showing incredible plate discipline for his age. The 6'3″ right-handed slugger is projected to hit for power but is still growing. Bleis grades at 55 or over with all five tools. It will be interesting to see if he continues to hit for average as he hits for more power. If he can do that, he could be a superstar.
We have had a glimpse of Bleis at spring training this year, and not to my surprise, he has seemed a bit overwhelmed… as is expected at only 19. Some scribes have this kid picking out a bust for the Hall of Fame already, but it is far too soon to even guarantee he reaches the big leagues. He certainly has all the signs (like big paws on a pup), but he will need to grow into his frame before we can get too excited.
This year, you will be able to see Miguel manning left field in Salem. Likely, Low-A is his ceiling this year unless he truly dominates that level.

3). Ceddanne Rafaela- Signed in 2017 for $10,000, Rafaela has gone from an unranked, undersized shortstop to the 3rd ranked prospect and system defensive player of the year.
In 2018-2019, the young Curacaoan struggled to hit for average and showed very little power while playing almost every position on the field at a plus level.
2020, of course, was a lost year for minor leaguers, but Rafaela used the time to make an adjustment to his swing that has helped him drive the ball to the gaps. In 2022, he showed enough in 45 games in Greenville to get promoted to AA Portland. While in Portland, Ceddanne continued to rake to the tune of .278, 12 HR, and 50 RBI in only 71 games.
Rafaela, while a plus defender pretty much anywhere, will be best suited as a centerfielder, where he has gold glove potential. Defensively, he plays a lot like Jackie Bradley, with quick reads, and instincts, but much faster.
Rafaela will likely start this year in Portland again and focus on playing outfield, but barring any regression will be in AAA by the all-star break. With no real centerfielder on the system depth chart ahead of him, Ceddanne could be your starting CF in Boston sometime in 2024.

2). Triston Casas- Still considered a prospect, the big, lefty first-baseman will soon graduate from this list as he mans first base for the Red Sox. With no competition at the position, he will likely be the everyday man at first and be in the running for AL rookie of the year.
I'm not going to tell you anything you haven't already heard, but Casas has plus plate discipline, a great eye, power to all fields, and is solid defensively. He is being thrust into a starting role, and that can be daunting, especially in friendly Fenway. Still, Casas should hit over .270/.375/.500. His ceiling, of course, is much higher, but let's allow the kid to adjust to big-league pitching before we anoint him the savior.

1). Marcelo Mayer has it all. A 60-grade hitter, fielder, and arm, 55 power and 45 speed. Not quite a 5-tool guy because of the speed, but man, can this kid swing it.
Drafted number 4 overall in the 2021 draft, Marcelo started 2022 in Low-A ball and was promoted to High-A at only 19. Now 20 and still playing above his age level, Mayer will likely be playing shortstop in AA Portland sometime, if not to start, this year. He is the future. He is the reason teams tank for draft picks.
Marcelo has a sweet, left-handed swing and sprays the ball all over the field. He has been working on his strength and should be a 20+ home run hitter and a doubles machine.
Defensively, he can pick it at short and has a cannon for an arm. On the base paths, though not very fast, Mayer has a great jump and managed to swipe 17 bags last year.
Barring catastrophe, this kid will be up no later than 2025, but possibly sometime next season.
While the middle infield in Boston is currently a nightmare, Red Sox fans can sleep tight knowing that Mayer and Romero will be there soon.