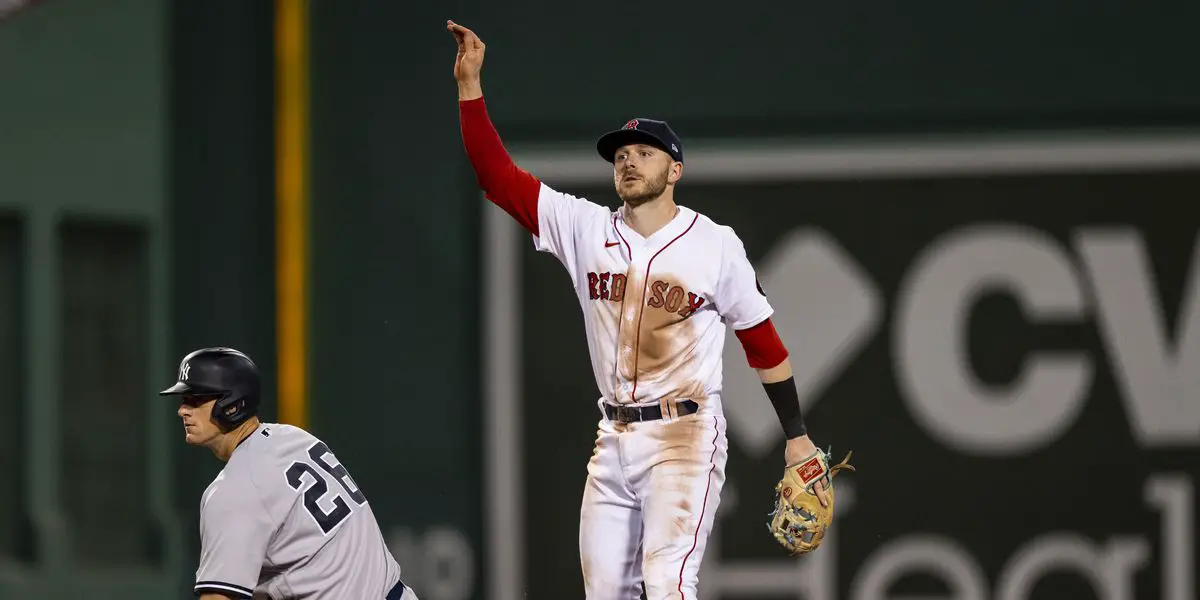 Like with any sport, it's always business first for the front office and owners. While some franchises value loyalty more than others, some focus on the bottom line, even when you're one of the wealthiest franchises in the MLB. The Boston Red Sox used to be this way as they were willing to spend the money to win a World Series. Now the Red Sox seem to be in turmoil as they continue to let homegrown talent walk.
Xander Bogaerts walked in free agency as he knew his worth and ended up getting paid by the San Diego Padres. The Red Sox were prepared for this since they had Trevor Story on the roster, and he could easily transition back to shortstop from second base. But now Story may be out for the season, and the Red Sox must scramble to find an emergency replacement.
On Tuesday, the Red Sox announced that infielder Trevor Story will miss a significant chunk of the 2023 season after undergoing an elbow procedure.
The timing couldn't be worse for the Red Sox. This winter's free-agent class was brimming with high-quality shortstops; as of Tuesday night, they had already signed with new teams. That means Boston's top baseball executive Chaim Bloom will have his work cut out for him over the coming weeks as he looks to find a suitable replacement player for the middle infield. Currently, the Red Sox have Enrique Hernández and Christian Arroyo as internal options. Hernandez has never served as a primary shortstop in the majors, though.
Here is a look at five options at shortstop that are still available in free agency, as well as if the Red Sox want to explore a trade
1. Elvis Andrus, Free Agent
Andrus is the most logical fit for the Red Sox out of all their choices. He's coming off a resurgent season at the plate, where he batted .249/.303/.404 (103 OPS+) in 149 games split between the Athletics and White Sox. While he may be a logical fit in Boston, there is still the reason why he is still available while all the other notable shortstops have found new clubhouses. Andrus is 34 years old and has a track record to suggest he's doubtful to repeat last season's offensive success. Even though that may be the case, he still has a reputation as a good defender, and the Red Sox will only be signing him to a one-year deal.
2. Joey Wendle, Miami Marlins
This offseason, the Red Sox have been linked to several players on the rumor mill, with Joey Wendle and Marlins teammate Miguel Rojas the top names. Wendle had a disappointing first season in Miami, but he has been an above-average hitter in the previous two seasons. What makes Wendle intriguing to the Red Sox is the fact Chaim Bloom is familiar with him from their shared time with the Rays. The Red Sox, under Bloom and manager Alex Cora, love versatile players who are capable of moving around the diamond, and Wendle fits that mold. Wendle has plenty of defensive versatility, allowing the Red Sox to move him around, and keeping him in the lineup if and when Story returns late in the summer.
The only bump in the road for a Wendle or Rojas trade is they are both impending free agents. This could be a problem as it would be hard for the Red Sox to justify if the Marlins demand a young, cost-controlled talent in return.
3. Taylor Walls, Tampa Bay Rays
Another player Bloom is familiar with from his days in Tampa Bay is Taylor Walls. The switch-hitter has put forth some poor offensive numbers in nearly 200 big-league games, as he's a career .182 hitter. While his offensive may not be there, his defensive stats are. Inside the Rays organization, he is viewed as a superior defender over Wander Franco. They may consider moving him even within the division if they were ever to change their mind and couldn't stomach his bat anymore.
4. Jose Iglesias, Free Agent
The best free-agent shortstop left on the market, not named Andrus, could be in for another reunion tour with his former team. Iglesias has already done two stints with the Red Sox in his career, including most recently as a second baseman late in the 2021 campaign. At this point in his career, though, Iglesias is better off staying on that side of the infield, but the beggars can't be choosers at this point. He would bring some offense to the lineup as he's been a far more productive hitter as of late (98 OPS+ in the Pandemic Era) than you would expect, given that he doesn't hit the ball hard or walk often.
5. Jorge Mateo, Baltimore Orioles
To continue with the trend of trading within the division, let's end with the light-hitting Mateo, who is currently on the Baltimore Orioles roster. Unlike the Red Sox, the Orioles have a bevy of young infielders arriving in or nearing the Majors. They could be looking to move on from some of their surplus over the coming months as they address other needs on the roster. Mateo is coming off his most productive big-league season, giving him the most trade value. While he may have posted only an 81 OPS+, he did steal 35 bases on 44 attempts and has a good glove. If the Red Sox pull off the trade, fans should know they are getting a player with strong secondary skills but don't expect him to make contact consistently, and if he does, it won't be hard contact.