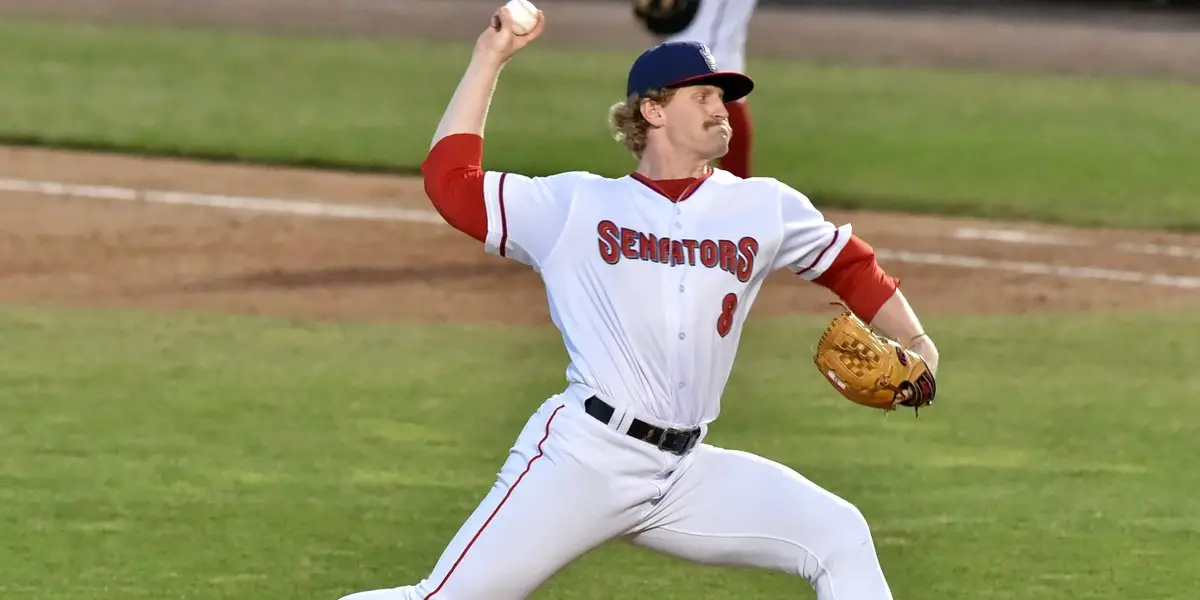 The Washington Nationals could have found a diamond in the rough in the form of #25 prospect Zach Brzykcy. Brzykcy, an undrafted free agent from Virginia Tech, has the potential to be a shutdown bullpen piece for the Washington Nationals. He's quickly gaining traction among Nats fans after receiving a Non-Roster invite to Spring Training. This is a direct representation of the organizational confidence in the potential of Brzykcy. His rise through the minor leagues should give Nationals fans confidence in their developmental staff.
Zach tore up the minor leagues last season, posting a 1.76 ERA in 61.1 innings pitched while averaging 13.9 SO/9, according to baseballreference.com. Brzykcy rose as high as AAA Rochester in 2022 and received a non-roster invite to Major league spring training earlier this month.
He recently cracked the Nationals' top-30 prospect list, debuting at #25 following his fantastic season. The 23-year-old throws a high-octane fastball that reaches triple-digits with an above-average curveball and firm changeup. Command of his arsenal is the flaw of Zach's skillset. He averaged 4.8 BB/9 in 2022; Brzykcy will have to lower that number to be an effective major league pitcher.
Brzycky's Ceiling
If the development of Brzykcy goes according to plan, Zach can form into the type of pitcher Drew Storen was for the Washington Nationals. Storen was a do-it-all type of pitcher for the Nats, filling any role asked of him by coaches. In his career season, Storen posted 2.5 wins above replacement which is outstanding for a relief pitcher. Having just a singular win above your replacement is successful for bullpen arms. Comparing Brzykcy to Storen is a bit unfair to the 23-year-old, but his potential allows for the tall order. Brzykcy, 6-foot-2, 230 pounds, stands a bit taller and thicker than Storen, who is 6-foot-1, 200 pounds. Zach's fastball is a bit firmer than Drew's, likely due to the extra 30 pounds Brzykcy is lugging.
That was not an attempt to remind Nationals fans of the 2012 postseason series with the St. Louis Cardinals. Storen achieved so much in Nationals uniform, and if Brzykcy has anywhere near the same effect on the franchise, his career will be a success. The career expectations are also far different due to Drew being the 10th overall pick in the 2009 draft and Zach being undrafted.
MLB ETA
Count on seeing Zach Brzykcy in a Washington Nationals uniform this season. The right-hander is carving a role within the organization as a long-term piece due to his recent success in the minor leagues. Washington's front office is prioritizing development in 2023 as their attempt to rebuild the franchise is in full swing. Promoting Brzykcy to the Majors this season would align with their rebuilding process.
Breaking camp and boarding a plane to D.C. is not out of the question for Brzykcy, but it's unlikely. The bullpen is a bit crowded in D.C. Beginning the season in AAA Rochester is a more logical expectation for Brzykcy. An injury would need to occur to free up a spot in the bullpen due to the lengthy list of arms in camp for Washington. The Nationals also selected relief-pitcher Thad Ward in the Rule 5 Draft, requiring him to fill a Major league roster spot in 2023.
Although the wins may not come in bunches for Washington, there are plenty of things for Nationals fans to be excited about. The potential of Zach Brzykcy is one of them. The right-hander from Virginia Tech has the chance to be a long-term bullpen arm, and only time will tell if he cashes in on the opportunity.