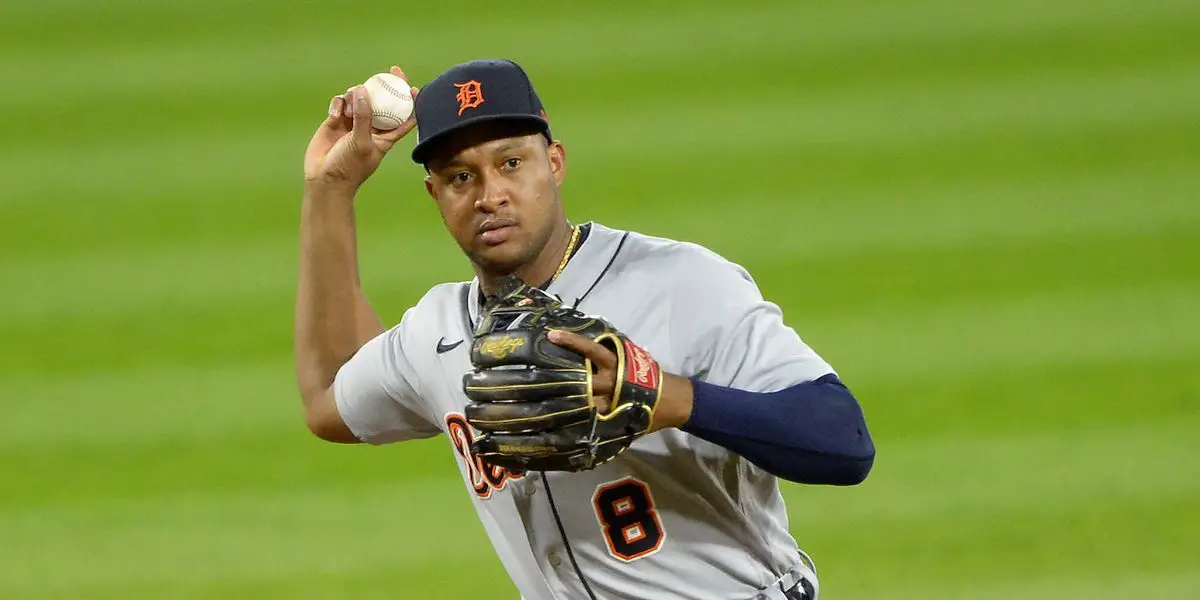 Jonathan Schoop hopes that 2023 can be a fresh start for him. As seen in the early days of spring training, Schoop has put the work in this off-season. He reportedly lost a "ton" of weight after the 2022 season was completed. Cody Stavenhagen, who covers the Detroit Tigers for The Athletic, said that Schoop looks five years younger than he did at the end of last season.
Evan Petzold, who covers the Tigers for free, also reported on Schoop's weight loss. This is what Schoop had to say…
"I don't know where I'm at, but I feel much, much better than last year. That's what I wanted to do. … I feel it waking up and living life. Everything is better."
It sounds like he's in great shape and ready for a big 2023
We saw Schoop move around the diamond just for a little bit last season when he played 1st base in 2 games. In 2023 a change could be coming for Schoop.
Does Schoop slide over to 3B in 2023?
One of the biggest headlines for the Detroit Tigers this off-season has been who will play 3rd base?… That has been Jeimer Candelario's position in Detroit since 2017; Candelario was not resigned by the Tigers in the off-season and is now a member of the Washington Nationals. There's not much of a shortage regarding the Tigers having options. Nick Maton is certainly an option for Detroit this season. Detroit acquired Maton, Matt Vierling, and Donny Sands in exchange for Gregory Soto and Kody Clemens in a trade this off-season. Maton doesn't have a lot of experience at 3rd base, but it would be an easy transition for him with his versatility. He can play in the Outfield, 2nd base, shortstop, and even 3rd base. He's played 35 games in the infield during his two-year career, two of which were played at 3B in 2022.
Matt Vierling, as mentioned, was also in the deal, and he is another candidate for the position. Like Maton, he is versatile and can play in the Outfield or the infield. Vierling has experience playing each corner of the infield. He played five games at 3rd base in 2022, two at 1st base and four at 2nd base.
Another possibility is Tyler Nevin, who Detroit picked up in a trade from Baltimore. He played 58 games in the majors in 2022. He had a batting average of .197, two Home Runs, and 16 RBIs. Nevin is probably doubtful to get the job with his offensive struggles, but he must be considered a possibility. Spring Training is about showcasing your abilities and trying to prove you can handle the majors, so you never know.
Colt Keith has made a lot of noise in the Tigers organization, but it's doubtful we'll see him in Detroit this season. He still has developing left to do.
Jonathan Schoop moving to 3rd base makes a lot of sense because he doesn't have to play there every day, but I could see him playing most games there. It could open a door for Ryan Kriedler to come up and play 2nd base now and then. The Tigers are pretty high on Kriedler, who debuted last season. Meanwhile, Maton and Vierling can play the roles that Harold & Willi Castro were in last season. Schoop has been dependable his entire career. He's always been durable as well; he can play a lot of games and not need days off. In 2016 with Baltimore, he played all 162 games, followed by 160 games in 2017. With Detroit, he played 156 games in 2021 and 131 games last season. If the Tigers could get 80+ games out of Schoop at 3B in 2023, it would be a big help for them. The last time he played the position was in 2021, but it was just one game. Before that, he hadn't played the position since 2014 with Baltimore; he played 17 games at 3rd base that season. During that time, he committed four errors. I think it'd be an easier transition for Schoop this season as he's had a lot more MLB experience since the 2014 season, and with him potentially being in the best shape of his life, he could play the hot corner really well defensively. With all that being said, a change could be coming in 2023 for Schoop, and he could play a bigger role for the Tigers since he signed with Detroit in 2020.
Schoop makes hitting adjustments prior to 2023 season
Getting in better shape isn't all that Jonathan Schoop has tried to improve on this off-season… he's also changing his approach to the plate. In live batting practice at camp, Jonathan Schoop showed that he's going with a different stance in 2023.
After 2022 Schoop has to have better results at the plate to keep his spot on the roster. He has a lot of hungry prospects coming after his job. He had a batting average of .202 last season with 11 Home Runs, 38 RBIs, an OBP of .239, a slugging percentage of .322, OPS of .561, and he drew 19 walks and struck out 107 times. Last season was not the version of Jonathan Schoop people are used to. His Home Runs were down by eleven compared to last season, his RBIs were down 46 compared to last season, and his batting average was down from .278 to .202. These changes will have to work, or else Jonathan Schoop will have trouble keeping a spot on a major league roster. Time will tell if these adjustments payoff for the veteran Schoop.
Thanks for the read