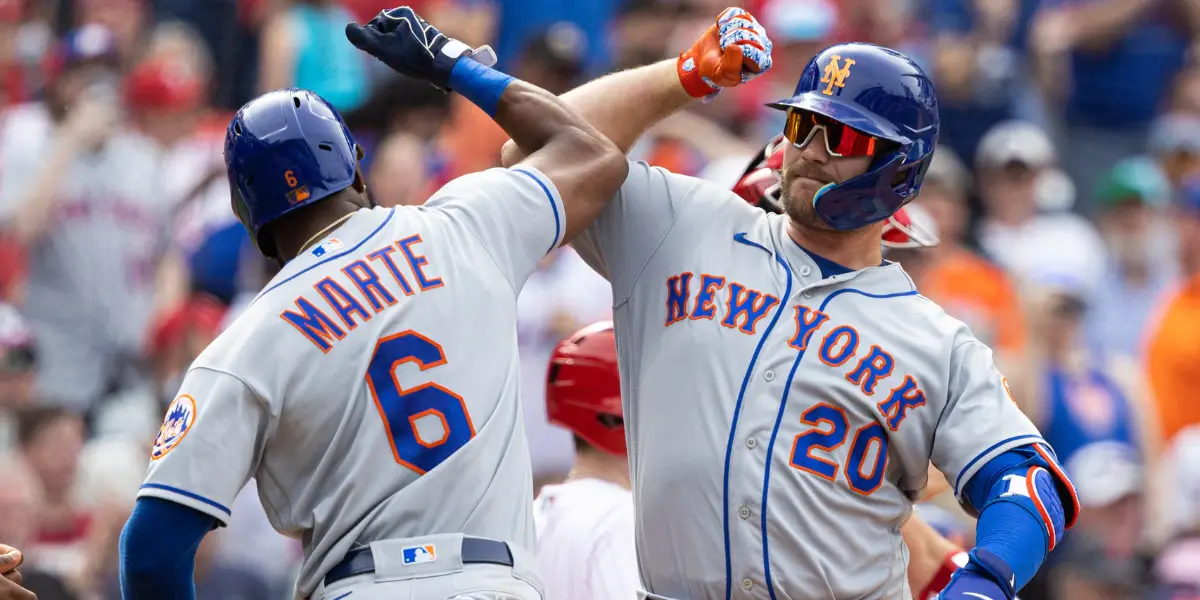 MLB Network is revealing their Top 100 players list, and the Mets have quite a few names on the list. Although most of the list has been revealed, spots #20-#1 have yet to be announced. Here are the names we have so far:
#61, Starling Marte
Marte, the Mets starting right fielder for the 2022 season, blossomed in his first season in the big apple. During the year, he would record a slash line of .292/.347/.468, equating to an OPS of .815. Marte also had 16 long balls and 18 stolen bases in 118 games.
#54, Brandon Nimmo
Nimmo, a fan-favorite centerfielder, had the best season of his career during the 2022 MLB season. During the year, he would record a slash line of .274/.367/.433, equating to an OPS of .800. Nimmo had always been a stud offensive player, but in 2022 he proved he could be stout defensively, which earned him a 162-million-dollar deal this past winter.
#51, Edwin Diaz
Diaz had a phenomenal 2022 campaign, where he pitched one of the best seasons ever for a closing pitcher. Diaz recorded a ridiculous 50.2% strikeout rate across 62 innings pitched. This past winter, Edwin Diaz got signed to a massive extension, so his trumpets and strikeouts could stay in Queens much longer.
#45, Jeff McNeil
Jeff McNeil, also known as "The Squirrel," is perhaps one of the best contact hitters in the entire major leagues. During the 2022 season, McNeil batted a whopping .326, which led the National League and the majors. Along with his excellent hitting skills, McNeil is also an excellent defender at both 2B, LF, and RF.
#31, Pete Alonso
The Polar Bear has been one of the finest and most consistent power hitters of the last few seasons, and his 2022 season was no different. Alonso put up a 143 WRC+ and 40 bombs during his 2022 crusade.
#21, Francisco Lindor
Lindor is nothing short of a franchise-altering player. After having a lackluster 2021 initial season in Flushing, the slugging shortstop exceeded all expectations in 2022, putting up a 127 WRC+ with 26 homers. Lindor was always there for the Mets, playing all but one game. Although the Puerto Rican puts up great numbers on offense, Lindor is known for his defense, which thrived. Lindor ended up with an astounding 6.8 fWAR, which ranked sixth in Major League Baseball.
Possible Others
#20-#1 have not been revealed yet, but there is optimism that both of the Mets aces, Justin Verlander and Max Scherzer, could be in that range.