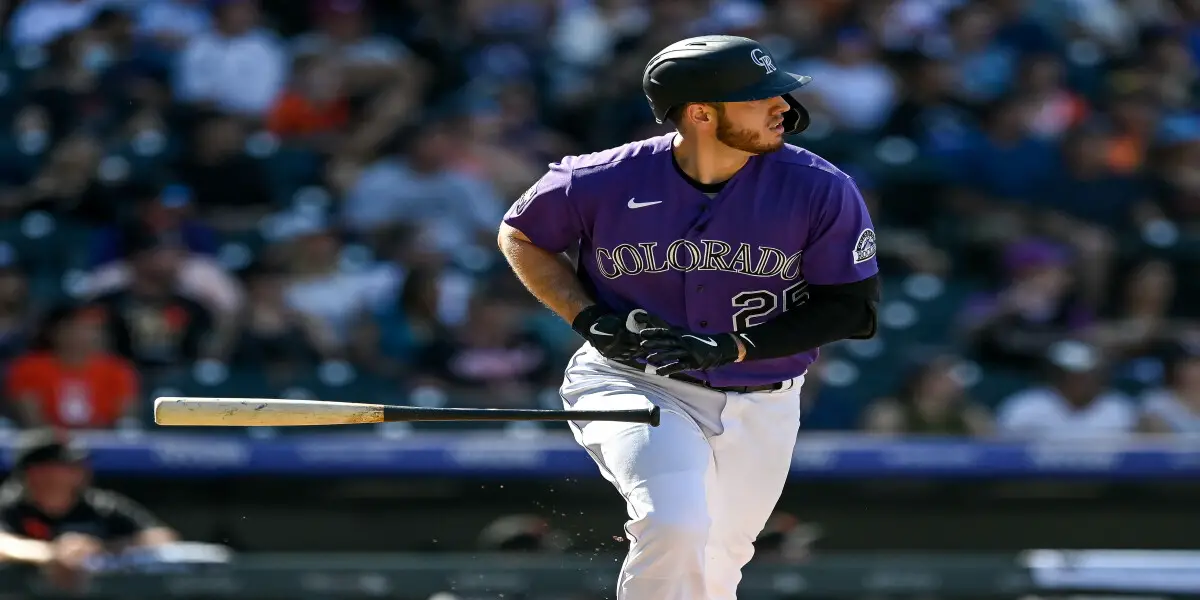 The Los Angeles Angeles continue to buy at this year's trade deadline in hopes of finally making a postseason appearance with Shohei Ohtani's free agency looming with the acquisitions of outfielder Randal Grichuk and first baseman C.J. Cron from the Colorado Rockies, both being Angels before.
Grichuk, the Angels' first selection in the 2009 draft, is having an excellent season at the plate for Colorado and is slashing .308/.365/.496 with a .861 OPS and eight home runs in 64 games. His .861 OPS is his highest since 2015 when he had a .877 OPS.
According to Baseball Savant, a large part of Grichuk's success so far this year is striking out at a career-low rate (19.3 K%) and drawing the most walks in his career (6.6 BB%). Baseball Savant also has Grichuk's Expected Weighted On Base Average (xwOBA) at a career-high of .342. Not to mention a career-low Ground Ball% of 37.2 and career-high Line Drive% of 31.4. Grichuk has been a fastball hitter this year, and his xwOBA is at an impressive .425 against fastballs and a 55.4 Hard Hit% off heaters.
Grichuk provides depth to an Angels outfield without the services of Mike Trout, Taylor Ward (likely out for the season), and Jo Adell. Trout is expected to miss another few weeks with his broken hamate bone, and Adell is expected to miss significant time with his oblique injury.
C.J. Cron, the Angels' first selection in the 2011 draft, is having a bah hum season and is slashing .260/.304/.476 with a .780 OPS and 11 home runs in 56 games. The power-hitting first baseman has been a consistent mid-twenties home run hitter since getting traded out of Anaheim in 2018 but will most likely not reach those numbers due to missing time with back spasms earlier in the season.
Cron is not striking out much (22.3 K%) but is not drawing any walks (5.5 BB%). The 15.8 Barrel% is Cron's second highest in his career, and by pairing that with the average strikeout rate, Cron could get better results and turn his numbers around. His .289 BABIP (Batting Average of Balls In Play) is below league average, so it would not be surprising if Cron's luck turns and he begins to find more success the rest of the season.
The addition of Cron allows the Angels to have an everyday first baseman play first instead of Mike Moustakas and Eduardo Escobar splitting time. The Halo infield is also depleted because of injuries to Anthony Rendon, Brandon Drury, Gio Urshela, and Jared Walsh continuing to struggle coming back from neurological issues.
There is the age-old argument that hitters are better at Coors Field because of the higher elevation, which is true to some degree but is not the case with every player. It is fair to question how Grichuk and Cron will fair outside Coors Field, but I am unsure if it is worth worrying about.
As for the prospects that the Angels gave up, Jake Madden is a lanky right-hander taken in the fourth round in the 2022 draft. The Angels' No. 8 prospect has a 5.46 ERA and 66 strikeouts in 64.1 innings with the Single-A Inland Empire 66ers.
Mason Albright was the Angels' No. 28 prospect and had a 3.62 ERA and 86 strikeouts in 79.2 innings with the 66ers.
Angels General Manager Perry Minasian has been the busiest GM in baseball the past month, and I would expect him to be attempting to work out more deals by the 6:00 p.m. ET deadline tomorrow with hopes of a playoff push still intact.