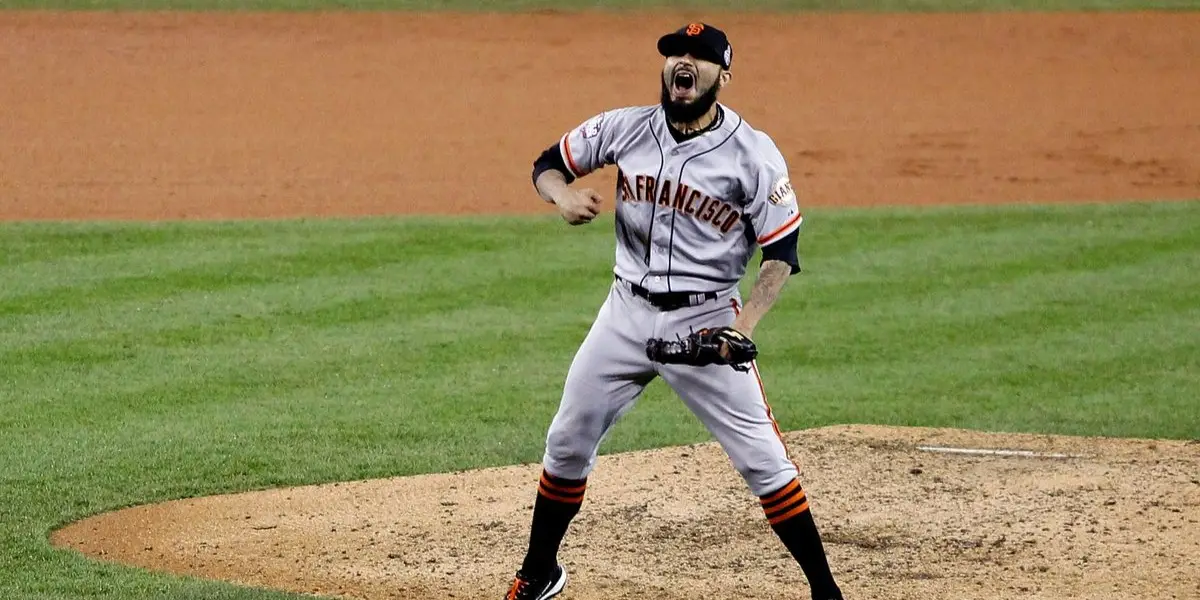 Sergio Romo beat all the odds. After bouncing around between three colleges, Romo was drafted as a 28th-round pick by the Giants in 2005. Not much is ever expected of such late-round picks, and Romo was only one of two 28th-rounders from that draft that even made it to the big leagues. But unlike the other player, Romo made himself into a franchise icon.
Romo carved out a fifteen-year career, earning three world series rings and an all-star appearance. During his nine seasons with the Giants, Romo made 515 appearances for the team, pitching to a collective 2.58 ERA with 84 saves. Romo enjoyed playing in front of a passionate Giants crowd, and that was only intensified by his four appearances as a member of a visiting team.
"I never got booed, even when I showed up in a Dodger uniform," Romo said. "That's how passionate they are. They didn't see the jersey. They still saw me."
Romo is listed as 5'11" on BaseballReference, but that might be generous. In an age where big, strong fiery closers who throw 100 MPH are the rage, Romo barely touched 90 MPH with his fastball on a good day.
So how does an undersized 28th-round pick from a town of 14,000 people beat all the odds, become a franchise icon, and win three world series? Just as King Arthur had Excalibur and Thor had Mjolnir, Romo had his own deadly weapon. His slider.
During Romo's career, he threw his slider about 50% of the time, with hitters only hitting above .200 against it once in his first nine seasons. His slider was a deadly weapon that he would throw anytime, anywhere, and against anybody.
Even though his slider is his most iconic pitch, Romo's most memorable pitch in a Giants uniform might be a fastball.
In game 4 of the 2014 World Series, Romo was facing MVP and Triple Crown winner Miguel Cabrera and trying to give the Giants their third World Series title in five years. Preserving a one-run lead in the bottom of the tenth, Romo started the at-bat with three of his signature sliders. The count rested at 1-2.
Everybody knew what was coming next. Surely Romo would throw the slider, his best strikeout pitch and one of the best pitches in baseball. Right? Not exactly. Romo threw one of the most daring pitches in history, throwing an 88 MPH fastball down the middle while Cabrera, still looking for the slider, stood there frozen, his bat still on his shoulder.
Romo always had something that many other relievers lacked. He had the confidence and poise of a superstar and the killer mentality of an apex predator. Whenever he was on the mound, he would throw any pitch, no matter the circumstances. That's what fueled his rise from a 28th-round pick to becoming one of the best relievers in baseball and a trusted member of the Giants bullpen.
Now, the Giants are giving Romo one last opportunity to pitch in a Giants uniform. Six years after throwing his last pitch in a Giants uniform, Romo is signing a minor league contract with the Giants and will pitch one last time in the Bay Bridge Series on March 26 and 27th.
After being released by the Blue Jays midway through last season, Romo entered this offseason full of uncertainty. But halfway through the offseason, Romo knew it was time to hang them up. He married his longtime partner in January and focused on spending more time with his family and five kids.
Now he is getting one more opportunity to put on a Giants uniform, jog out to El Mechon, and pitch in front of the fans he loves.
Since the last time Romo put on a Giants uniform, the circumstances have definitely changed, and so have the expectations. The last season Romo played for the Giants, he was a deadly setup man and one of the most reliable arms in baseball, but this time Romo won't be competing for a roster spot or pitching in high-leverage spots.
While he will pitch, Romo will be there to counsel the young pitchers, say goodbye to old teammates and friends, and might even pass along the tricks of the trade of his famous slider.
Known as a fun and fiery guy throughout his career, Romo wasn't a very emotional guy. But he knows the emotions will flow during his last appearance.
"The one thing I don't want to do that I'm afraid I probably do is end up crying," Romo said. "I don't know emotionally how I'm going to feel. Not just running out there but walking off… If we were to all write out on a piece of paper a dream scenario, like, 'This is what you want to happen,' I still couldn't have written it as well as it happened. In all aspects."
Hat tip to Andrew Baggarly of The Athletic and Jeff Young.