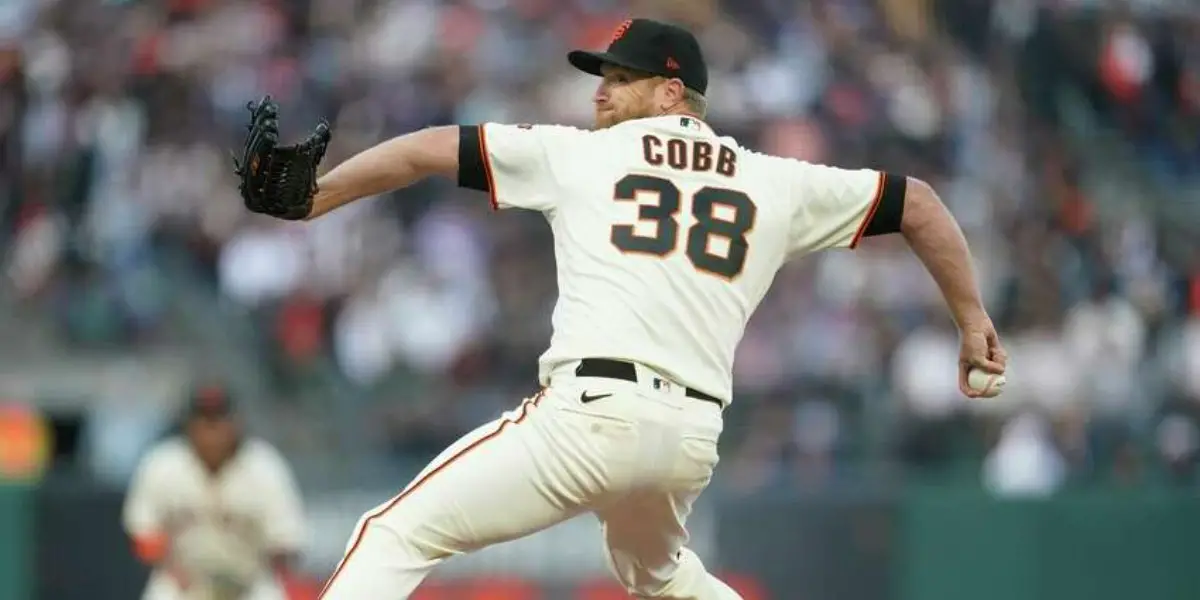 The Giants have now played four spring games, winning two and losing two. Most of their offseason additions and holdovers from last season have made their debuts, and several players vying for an opening day spot are showing out.
Pitching Struggles
The Giants added two starting pitchers this offseason, deepening a rotation that already had a two-headed monster in Logan Webb and Alex Cobb. In the first four spring games, all of Webb, Cobb, Stripling, and Manaea have made their debuts.
Manaea made his debut against the Reds and retired the first two batters he faced, but then allowed a single and a triple (on a ball that should have been caught). Manaea then pitched a scoreless second, bringing his line to 2 IP, 1 ER, 3 H, 0 BB, 2 K. In a post-game interview, Manaea told reporters, including Susan Slusser of the San Francisco Chronicle, that he was hitting 94-96, his top velocity in some time.
Webb started the game against the Angels and worked out of a jam in the first inning after allowing hits to Mike Trout and Shohei Ohtani. His second inning didn't go well, as a Jarred Walsh double and a Luis Rengifo homer tacked on two runs early. Webb settled down and retired the next three hitters, giving him a final line of 2 IP, 2 ER, 4 H, 0 BB, 1 K.
Cobb got the start against the Padres and had a rough first inning, allowing two walks, an RBI triple, and a homer. His second inning was better as he retired the side in order. After the game, Cobb was very critical of the pitch clock, saying that it "Didn't feel like baseball" and "Didn't feel like pitching." Cobb will need to adapt to the pitch clock fairly quickly.
Following Cobb against the Padres was offseason addition Ross Stripling, and he pitched two clean innings, only allowing one hit. Stripling also struck out three and rarely fell behind in counts.
Following Stripling was Taylor Rogers, who worked a scoreless inning and struck out two.
The Catching Battle Is Heating Up
In his first two spring games, Blake Sabol is 3/5 with a homer and two doubles. Although he has allowed two stolen bases so far, he has looked comfortable behind the dish.
Not to be outdone, Joey Bart has hit 3/4 with a homer and two doubles. Bart has allowed three stolen bases so far but picked off a runner to end the inning against the Padres.
At the beginning of spring, the competition between Bart, Sabol, Wynns, and Perez looked to be a fierce one for the two catching spots available. Still, now, with Wynns struggling in his lone appearance and Perez yet to make his debut, the battle between Bart and Sabol could shift to who gets the Opening Day start.
Rookies Showing Out
Casey Schmitt has had himself a nice camp on both sides of the ball. On top of some stellar defensive plays, he is 2/4 with a double and a homer, with one of those outs being a spectacular catch by Mike Trout to rob Schmitt of extra bases. Schmitt will likely debut at some point in 2023, but he could accelerate that path or maybe make the Opening Day roster if he continues his strong spring.
The Giants acquired infielder Brett Wisely from the Rays right before the Rule-5 protection deadline, as the Rays had too many players to protect and not enough roster spots to do so. Wisely has taken to his new environment, as he has so far hit 2/5 with a homer. Wisely will start the year in Triple-A but will likely be called up at some point.
Up Next
The Giants' number one prospect, left-hander Kyle Harrison, will likely make his spring debut in the next game. Harrison posted a collective 2.71 ERA across two levels last season and led the minors in K/9.
The Giants' next game is against the D'Backs on Wednesday. Righty Jakob Junis gets the start, with Kyle Harrison and Two-Way Player Ronald Guzman expected to follow.