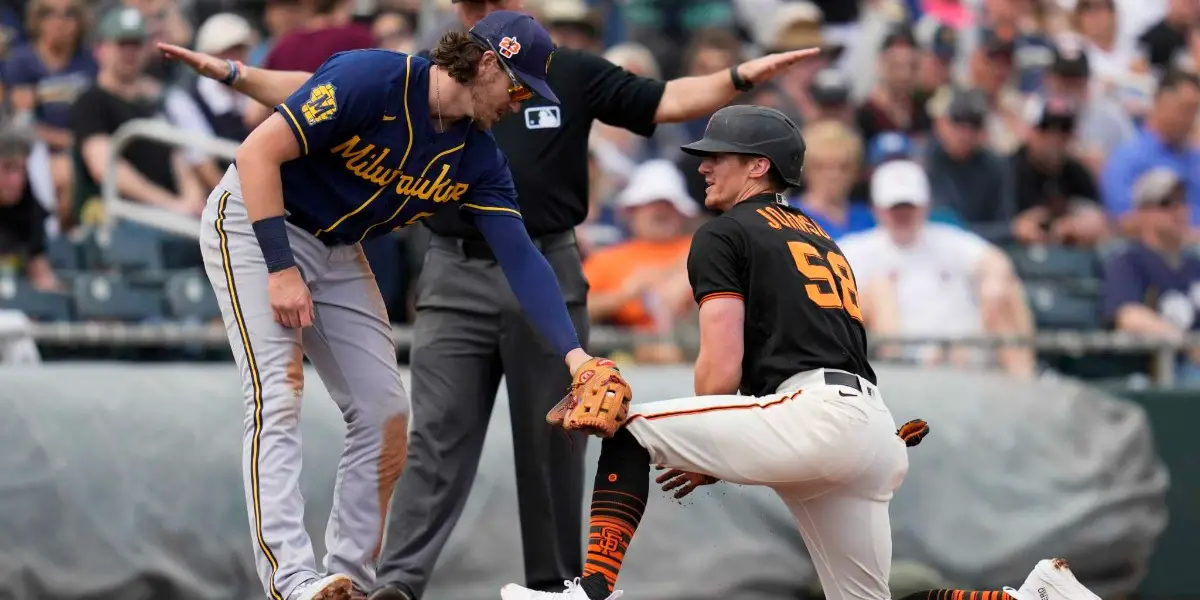 The Giants announced their Opening-Day roster today, and it included a few surprises.
For one, they acquired OF/1B Matt Beaty from the Kansas City Royals for cash. Beaty holds a career line of .249/.320/.405 (95 wRC+) slash line in the bigs and hold around a 107 wRC+ vs. righties. Beaty bats from the left side, and with the Giants most likely facing eight right-handed pitchers to start the season, Beaty will get some playing time for the Giants early on in the season. However, Beaty is a below-average defender, which makes the next roster move very curious.
The Giants elected not to carry outfielder Bryce Johnson on the Opening-Day roster. With Austin Slater out, the Giants likely needed another center fielder on the roster. The logical choice was to carry Johnson, a natural center fielder who led the cactus league in stolen bases. But the Giants elected to instead carry another lefty bat. The decision is a curious one, as the Giants are now without much center-field depth and will have to play Mike Yastrzemski against lefties every day until Austin Slater is back from the Injured List.
Sean Hjelle was another curious drop from the Opening-Day roster, as comments made earlier by Farhan Zaidi indicated that Hjelle was in line to be on the roster come to Opening Day. However, without needing a full five-man rotation for the first few series, Hjelle will now occupy a spot on the taxi squad and be called up later.
Brett Wisely will make the Opening Day roster and will make his big league debut. Wisely was acquired from the Rays over the offseason and was selected to the Giants' 40-man roster. Wisely made the Opening Day roster after posting a solid spring, with three homers in 46 AB. Interestingly, Wisely hasn't played that much above Double-A, and the Giants usually prefer players not to skip development levels. Wisely brings speed and power versatility while also bringing more middle infield depth.
Roberto Perez was selected onto the 40-man roster and will start today. Perez is the veteran in Giants camp and has gotten good reviews from the coaching staff and other pitchers. He's a former Gold Glove winner and has potential with the bat, even having a 24-homer season once.
Even though Johnson and Hjelle didn't make the roster, they are still in the Giants' plans. Manager Gabe Kapler told reporters, including Susan Slusser of the SF Chronicle, both are in the plans soon.
While this is the current iteration of the Giants roster, expect it to change between now and next month, maybe even next week. While you might be irritated by one of these moves or disappointed that a player didn't make the roster, the roster will certainly look different by the time the last day of the season rolls around.