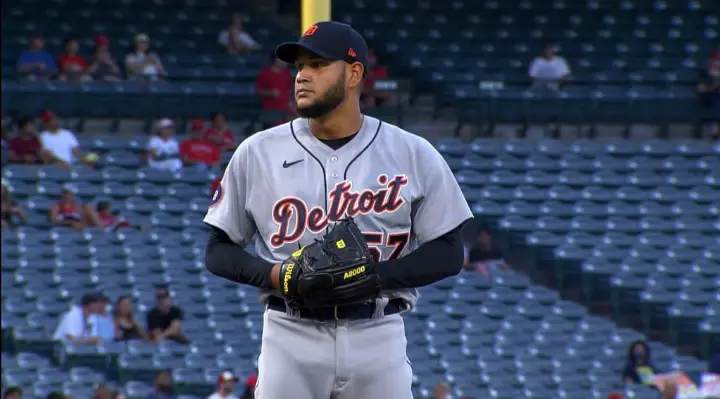 The Detroit Tigers have won five of their last seven series to re-enter the race for the AL Central crown. Despite losing two of three in Detroit against the Mariners, the Tigers still find themselves only 3.5 games out of 1st place in the division. Detroit kicks off a two-game series vs the Pirates on Tuesday. Pittsburgh got off to a fantastic start to the season, they were playing better baseball than most other teams in the major leagues. They recently fell out of first place however as they've lost 11 of their last 13 games. Pittsburgh had a seven-game losing streak in that stretch. Detroit has an opportunity with the easy schedule they have throughout the rest of May and into early June to make a run for 1st place. The Tigers are being led by their ace, LHP Eduardo Rodríguez. They are finally getting what they wanted out of the veteran Southpaw when they signed him before the 2022 season. E-Rod didn't have a very strong start to his Tigers career mostly because of personal issues that kept him away from the team for a good chunk of last season. He's looked like money well spent in 2023 though. He's 4-2 with a 1.57 ERA, 47 K's to only 10 walks, and 9 earned runs allowed, in 51.2 innings pitched. His season as a whole has been great, but he's been almost flawless in his last five starts.
Rodríguez Nearly Unhittable in Last Five Starts
Eduardo has been lights out in his last five starts and has played an important role in the Tigers' turnaround.
He pitched eight scoreless innings, allowed just 4 hits, and struck out TEN in a 1-0 win against Cleveland on April 18th.
In his following start on April 23rd, he flirted with history against Baltimore. Rodríguez pitched seven scoreless innings and took a perfect game into the seventh before it was finally broken up. He struck out 6 batters in that outing and didn't allow a walk.
He faced the Orioles again on the 29th. He allowed just one run, on 4 hits, 2 walks and he struck out 5 in 5.2 Innings pitched. Detroit won that game 7-4.
He then faced the Mets lineup which is stacked from top to bottom on May 4th. He was once again brilliant. He pitched 8 innings without allowing a run, allowed only 2 hits, walked one, and struck out 9 batters in the Tigers 2-0 win. That performance helped the Tigers complete a sweep at home.
Last but not least he met up once again with Cleveland and again shut them down. He pitched seven scoreless innings, allowed 4 hits, walked 2 batters, and struck out 8. His pitch total in those games was 99, 95, 98, 102, and 99.
Can Eduardo Rodríguez Contend for a Cy Young?
Coming into the season I would've said no, but watching him pitch this year you have to consider him a threat to win the prestigious award. I don't see him slowing down anytime soon, especially when you look at what's ahead on the schedule. This is one of the most dominant runs I've seen a pitcher go on since I became a huge baseball fan. I think a lot of Rodríguez's success this season has to do with the pitch clock. He had an awesome spring training and he said a big part of it was he felt comfortable with the pitch clock. He also liked that he could call his own pitches with MLB's Pitch com device. Pitchers can benefit from the pitch clock because it can keep them in rhythm, and they don't have as much time to overthink things. This seems to be helping E-Rod a lot this season as he's on pace to have a career year. There's a lot of hype around Rodríguez contending for a Cy Young, but there's also a lot of hype surrounding his availability at the trade deadline.
Will Eduardo Rodríguez be Traded at the Deadline?
I hope not. I hope this team is in a good enough position that they feel he'd be worth hanging onto. Rodríguez is entering his prime, this rebuild has been so miserable and it's lasted nine years… when will this team make an attempt to compete. Now is perfect. The AL Central is weak, we have a solid farm system with guys that are making their way to the majors, we could add to this team during the off-season and be ready to win the division. It's not like we're in the AL East or the NL West. We can compete. After all this time, what are we waiting for? I think it'd be more beneficial for the team to keep Rodríguez with a few more years left on his contract rather than ship him away. When Rodríguez was gone last year, Tarik Skubal was playing great for Detroit and many believed he'd be considered the ace moving forward. Then Skubal got hurt, and he had surgery, and now it's likely he won't be back this season. Imagine next season having Rodríguez, Skubal, and Casey Mize back in the rotation together. Mize was the Tigers' former 1st overall pick but unfortunately had to have Tommy John Surgery and back surgery that's kept him out since the beginning of the 2022 season. He's not expected to be back this year. Missing those guys makes Detroit's turnaround even more impressive. I just hope Detroit's not in sell mode when the trade deadline rolls around.
Eduardo Rodriguez's next start is scheduled for Wednesday vs Rich Hill and the Pirates.