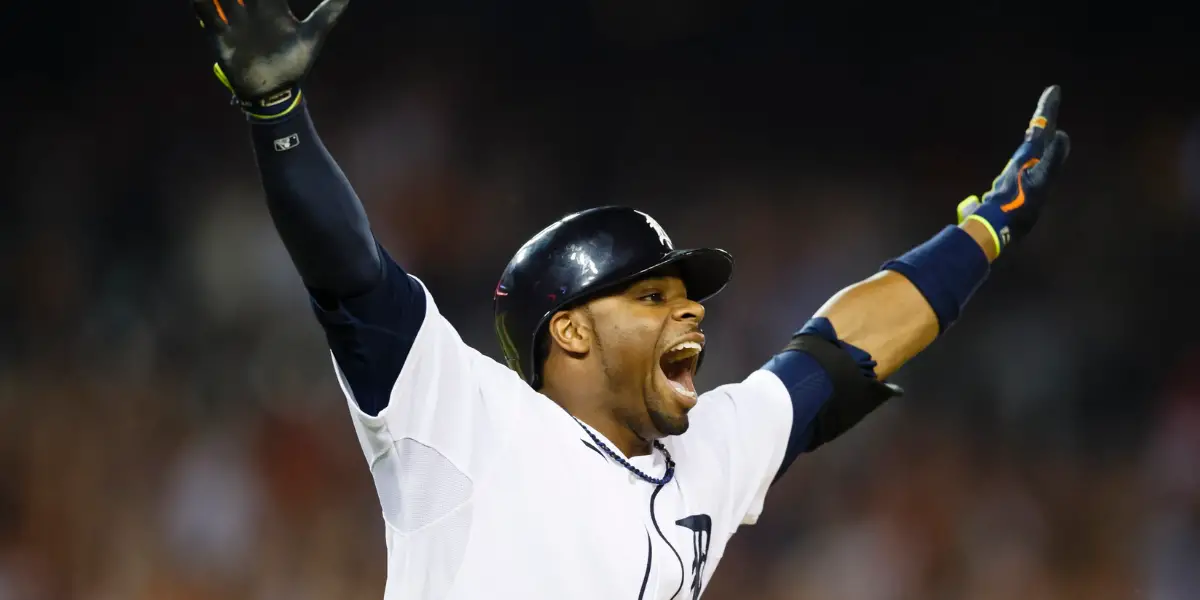 Detroit Free Press
In honor of the Tigers' opening day in Detroit, I wanted to take a look back at some of the most electrifying moments at Comerica Park in the past ten years. We will start in 2013 and work our way up. Remember that this is not a ranking of what I think are the better moments over the last ten years. With that said, let's go for a trip down memory lane starting with April 26th, 2013.
Anibal Sanchez strikes out 17 Atlanta Braves on April 26th, 2013
Detroit entered this game vs. Atlanta, having lost 5 of their last 6 with a 10-10 record. It's safe to say that with the squad Detroit had and the fact that they were the defending American League Champions, that Detroit was having a disappointing start to the year. However, on this day, Detroit dominated at the plate and the mound defeating the Braves 10-0. Starting RHP Anibal Sanchez would go on to have a performance that went down in the history books. Sanchez struck out 17 batters in 8 innings pitched and had the Comerica Park crowd buzzing. The record for the most strikeouts in a game by a pitcher is 20. That record belongs to a trio of RHPs, "The Rocket" Rodger Clemens, Kerry Wood, and former Tigers pitcher, who was a teammate of Sanchez in Detroit, Max Scherzer, who tied the record when he struck out 20 Tigers' on May 11th, 2016, as a member of the Washington Nationals. Legendary former Dodgers pitcher Sandy Koufax is one of the six players who've struck out 18 batters.
This dominant performance by the Tigers snowballed into even more dominance as they won 8 of the next nine games and finished 83-59 the rest of the way to win the America League Central division.
Miggy's 2,000th hit is a HOME RUN
This might fall more in the category of historic rather than electric, but this was still a huge accomplishment for Cabrera and is worth having on the list. On April 4th, 2014, Miggy walked to the plate one hit shy of 2,000 in his career. He did it in a big way as hit number 2,000 was a Home Run to left field.
That swing from Cabrera on that HR was incredible.
"HE WALKED IT OFF!"
This is easily one of my favorite moments as a Tigers fan and one that I revisit often. On June 30th, 2014, Tigers speedy outfielder Rajai Davis walked up to the plate with the bases loaded and Detroit trailing the Athletics by 3. Davis was not known for his power, but on this day, he muscled up and created one of the most electrifying moments at Comerica Park in the ballpark's history when he hit a walk-off grand slam off of LHP Sean Doolittle.
Fun fact: Rajai Davis is one of only TWO players in American League history to hit an "ultimate" walk-off grand slam (walk-off grand slam trailing by three) and hit a Home Run in a World Series game 7 matchup… Who was the other player to do it?… The Sultan of Swat himself, Babe Ruth!
"WELCOME BACK, J.D!"
This moment gives me chills to this day… I think it could very well be my favorite moment as a Tigers fan of all time. J.D Martinez was hurt playing a fly ball in right field at Kauffman Stadium in Kansas City back in June of 2016. He was placed on the 60-day IL. On August 3rd, 2016, J.D. entered the game as a pinch hitter in the 8th inning. The game was tied 1-1, and on the mound was one of the best pitchers in baseball at the time, Chris Sale. What Martinez did next was amazing, but Comerica Park was already going crazy just seeing J.D. enter as a pinch hitter. So, the stadium was already electric before the Home Run. Martinez wasted no time as he took a big swing on the first pitch he saw in two months at the big-league level and connected. J.D. hit a Home Run to one of the deeper parts of the ballpark to give the Tigers a 2-1 lead. Turn your volume all the way up for this video. The energy from the crowd is incredible.
This was one of those moments you know will stick with you for a long time. I'll never forget watching it live when it happened.
"Look out! There's a fight at home plate!"
A week before the highly anticipated boxing match between Conor McGregor and Floyd Mayweather took place, the Detroit Tigers and New York Yankees had a boxing match of their own that took place right at home plate. Miguel Cabrera shoved Yankees catcher Austin Romine and then immediately after threw punches. It was on after that as the benches cleared. It continued to snowball throughout the game as the benches would clear multiple times after the first incident, and hitters were intentionally getting hit by pitchers on the mound. It became dangerous as then Yankees pitcher Dellin Betances took it too far when he hit then Tigers' catcher James McCann in the head with a 98 MPH fastball. I don't believe Betances was aiming for McCann's head. However, it was clear that he was trying to either hit or intimidate McCann with that fastball, and if you don't have the command to ensure that doesn't happen, then you have no business pulling those types of shenanigans.
There are some fun facts about the Cabrera/Romine fight… Miguel Cabrera was teammates at the time with Austin Romine's brother Andrew Romine who was also involved in the benches-clearing brawl. A couple of years later, Austin signed with the Tigers, and the two players who were going at it at home plate became teammates.
JaCoby Jones robs Adrian Beltre of a Home Run on July 17th, 2018
This play by then-Tigers outfielder JaCoby Jones is one of the best Home Run robberies I've ever seen. Sometimes it's the little things in baseball that will get you fired up. This play was incredible, and I could watch it on repeat all day long.
The fact that Beltre, one of the better hitters in baseball at the time, was the one who hit it made it even more awesome.
John Hicks' walk-off grand slam vs. the Orioles on September 14th, 2019
John Hicks was actually making a bigger impact than most in 2019, as it was one of the worst seasons in this eight-year rebuild. The then-Tigers catcher certainly made an impact on this day as he hit a walk-off grand slam in the bottom of the twelfth inning against the Orioles.
Are you curious as to where John Hicks is playing now?… He is now with the Philadelphia Phillies.
Number 3,000 for Miguel Cabrera
Everyone saw this coming, and nobody will be surprised to see this moment on the list. Miguel Cabrera was selling a lot of tickets last season as fans wanted to witness Cabrera's 3,000th career hit. Those in attendance on April 23rd, 2022, got to see history. Cabrera delivered a base hit into right to reach the milestone against the Colorado Rockies. Former Tigers teammate SS Jose Iglesias ran over from his position to give Cabrera a congratulatory hug and was one of the first to greet him after his 3,000th hit.
Miggy is one of 3 players all-time to have 3,000 hits, 500 Home Runs, and 600 doubles in his career.
Riley Greene's first career Home Run wins it!
Last year was a baseball season filled with disappointment for Tigers fans, but this dead-center walk-off Home Run from Riley Greene was one of the best moments of 2022 for Detroit. That wasn't just a game-winner; it was Riley Greene's first career Home Run. Obviously, Riley wanted the ball, so members of the Tigers grounds crew had to go looking for it in the bushes over the center field wall.
Greene is currently in year 2 of his MLB career and hopes to make a big leap as far as development goes.