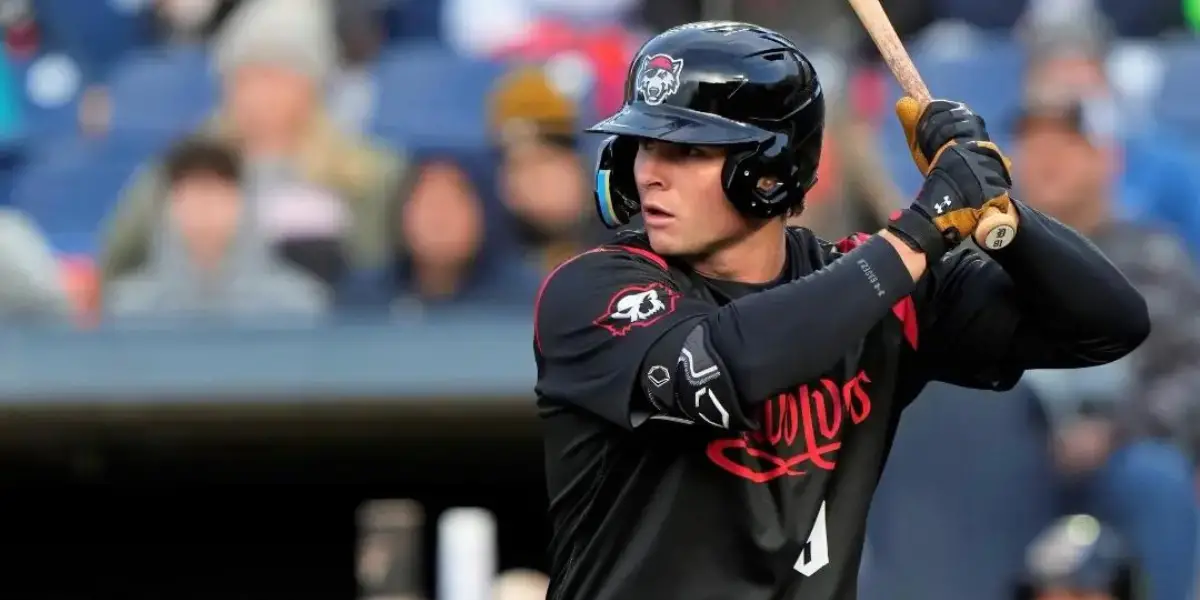 The Detroit Tigers farm system has been talked about a lot over this lengthy rebuild. Many top prospects have made their way to the Motor City since the start of the rebuild, but it hasn't led to much success. This next batch of prospects will need to be productive, and owner Chris Illitch will need to be willing to spend some money to get established good ball players around the rookies to build a team that can take over a weak AL Central division next season and beyond. Detroit has been getting some solid productivity from their minor leaguers, but nobody down on the farm has been more productive than infielder Colt Keith. The 21-year-old Tigers top prospect will turn 22 in August. Keith is still very young, which is why he didn't have a shot at making the big league roster in spring training and a big reason why he didn't start the year in Toledo either. Colt Keith talks the talk and walks the walk. His confidence is a big part of his game. In fact, Evan Petzold, who writes about Detroit Tigers baseball with Freep, described Colt Keith as a player who thinks like Conor McGregor and plays like Joey Votto. Like McGregor, Keith packs a punch with his swing, and like Votto, he is a nightmare for opposing pitchers. Keith hasn't been tested at a higher level, so making a comparison for Votto already is a bit much, but he has been extremely impressive in 2023, and his numbers tell the story.
Colt Keith has not only shown that he has a lot of pop in his bat, but he's also very consistent at the plate. Keith is batting .325 with 32 extra-base hits (14 of those Home Runs), 47 RBIs, a slugging percent of .597, a .395 OBP, and a .992 OPS. Keith has walked 26 times (once intentionally) and struck out 58 times this season in Erie. He's not much of a threat on the base paths, but he does have two stolen bases this year. Keith is ahead of schedule as far as development, I don't think anyone expected Keith to be so dominant already at this point of his career, but again, he's yet to be tested at a higher level. Is he ready for that test? I think so…
Will Colt Keith be called up to Toledo sooner rather than later?
Keith has helped lead the Erie SeaWolves to playoff contention as Erie leads their division by a game and a half over the Akron RubberDucks (Cleveland Guardians minor league Double-A affiliate). Losing their best player now would be horrible timing for the SeaWolves, but promoting Keith might be the best thing for the Detroit Tigers organization. I'm not saying it has to be right now, but I would say sometime between now and the first week of July. Keith has been so good that with a good spring training next season, he could make the big league roster. He needs to have as much time as possible in Triple-A though this season for that to make total sense. He's proven, in my opinion, that he is just too good for Double-A. I think he's 100% ready for a promotion.
Will we see Colt Keith in Detroit as early as this season?
Some of you reading this might think I'm crazy, but hear me out… Assuming the Tigers aren't in contention at some point during the month of September, why not give Keith the same opportunity the Detroit Red Wings gave top prospect Marco Kasper? If the Tigers are playing meaningless games anyway at that point late in the season, what could go wrong with letting Colt Keith get some major league experience under his belt? That way, if he does make the opening-day roster next season, he won't be going into it blind. 3rd base is a position of need for the Tigers down the road. I don't see Nick Maton being the player we need over there at third base when we look to finally contend. In fact, Maton has been a downgrade from Jeimer Candelario. I honestly believe that Maton could be sent down soon if he doesn't find some consistency. We may need Keith at the major league level next season, so I say let's get him some experience so he doesn't go into 2023 blind. In order for that to happen, though, Keith will need some time to develop in Toledo, which is why I could see him being called up to Triple-A very soon.