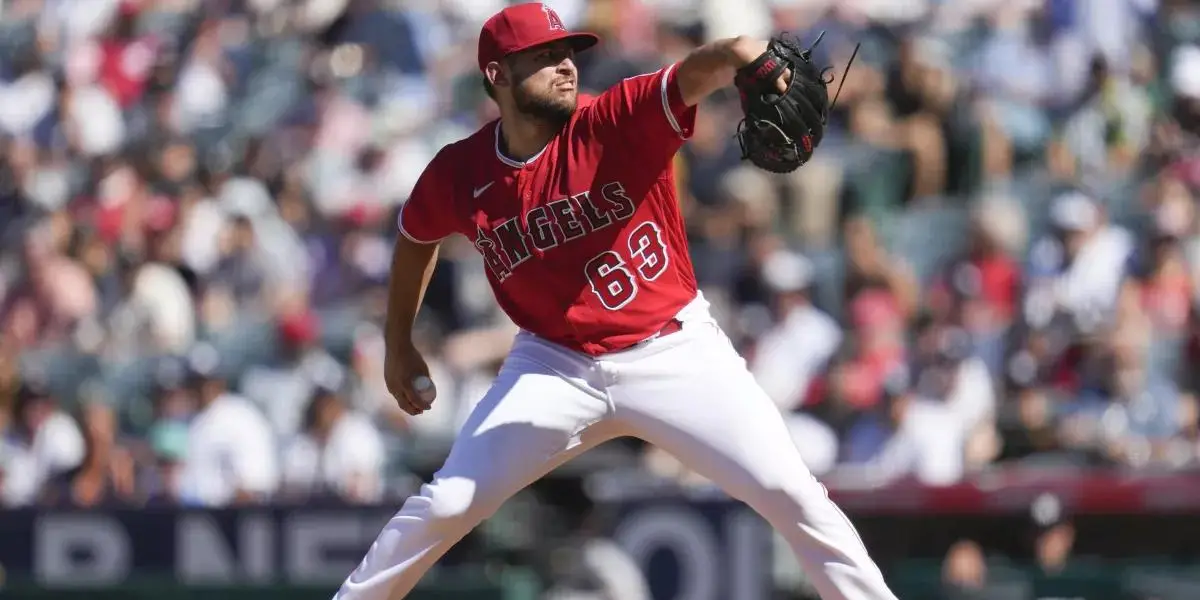 Amid a rough couple of weeks for the Angels, rookie pitcher Chase Silseth remains one of the lone bright spots for the club since being recalled from Triple-A in July.
The Angels suffered another ugly series against the division-rival Houston Astros, losing the first two games of the series 11-3. In the series finale yesterday, Silseth delivered another promising start going five innings without giving up a run with five strikeouts, two walks, and just four hits allowed in a 2-1 victory to avoid the sweep.
Silseth has been up and down between Triple-A and the majors and has been used as a starter and reliever with the Angels. Since his latest call-up in mid-July, Silseth has posted a 1.59 ERA in four starts with 31 strikeouts in 22.2 innings. He racked up 12 strikeouts against the New York Yankees and the Seattle Mariners in two of those starts.
The 11th-round pick in the 2021 draft showed his potential in his brief stint in the big leagues last year, including his six innings of shut-out ball in his MLB debut against the Oakland Athletics. After getting roughed up in a few starts, Silseth was sent back down to Double-A, where he posted a 2.28 ERA in 15 starts and struck out 110 in 83 innings of work.
This year, all of Silseth's minor league work has been in Triple-A, and he continued to dominate. In nine starts in Triple-A, Silseth owns a 2.79 ERA and even won Pacific Coast League Pitcher of the Week in early April. The PCL is a very offensive league, and not many pitchers succeed in that league.
Silseth is earning a spot in the Angels' rotation that lacks consistency, and these last four starts have lowered his ERA to 3.27. His strikeout percentage is 27.2% (league average is 22.1%), and his walk rate is 10.6% (league average is 8.4%). Silseth's main issue is that he gives up some hard contact. His 10.6 Barrel% is almost four-percent higher than the league average. What Silseth does well is produce ground balls. Silseth's ground ball rate is at 56.4%, which is well above the league average. Keeping the ball on the ground has prevented him from giving up some hard contact and minimizes the damage.
A big key to his success has been his slider. According to Baseball Savant, Silseth's slider has 8.4 more inches of vertical movement and 3.1 more inches of horizontal movement than the league-average slider. That slider produces a lot of swing-and-misses, weak contact, and ground balls with a 36.4 Whiff% and 39.1 Hard Hit%. Silseth relies on the slider to get outs without an overpowering fastball, and it has paid off so far this season.
Outside of Shohei Ohtani, who also has not been himself at times this year on the mound, the starting rotation has been a big issue for the Angels this season, and Silseth finding his stride will be a massive help as they have a long shot to make the postseason.