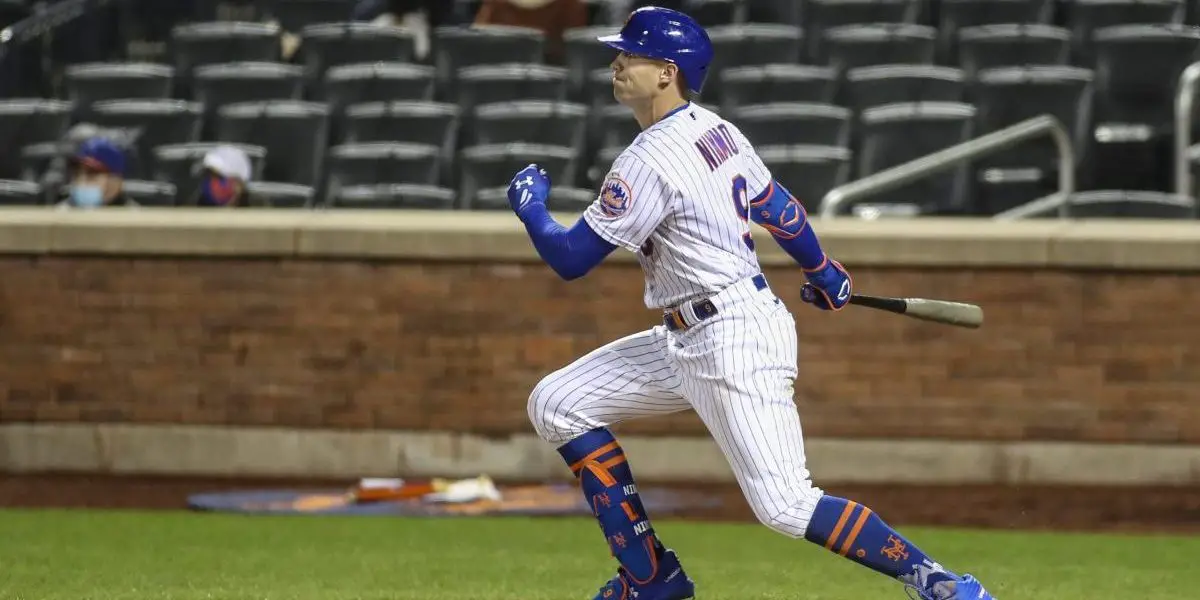 On June 6, 2011, the New York Mets selected a teenage outfielder from Cheyenne, Wyoming. The 18-year-old immediately became the highest-picked player in Wyoming history at 11th overall. Selecting Brandon Nimmo was a controversial pick for new Mets GM Sandy Alderson, as Nimmo never even played high school baseball because Wyoming didn't have it. The selection was described by Bleacher Report as "a huge, huge risk." They also added that "given the team's financial situation, it was believed that the New York Mets would need to build for the future with the MLB draft. However, with the surprising pick of Brandon Nimmo, it is not certain the direction the Mets are headed in."
Nimmo rose throughout the minors before reaching AAA Las Vegas at 22 years old in 2015. The then 23-year-old began 2016 a step away from the majors and slashed .352/.423/.541 across 97 games and earned a call-up to make his debut on June 26. Nimmo hit .274 with a .338 OBP but had just an 83 OPS+ during his first season as the Mets made their way to a wild-card appearance.
After a decent but not great 2017 season, playing 69 games with a .797 OPS, Nimmo broke out in a big way in 2018, slashing .263/.404/.483 with a .886 OPS and 148 OPS+. He finished fourth in the majors with that .404 OBP, behind a trio of MVPs in Mike Trout, Mookie Betts, and Joey Votto. Nimmo followed up his big breakout year with an injury-riddled 2019 season, although he still put up a .375 OBP across 254 plate appearances.
2020's shortened season saw another great year from Brandon Nimmo, as he put up a .888 OPS and 145 OPS+ with a .404 OBP. The big issue for Nimmo, now moved from switching between the three outfield spots to mostly playing center field, was his defense. He was in the 14th percentile in OAA in 2020, as he put up -4 OAA in 44 games in center. He vastly improved in that aspect in 2021 but again struggled with injuries, playing just 92 games and again playing well, with a .401 OBP, .838 OPS, and 131 OPS+. Going into his final year under contract with the Mets, Nimmo still had a lot to prove.
At age 29, Brandon Nimmo put up 5.1 bWAR and a 130 OPS+ across a career-high 151 games played. He slashed .274/.367/.433 and led the league in triples with 7. His ability to get on base as the Mets leadoff hitter was a big part of the Mets road to 101 wins–the second most in franchise history. On the defensive side, Nimmo was in the 90th percentile in OAA, an incredible 76 points higher than just two years earlier. His home run robbery of Justin Turner to hold a Mets lead against the Dodgers in early September was easily the Mets defensive highlight of the season.
Following the Mets defeat in the Wild Card series against the Padres, Nimmo became a popular target for many teams as he entered free agency. As the top center fielder on the market, the Mets quickly realized that without Nimmo, they would be forced to fall back to a much less capable option. In early December, the Mets and Nimmo agreed to an eight-year deal worth $162 million, the longest free agent contract in franchise history, and tied for the second-longest overall with David Wright. For a guy who still owns a 2010 Nissan Altima, saying that driving the car helps to keep him humble, Brandon Nimmo will now be one of just a few players to ever be a lifelong New York Met, an incredible journey from a once controversial draft pick who couldn't even play high school baseball.