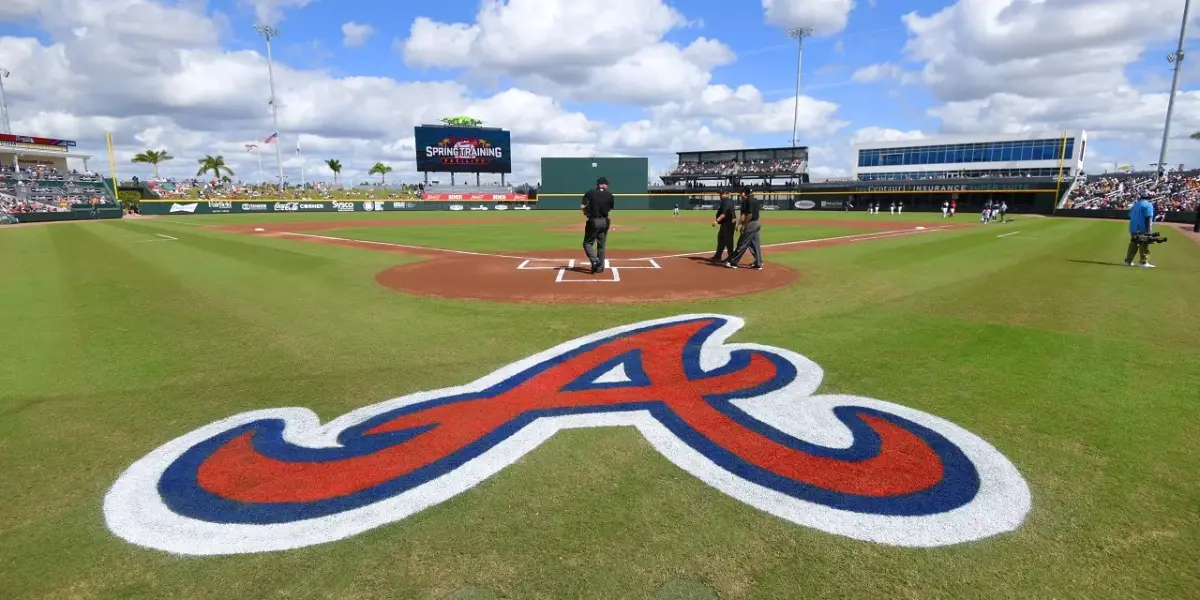 Part I: Defending the NL East
Key Dates
WBC pitchers and catchers: February 13
Non-WBC pitchers and catchers: February 15
WBC position players: February 16
Non-WBC position players: February 20
Grapefruit League opener: February 25 vs Red Sox
Opening Day: March 30 @Nationals
The Atlanta Braves will roll into North Port, Florida, coming off a 101-win season and capturing their fifth consecutive National League East title. That title race was highlighted by a late-season sweep of their division rival New York Mets, which gave the Braves an edge in the season series and the tiebreaker, which ultimately crowned Atlanta champions. The quest to defend their World Series Championship ultimately ended earlier than expected as the streaking Philadelphia Phillies ousted Atlanta 3-1 in the National League Division Series. The Braves roster boasts an abundance of talent with All-stars, MVP candidates, and Cy Young contenders who will put them in contention again in 2023 but finishing at the top of the division will be no easy task.
This offseason saw clubs spending big money on MLB's top talent, and to no one's surprise, Atlanta was not involved. General Manager Alex Anthopoulos stuck to his philosophy and sat on his checkbook while he watched the Phillies and Mets spend big on marquee free agents, even as he watched another fan favorite move on. Losing Dansby Swanson to the Chicago Cubs doesn't hurt the heart quite as much as watching Freddie Freeman's departure a year earlier, but it certainly leaves a huge hole to fill at shortstop. Anthopoulos did what he typically does; he traded for a young player that had several years of club control and offered him millions of dollars before he would typically be eligible. Welcome to Atlanta, Sean Murphy. 
Yes, the big off-season acquisition was a catcher. This move was a bit of a head-scratcher to casual fans because Travis d'Arnaud and William Contreras were both All-Stars last season, albeit Contreras was as a DH. Once you dive deeper into the deal, it fits right where the Braves want to be. D'Arnaud is an aging veteran who has one year left on his contract, and recent history proves having two backstops on the roster can prove quite beneficial. Murphy is highly regarded as a top catcher in the game and will be behind the dish in Atlanta for years to come with a club-friendly AAV.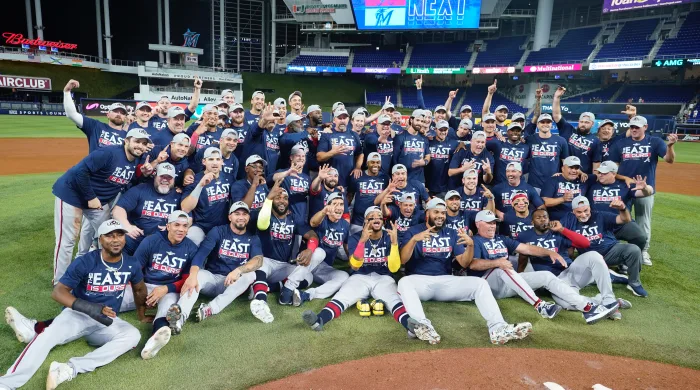 Anthopoulos did lock up one Brave this winter, and that was manager Brian Snitker. Snit was extended through the 2025 season, and that move was met with enjoyment by the players in the clubhouse. He is a player-friendly manager and appears to allow these young players to be themselves and have a little fun while playing the game they love. Snitker was firmly on the hot seat in July 2021, but the team caught fire and went on a run that carried them all the way to a World Series Championship, and he followed it up with 101 wins last season.  
Snitker will have many tough decisions to make before the team leaves Florida to head to Washington, DC, for Opening Day on March 30. The talk of this Spring Training will almost solely be surrounding the shortstop position. Replacing the bat of Dansby Swanson will not be nearly as difficult as finding a Gold Glove caliber defender. If the answer is on the roster currently, it will have to be rookie Vaughn Grissom or veteran Orlando Arcia. Neither option is comforting to fans and will surely cause sleepless nights in the Snitker household. 
The Braves will bring back a lineup featuring a presumably healthy Ronald Acuña Jr, Austin Riley, Matt Olson, Ozzie Albies, Michael Harris II, Sean Murphy, and Travis d'Arnaud. Atlanta led the National League in home runs (243) in 2022 and were second to only the Yankees (254) in all of MLB. It's no secret the Braves love the long ball, but this approach leads to an absorbent amount of strikeouts (1498), which also led the NL. If you ask any pitcher in the league, this lineup is as tough as any to find outs. The winner of the leftfield and shortstop battles will round out the lineup. There is one dark horse that is seemingly flying under the radar. Marcel Ozuna has been battling the demons off the field the last couple of years with his domestic abuse incident and the DUI during last season, which led the fans to boo him at home. Let's not forget what he is capable of at the plate. He is a two-time Silver Slugger winner and boasts a career 20.1 WAR. If he shows up to Spring Training healthy and with a clear mind, he could easily be a dominant force in an already potent lineup. 
The pitching rotation will look very familiar as it will be led again by ace Max Fried who finished second in Cy Young voting by winner Sandy Alcantara of the Marlins. Fried will be joined by phenom Spencer Strider who burst onto the scene last season, striking out 202 batters in 131.2 innings pitched. His performance earned him a contract extension for a cool $75m over six seasons. Kyle Wright emerged as a quality starter in this league last season, winning 21 games and striking out nearly a batter per inning. Charlie Morton will look to bounce back into form for what could be his final season before retirement. While he disappointed throughout the season, he had flashes of dominance and still managed to strike out 205 batters in just 172 innings. Another hotly contested battle this spring will be between Ian Anderson and Mike Soroka for the final spot in the rotation. If Soroka returns close to his form before multiple Achilles tendon surgeries, then this will be an easy decision. Soroka was a bonafide ace and a 2019 All-Star, while Ian Anderson has struggled to find consistency in the big leagues.
Some say a team's chances of winning are only as good as their bullpen. Well, Atlanta's pen has been a thorn in the side of opposing hitters for the last few years. Aging closer, Kenley Jansen was allowed to head to Boston without a fight from the club. His performance last year left much to be desired from a top closer. This year Raisel Iglesias appears to be the front-runner for the closer's role ahead of left-hander AJ Minter. Iglesias proved to be another valuable mid-season addition by Alex Anthopoulos as he thrived in the second half of the season in a set-up role. Iglesias and Minter will be joined by Collin McHugh, Dylan Lee, Kirby Yates, Jackson Stephens, and newcomers Joe Jimenez and Lucas Luetge. Kirby Yates will be the x-factor this season. He was seemingly rushed back into action from Tommy John and struggled to find his control. A full offseason should bode well for a return to form for the once-top reliever. 
The recipe for success this season will be multifactorial, but it's simple. Get out of the gates fast and keep the pressure on the Mets and Phillies. The Mets didn't wow with their offseason, they just seemed to replace what they lost and spent big on players they already had. The Phillies, however, improved in a big way by adding Trea Turner and revamping their bullpen, but they will be without Bryce Harper for about half the season. This race could very well come down to the wire yet again.
Bookmark this page for Part II of Atlanta's Spring Training Preview as we take an in-depth look at the shortstop position and offer our early prediction for Opening Day starter.