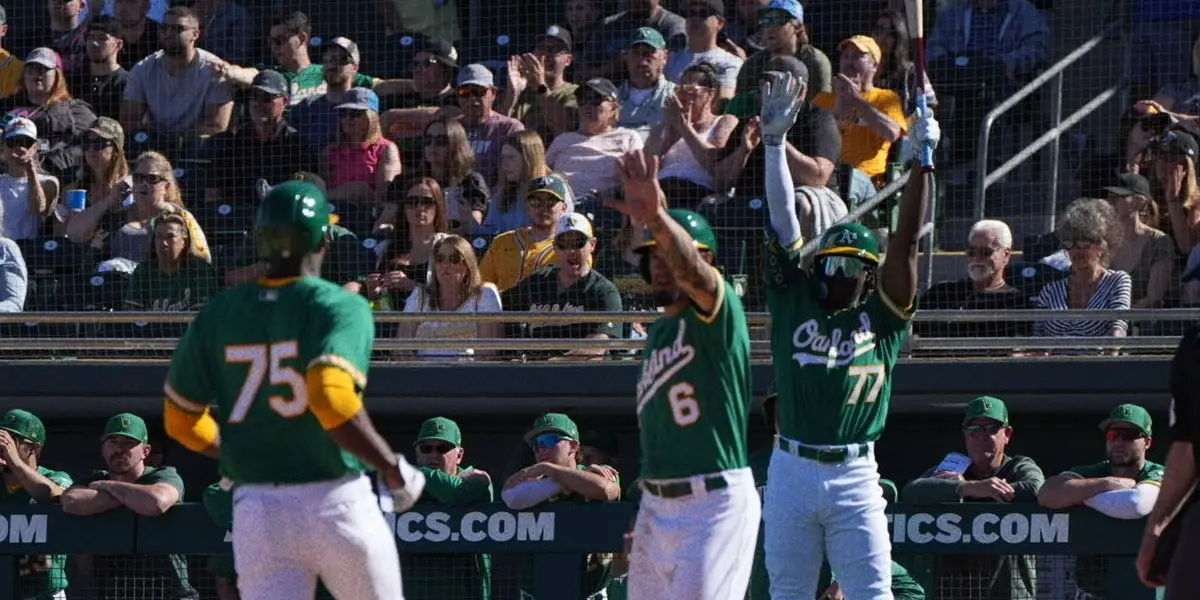 When Arizona's Gabriel Moreno drilled the first pitch from A's starter JP Sears for a 2-run shot in the 2nd inning, it seemed all chances for Oakland got dented.
But not until some firepower on the offensive end lit them up.
Oakland used a 6-run 5th to fuel their way to a whopping 12-7 Cactus League win vs. Diamondbacks Saturday at Hokoham Stadium, Mesa, Arizona.
With two men on to start, the explosive 5th inning was opened by a Jace Peterson run-scoring single to tie things up again at 4-4.
Then, the top-ranked youngsters joined in on the fun.
Zack Gelof's single eventually turned it around for the hosts. A pair of 2-run doubles from pinch-hitting shortstop Kevin Smith and young right fielder Lawrence Butler padded up the advantage they had already taken, 9-4 in the 5th.
Two more runs came in at the 6th after Tyler Wade scampered home off a wild pitch from Chad Patrick, and another Kevin Smith single scored Athletics prospect, Denzel Clarke. Later in the 8th, Cody Thomas drives home the 12th run in the scorching hot afternoon for the eventual winners.
Capitalizing from 10 walks surrendered by the Diamondbacks pitching and opportunities presented to them was key to an opener win for the A's.
While Sears can't quite get out of a mess to open things up, Freddie Tarnok, acquired from the Sean Murphy trade, was stellar and held the fort in his two innings of relief work with two strikeouts, paving the way for his batsmen to stage the fightback.
Next game will be up against an NL Central powerhouse Milwaukee Brewers.
WP: K. Snead (OAK), LP: C. Grammes (AZ)