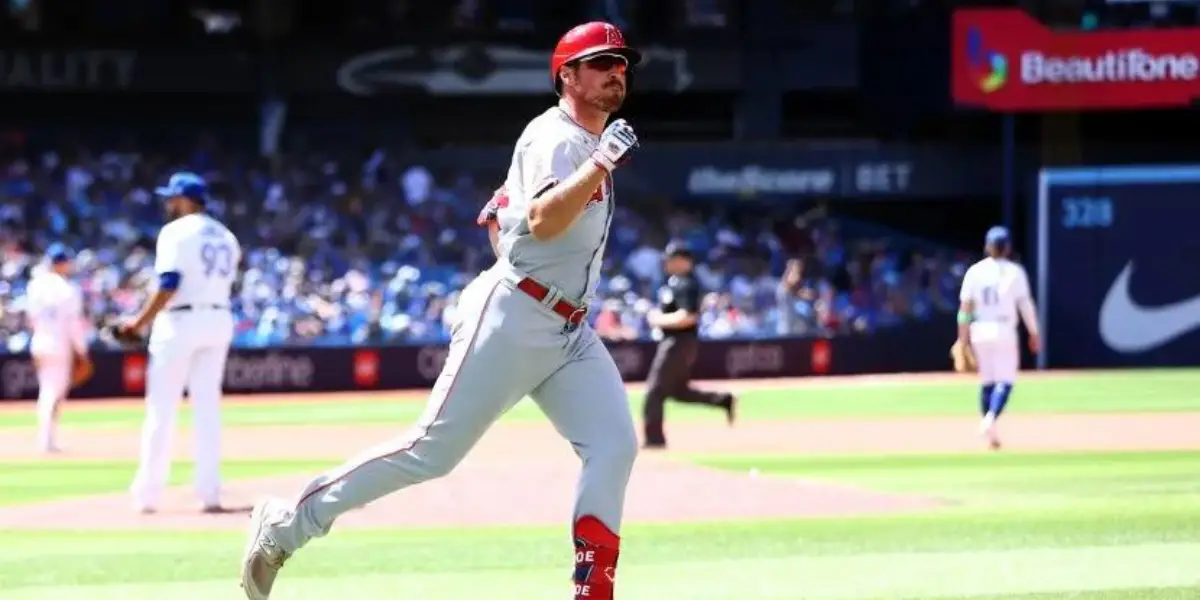 The Angels traveled north of the border to face the Toronto Blue Jays in a pivotal series considering the Jays were three games ahead of the Halos with possession of the last Wild Card spot. The Angels' inability to get hits with runners in scoring position cost them the series, as it has all year long.
Now that the dust has settled in this series, the Angels are now four games back after dropping two-of-three games to the Jays.
In a 4-1 loss in game one of the series, the Angels were 0-7 with runners in scoring position and left 11 runners on base.
Game two was more of the same: the Angels lost 6-1 while going 0-10 with runners in scoring position and leaving another 12 runners on base.
The Angels broke through and won the series finale 3-2 in 10 innings despite being 1-11 with runners in scoring position and left 12 runners on base again. The one hit was the deciding factor in the game. Hunter Renfroe's 10th-inning two-run shot with Mike Moustakas on third base was the game-winner. Renfroe also had a sacrifice fly earlier in the game, so all three Angel runs came with runners in scoring position.
That is a total of 1-28 with runners in scoring position and 35 runners left on base in a three-game series.
This has been the story all year long with the Angels. They can get runners on base just fine but cannot find a way to score them. Their lack of situational hitting and baserunning is a big reason they are on the outside looking in the playoff picture.
Most of the Angels' runs come from the long ball, as their 163 home runs rank third in all of baseball. Their 4.99 runs per game rank 5th, but their inability to score runners in scoring position has made this offense wildly inconsistent.
The Angels are hitting .241 with runners in scoring position, which ranks 26th in the league, and they have left the 6th most runners on base with 751. And when you look at Baseball Reference's situational hitting leaderboards, it does not look any better.
Their Productive Out% is 25.5, and it ranks 20th. Their Base Runners Scored% is 13.7, and it ranks 23rd. When there are fewer than two outs and a runner on third base, that run scores 47.8% of the time, ranking 24th. With less than two outs and a runner on second base, that runner advances 51.7% of the time and ranks 9th, so they at least have that going for them. But they have also hit the 10th most double plays in the league at 10.4 DP%.
One thing that gets overlooked in all this is base running. Their 72% stolen base rate is the worst in the league, and their Extra Bases Taken% at 36%. The XBT% is the percentage of times the runner advanced more than one base on a single or more than two bases on a double, when possible.
Base running is an underrated aspect of baseball that often goes unnoticed but can have a massive impact on a game. In my experience playing college baseball, I have heard multiple coaches say that base running can win you five games alone, which is in a 40-game college season. That equates to about 20 games of a 162-game MLB season.
It is not far-fetched to assume that the Angels' poor situational hitting and base running has played a role in them being just 31-37 against teams with a winning record. This needs to change if the Halos want to make the postseason. October baseball has proven to be a different beast, and relying on the long ball has done nobody any favors come playoff time.
Every team the Angels play in August has a winning record, except for the New York Mets. The Angels will play the MLB-best Atlanta Braves, the Houston Astros, Texas Rangers, New York Mets, and Philadelphia Phillies on the road. The Angels play the Seattle Mariners, San Francisco Giants, Tampa Bay Rays, and Cincinnati Reds at home.
It is a make-or-break month for the Halos, who are already missing a laundry list of players to injury. Still, if they can improve situationally and on the basepaths, they can stay afloat in the playoff picture, and it all starts today in Atlanta.