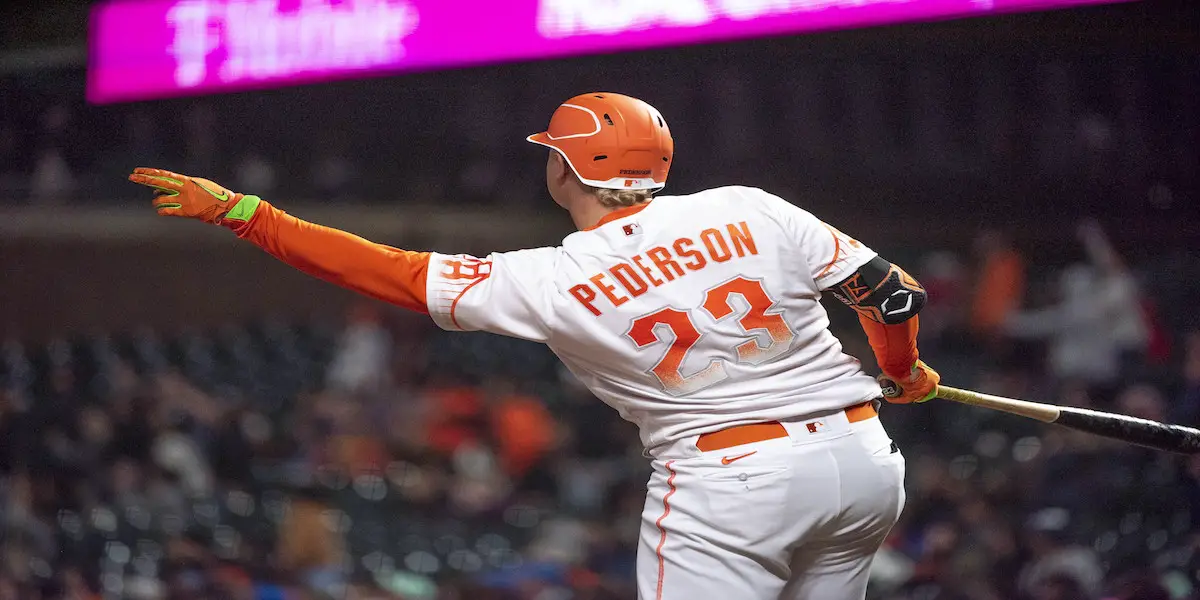 Mandatory reporting for everyone else besides pitchers and catchers was Tuesday, February 21st. Before that date on the calendar even hit, San Francisco Giants slugger Joc Pederson was seen taking ground balls as a first baseman. The Giants, who let long-time first baseman Brandon Belt leave for the Toronto Blue Jays this winter, are very thin on both corners of the infield, especially at 1B. Pederson, who has logged 150 innings at that spot between his time with the Los Angeles Dodgers and Chicago Cubs, is looking for any way to help San Francisco improve off their lackluster .500 2022, especially in the field, where the Giants ranked dead last in several categories.
The one thing that is certain for Pederson in 2023? He could easily have an even bigger year at the plate than last season. In only 433 plate appearances, Pederson mashed 23 home runs and drove in 70 while slashing his way to a 144 OPS+. -Several reasons factor in why he can have an even more impressive season this year, but at the top starts with a contract. San Francisco, who brought the Bay Area native in on a bargain one-year, $6 million deal in 2022, offered a massive pay increase via the Qualifying Offer ($19.6M). It wasn't the ideal multi-year contract Pederson was likely looking for, but the money was too good to let go, as a 2-3 year deal would've probably garnered a lower AAV. Pederson will turn 31 during the season, and he can't be given the Qualifying Offer again, so he'd love to get a 3-4 year deal if he doubles down on his All-Star campaign he just had. What does that require? Performance.
1. More Protection
President of Baseball Operations Farhan Zaidi had an up-and-down off-season. Missing out on Aaron Judge, letting Carlos Correa slip away (although somewhat justified), and not bringing in a superstar the Giants could very much use. But that doesn't mean the team didn't get better. Veteran power bats Mitch Haniger and Michael Conforto were added this winter, giving San Francisco a more proven "thump" in a lineup that dropped from 1st in home runs in 2021 to 12th in 2022. With guys like these protecting Pederson, who will likely hit in the heart of the lineup most days, opposing pitchers will have to choose who they pitch to and who they work around. Pederson will likely see more balls in the strike zone that he can drive.
2. The Shift is no Longer
Left-handed batters rejoice…the shift is finally gone. Many lefties should see a decent spike in numbers with less defenders on the right side of the field. Pederson had around a Major League average of BABIP (Batting Average of Balls In Play) last season with .310, but he also had a respectable 36.1% ground ball rate and a career-high 13.9% infield hit rate. Sure, Pederson is a guy that swings for the fences but does put his fair share of balls on the ground. That should lead to more baseballs leaking into right field for knocks.
3. More OF Depth Means DH Time
With the additions of Haniger and Conforto, alongside Mike Yastrzemski and Austin Slater, the Giants have options in the outfield. While Pederson will likely get some time out there, mainly in left field, it provides the Giants with more flexibility where Pederson can be the Designated Hitter on most days, especially vs. RHP. Not known for a great glove, Pederson can mainly focus on his bat, run around a lot less in the large Oracle Park outfield, and get more opportunities to hit this season. This should benefit both Pederson and the team, as many times last year, Pederson didn't play against left-handed pitchers, although his numbers were decent against them. In just 57 plate appearances against LHP, Pederson hit .245 and had seven walks. He should be in the lineup some days against southpaws.
Can he put up similar numbers to what he did in 2022? Absolutely. Should he be able to outdo himself this season? 100%.